Vegan macaroni salad with almond dressing
We've already shared our most favorite recipe for vegan potato salad with you that also happens to be the best recipe in the world.
We actually wouldn't go that far with this pasta salad, but only because we like all different kinds of pasta salad – with pesto, good olive oil or with creamy almond yogurt. You can also combine it with almost every vegetable that you can find in your kitchen.
Thanks to the vegan mayonnaise and almond butter, the dressing becomes super creamy and get a deep flavor without ending in a heavy dressing. And did we already mention that it's prepared in no time?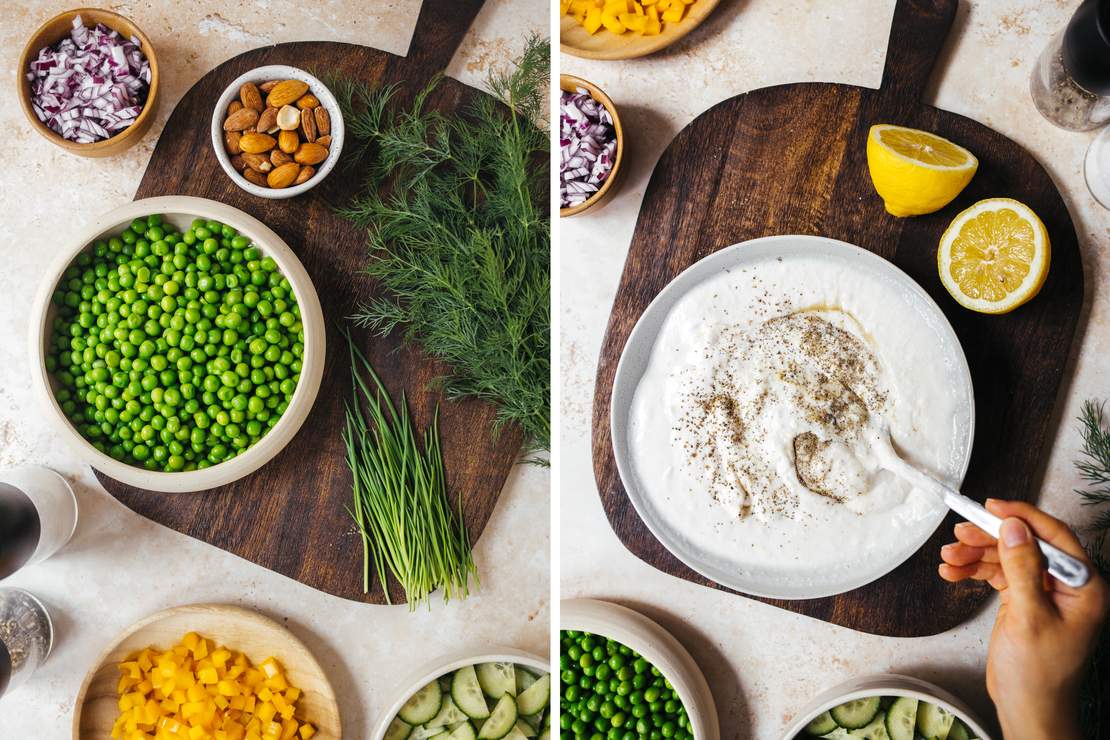 Vegan macaroni salad with almond dressing
Ingredients
500 g (18 oz) macaroni
1 cucumber
200 g (7 oz) frozen peas
2 bell peppers (yellow and red)
1 red onion
10 g (0.33 oz) chives
10 g (0.33 oz) dill
100 g (3.5 oz) almonds
For the dressing:
200 g (1 cup) almond yoghurt
50 g (0.25 cup) vegan mayonnaise
4 tbsp almond paste
0.5 lemon (juice)
salt
pepper
Instructions
Bring salted water in a large pot to a boil and cook macaroni al dente according to instructions on the package. Afterward, drain and set aside.  

Finely chop cucumber, bell peppers, and red onion. Roughly chop almonds.
Blanch peas in a pot with simmering water for approx. 2 - 3 min., then add them to a bowl with an ice bath and drain.
Add all cut vegetables, peas, almonds and cooked pasta to a large bowl and mix.
Add almond yogurt, vegan mayonnaise, almond paste and lemon juice to a bowl and stir to combine. Season with salt and pepper to taste. Add the dressing to the salad bowl and toss to coat.
Finely chop chives and dill and add to salad. Toss to coat and enjoy!