Vegan Berry Rolls with Cardamom
If you like cinnamon buns, you'll love these berry buns! They are a wonderful baking project for the weekend as they need time to rise several times (these are perfect brakes for cleaning your apartment, for example!). Please don't skip this step as the buns won't turn out that fluffy otherwise.
For this recipe, we used cardamom instead of the classic cinnamon and refined the icing with some lime zest, which makes it a bit fresher. In order to bake this recipe all year long, we used frozen berries. They only have a minor disadvantage: the last rising time will be longer than usual as the frozen fruits slow down the rising of the yeast dough. If berries are in season, you can definitely bake these buns with fresh berries instead!
Extra tip: If you want to be prepared, start making the berry buns a day ahead! You can prepare them up to the point when the buns are already filled, rolled, and transferred to the baking dish. Cover the dish with plastic wrap and let the buns rest and rise for a final time in the fridge overnight. This way, you only need to remove the dish from the fridge the next day, remove the plastic wrap and bake the buns in the oven!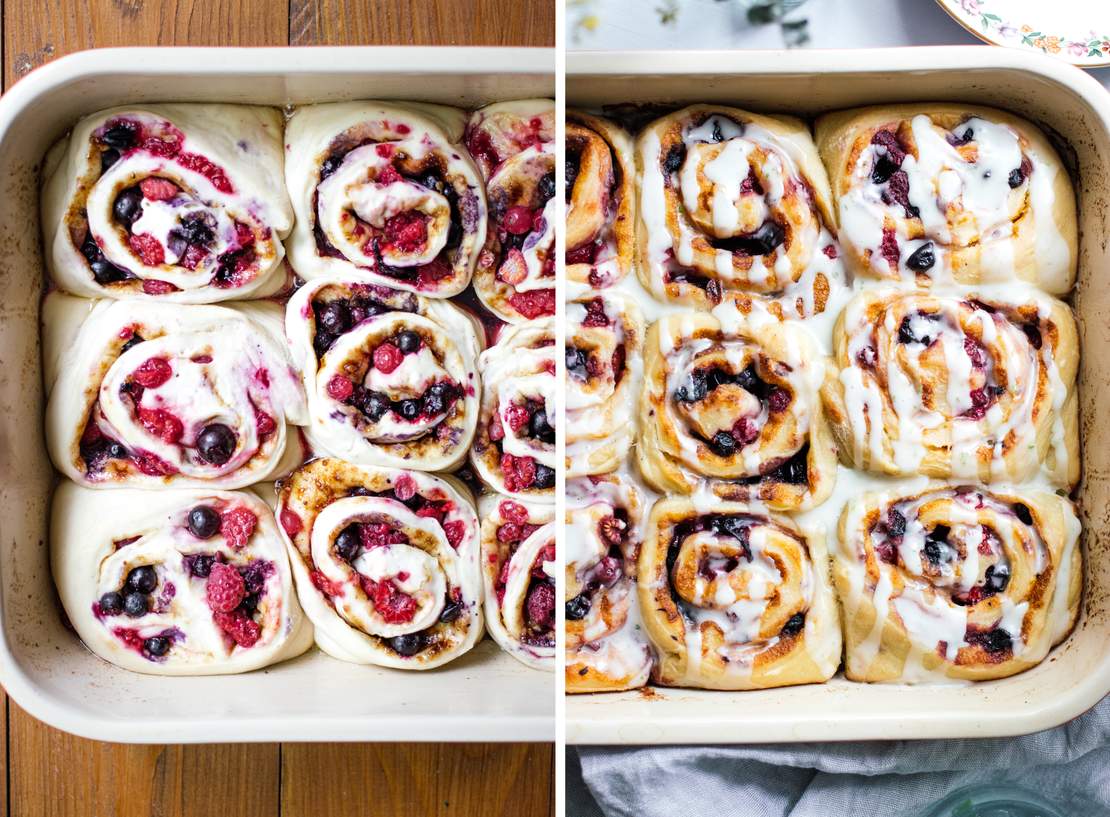 Vegan Yeast Dough
1 serving
30 minutes (+ at least 2 hours to rest)
Ingredients
15 g (0.5 oz) fresh yeast
375 ml (1.5 cups) lukewarm water
1 tbsp brown sugar
550 - 600 g (19 - 21 oz) flour
1 tsp salt
40 g (1.5 oz) coconut oil
Instructions
Dissolve the fresh yeast in warm water with brown sugar in a large mixing bowl. Wait for ten minutes. The yeast should swell and rise to the water surface.
Heat coconut oil, wait until lukewarm and add it to the bowl.
Gradually add 400 g (14 oz) flour, mix well and add salt. The dough should be very sticky.
Cover bowl with a damp kitchen towel and let rise for at least one hour. After this time you should see small bubbles on the surface, and your dough should be doubled in size.
Now add the rest of the flour until you can form a big ball out of dough. Knead the dough for some more minutes and let rise for another hour on a warm and dry place. The dough should rise for the second time. Now use the vegan yeast dough as desired.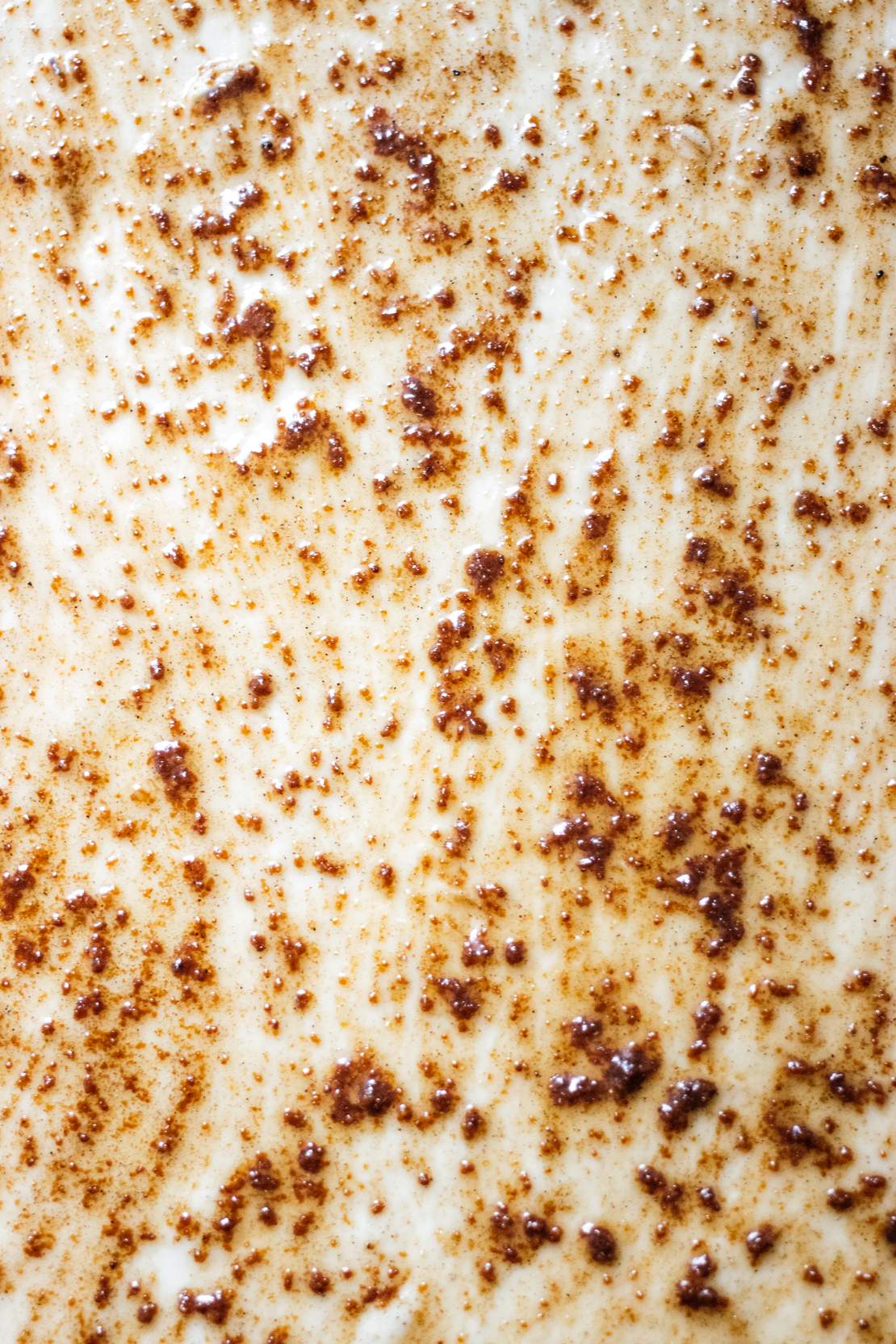 Vegan Berry Rolls with Cardamom
12 rolls
20 minutes (+ 30 min. rising time, + 30 min. baking time)
Ingredients
1 yeast dough (recipe on the blog)
FOR THE FILLING
3 tbsp melted plant-based butter
2 tsp cardamom
2 tbsp coconut sugar
300 g (10.5 oz) frozen berries
1 tsp starch
2 tbsp sugar
FOR THE ICING
250 g (2 cups) confectioner's sugar
2 tbsp cold water
1 lime
Instructions
Prepare the yeast dough until it's doubled in volume and ready to be rolled out into a rectangle.
Mix melted vegan butter, cardamom, and coconut sugar. Brush the whole dough with this mixture.
Take out frozen fruits from the freezer and mix them with starch and sugar. Spread the fruits all over the dough, then start to roll up the dough carefully until you have a big log.
Cut the dough into 12 same-sized rolls and transfer them to a greased baking pan. Let the buns rise for the last time for approx. 30 minutes. They should rise enough to touch each other. Since the fruit filling is frozen, this can take more time, so don't worry and be patient. The rising always works best when you place the baking dish in a warm oven where you can control the temperature.
Bake berry buns at 180°C/355°F for approx. 30 minutes, or until they are golden brown on top. Remove from the oven and let cool down.
For the icing, add the zest of a lime to confectioner's sugar, then add 1 tbsp of water. Stir to combine until a thick icing forms. Then carefully add a little more water until your desired icing consistency is reached. Pour icing over berry buns and enjoy!