Say Hello to: Breakfast Sandwich
About the how and why: We already introduced you to the BLT sandwich and Club Sandwich, which are both somehow clearly to identify, but can still be adjusted and extended. But with today's Breakfast Sandwich it will get very vague. A breakfast sandwich is a .... breakfast sandwich. Are there even any rules for it? Supposedly it was first mentioned as a proper recipe with this specific name in a cookbook around 1900.
What's usually on it: You are spoiled for choice regarding toppings AND the type of bread for your breakfast sandwich. For the latter, you could go for white bread, bagels, biscuits, bread rolls, and more. We decided on English muffins today. Toppings usually cover a combination of egg, meat, and cheese, but that is just a rough idea.
How we do it: Somehow I always connected a breakfast sandwich with the bacon and egg muffin from Mc-You-Know-Who. I've never even eaten this one, but I was thinking about its look and wanted to get similar vegan egg patties shaped circularly. So I took Isa's recipe for 'Strammer Max' and found some dessert rings that did the trick.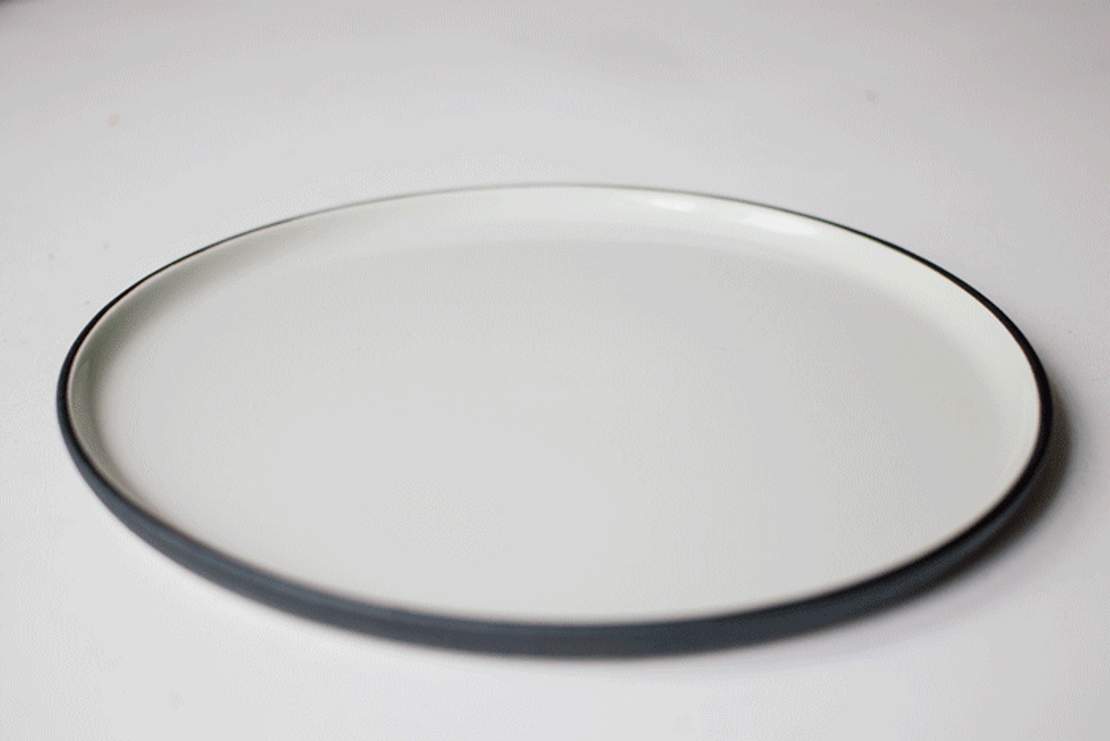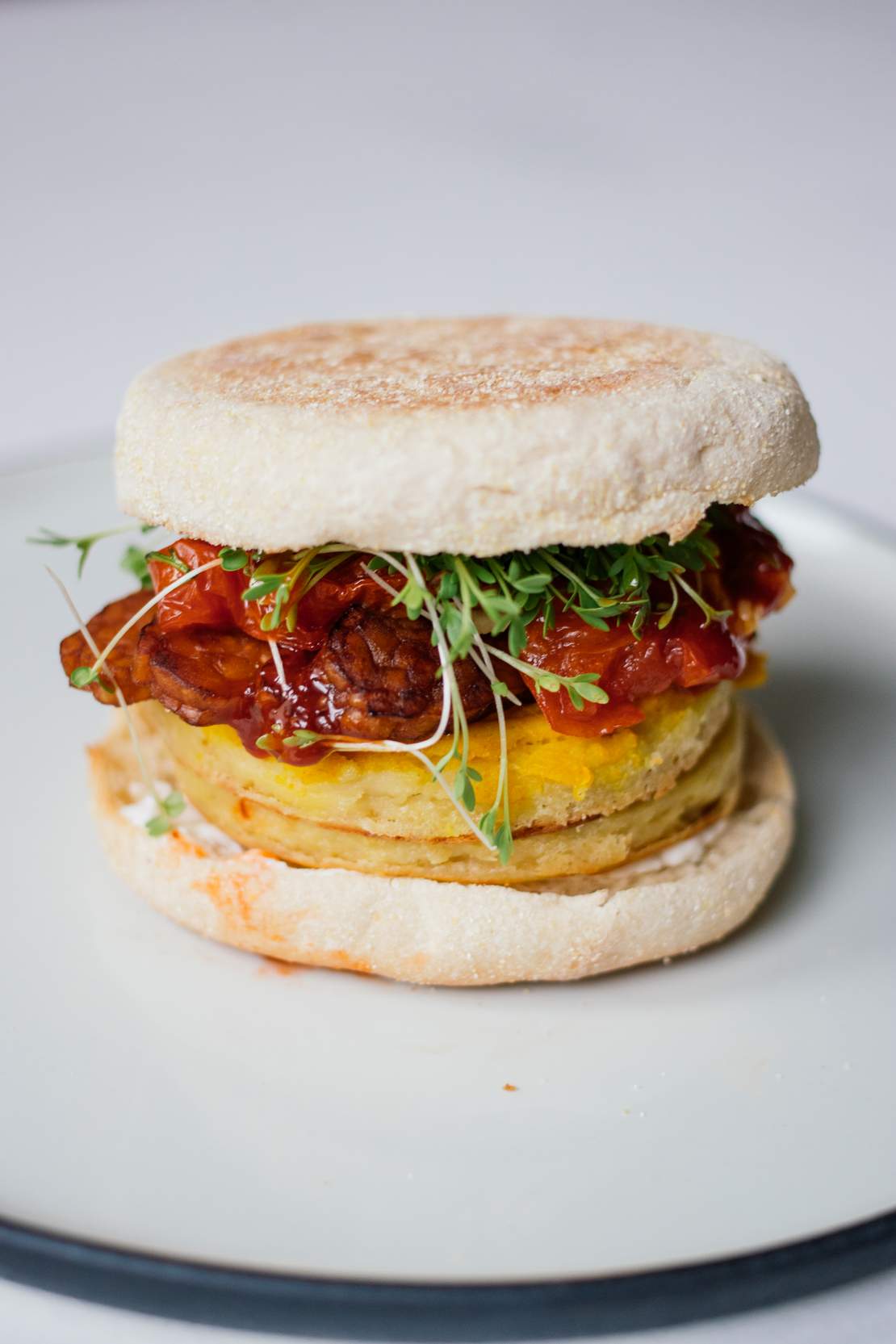 Vegan Breakfast Sandwich
Ingredients
2 English muffins
2 tomatoes
1 tbsp olive oil
1 garlic clove
4 tbsp vegan cream cheese
garden cress
sriracha (optional)
salt
pepper
For tempeh bacon:
100 g (3.5 oz) tempeh
1 tbsp soy sauce
1 tbsp liquid smoke
0.5 tbsp maple syrup
1 tsp mustard
vegetable oil for frying
For egg patties:
200 g (7 oz) silken tofu
6 tbsp chickpea flour
100 ml (0.25 cup) vegan heavy cream
1 tbsp starch
1 tsp kala namak
1 tsp turmeric
vegan butter for frying
Instructions
Preheat oven to 180°C/350°F. Finely chop garlic. Cut tomatoes in thicker slices and transfer them to a baking pan or on a deep baking sheet. Drizzle with olive oil, add garlic and season with salt and pepper. Let them roast in the preheated oven for approx. 15 minutes.

In the meantime, thinly slice tempeh and add all ingredients for the marinade to a bowl, and stir to combine. Add tempeh slices to the marinade and let them rest for 5 minutes. Heat vegetable oil in a frying pan and fry sliced tofu from both sides until crispy and browned.

For the vegan egg base, add silken tofu, 5 tbsp chickpea flour (not all of it), vegan heavy cream, starch, and kala namak to a liquid measuring cup and blend until smooth — season with salt and pepper.

Take approx. 3 tbsp of this mixture and add to a separate bowl, along with remaining 1 tbsp chickpea flour and turmeric. Stir to combine - this will be the "egg yolk" mixture.

If used, grease dessert rings. Melt some vegan butter in a frying pan over medium-low heat and add dessert rings. Spoon some of the tofu base into the rings, but don't use too much and create a too high patty, because you'll risk that the patties won't cook thoroughly and will still be liquid in the center.

Fry patties for 1 minute before adding a tiny dollop of the turmeric mixture on top - similar to an egg yolk. Cover dessert rings with a plate, which will help cook them. Once they are slightly browned on the bottom and you notice that the patties are firmed up, carefully remove the dessert rings (you might need a knife for that). Flip patties and fry until golden brown. If you still have some of the batter, repeat this step.

For serving, toast English muffins. Spread with vegan cream cheese and top with tofu patties, fried tempeh, roasted tomatoes, sriracha, and garden cress.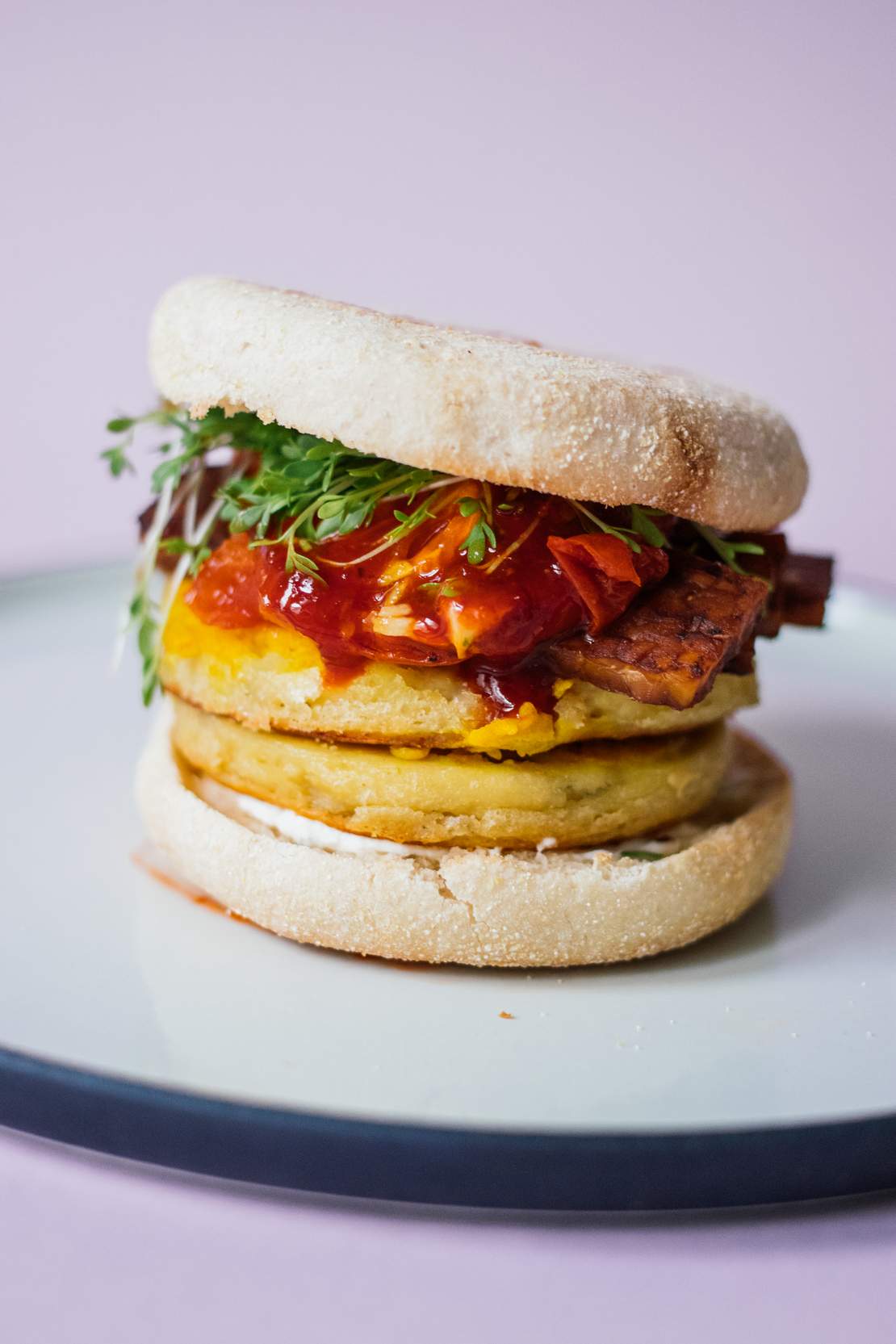 More Sandwich Sunday - Vegan Sandwich Recipes