For a few years now, since 2015/2016 to be exact, there has been a trend in the world of desserts and cakes to pair each pastry with a different sweet. You might remember cruffins (croissant and muffin), cragel (croissant and bagel) or duffins (donut and muffin). If you're already rolling your eyes: I'm not a big fan of these hybrids either – however, one of them has made it into my heart ...
... and I am talking about Brookies! I first saw them in America at an amusement park (sure, where else); however, they were not vegan and thus remained a bit of a mystery to me that I didn't bother with again until after my return trip. Brookies are a hybrid of a brownie and a cookie – so if you break it down, you're eating a brownie and cookie simultaneously. It doesn't sound as exciting and thrilling as it did when I first started, but the result is amazingly good.
So we combined our favorite chocolate chip cookie and brownie recipe and out came something that actually tastes even better together than alone. The secret trick is the fudgy texture of the brownies and the crunchy, relatively dry note of the cookies – they complement each other perfectly and, in the end, result in a cookie that will get more "Ohhhhs" and "Ahhhhs" from your guests than cookies and brownies could ever do on their own. So if you're like me and skeptical of the new cragel or duffin store in town – these vegan Brookies won't disappoint!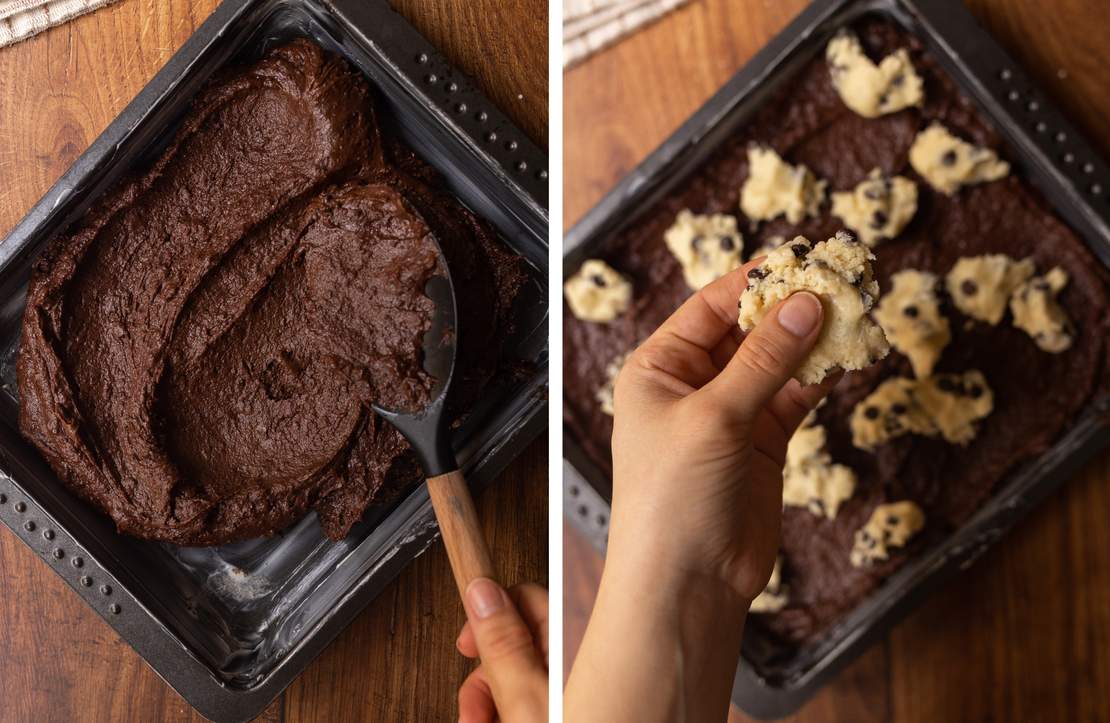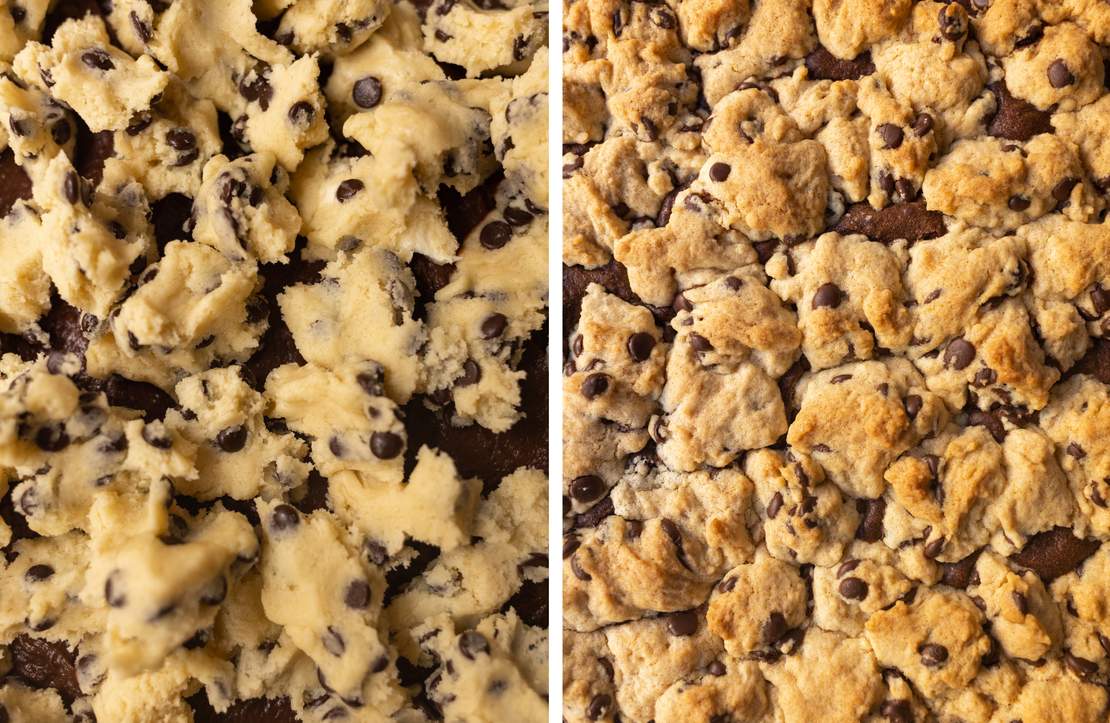 Vegan Brookies
9-12 servings (20 x 25 cm / 8 x 10 inch)
20 minutes (+30 minutes baking time)
Ingredients
For the brownie dough:
200 g (1.5 cups) wheat flour (type 405) or spelt flour (type 603)
200 g (1 cup) sugar
8 g (0.25 oz) vanilla sugar
50 g (0.5 cup) cocoa powder
200 g (7 oz) dark chocolate
100 g (3.5 oz) applesauce
100 ml (0.5 cup) vegetable oil
200 ml (0.75 cup) plant-based milk
For the cookie dough:
200 g (1.5 cups) wheat flour (type 405) or spelt flour (type 603)
80 g (0.5 cup) sugar
125 g (1 stick) vegan butter
8 g (0.25 oz) vanilla sugar
1 tsp baking powder
1 pinch of salt
2 tbsp applesauce
150 g (5 oz) dark chocolate drops
Instructions
For the brownie batter, mix wheat flour, sugar, vanilla sugar and cocoa powder in a bowl. Melt the dark chocolate in a water bath.

Then add the melted chocolate, applesauce, vegetable oil and plant-based milk to the dry ingredients, mix well and pour into a greased pan (20 x 25 cm / 8 x 10 inch).

Preheat the oven to 180 °C / 350 °F (convection oven). For the cookie dough, mix wheat flour, sugar, vegan butter, vanilla sugar, baking powder, salt and applesauce in a bowl until a large ball can be formed. Mix in the chocolate drops as well.

Add cookie dough chunks over the brownie batter and bake in the oven for 30 minutes on the middle rack. After 30 minutes, turn off the oven and let the Brookie cool in the oven with the door closed. Once the Brookies have cooled, cut into pieces and serve.