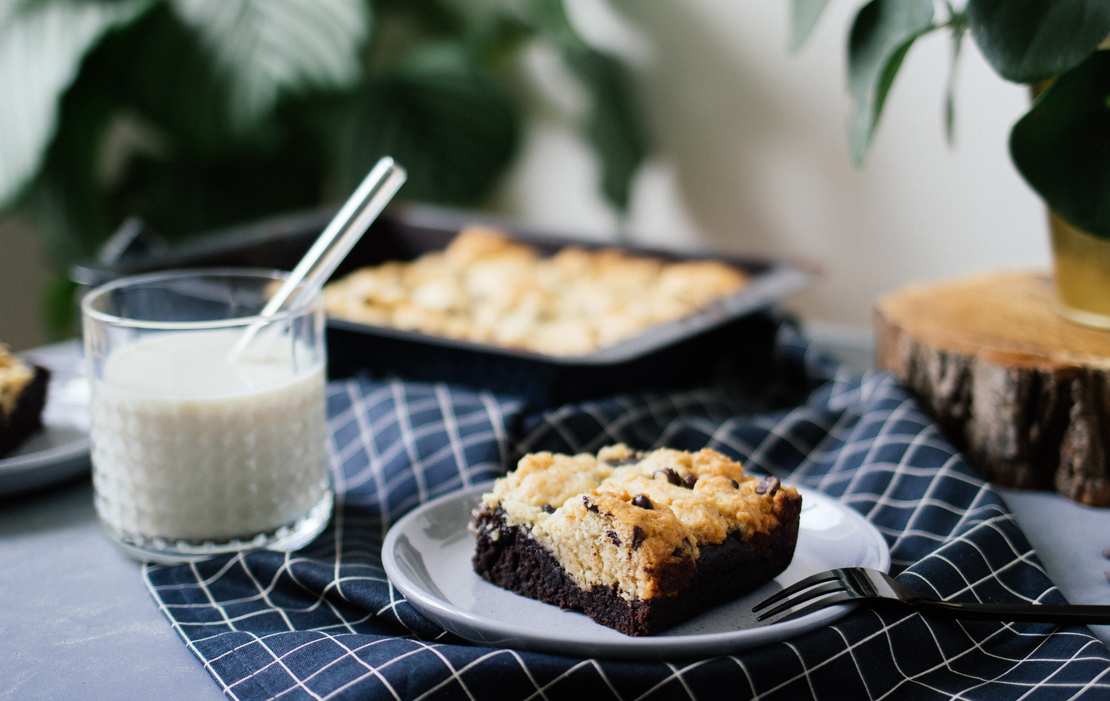 In our [fourth podcast episode] (https://www.zuckerjagdwurst.com/en/podcasts/vegane-ersatzprodukte-bei-mcdonalds-und-co-wichtig-oder-unnoetig) we already announced that our challenge for June is to bake vegan brookies! A Brookie (guess what) is an American dessert made of brownies and cookies .. and if you already think that sounds pretty massive, let me tell you: you're 100 % right.
Fortunately, we already have two recipes on the blog, which we just had to combine for this recipe: [Vegan, moist chocolate brownies] (https://www.zuckerjagdwurst.com/en/recipes/vegan-moist-chocolate-brownies) and [vegan, soft chocolate chip cookies] (https://www.zuckerjagdwurst.com/en/recipes/vegan-soft-chocolate-chip-cookies). Both doughs are baked on top of each other, so you end up with juicy brownie dough and crunchy cookie dough on top. PS: Serve small pieces, cause brookies are a quite heavy dessert.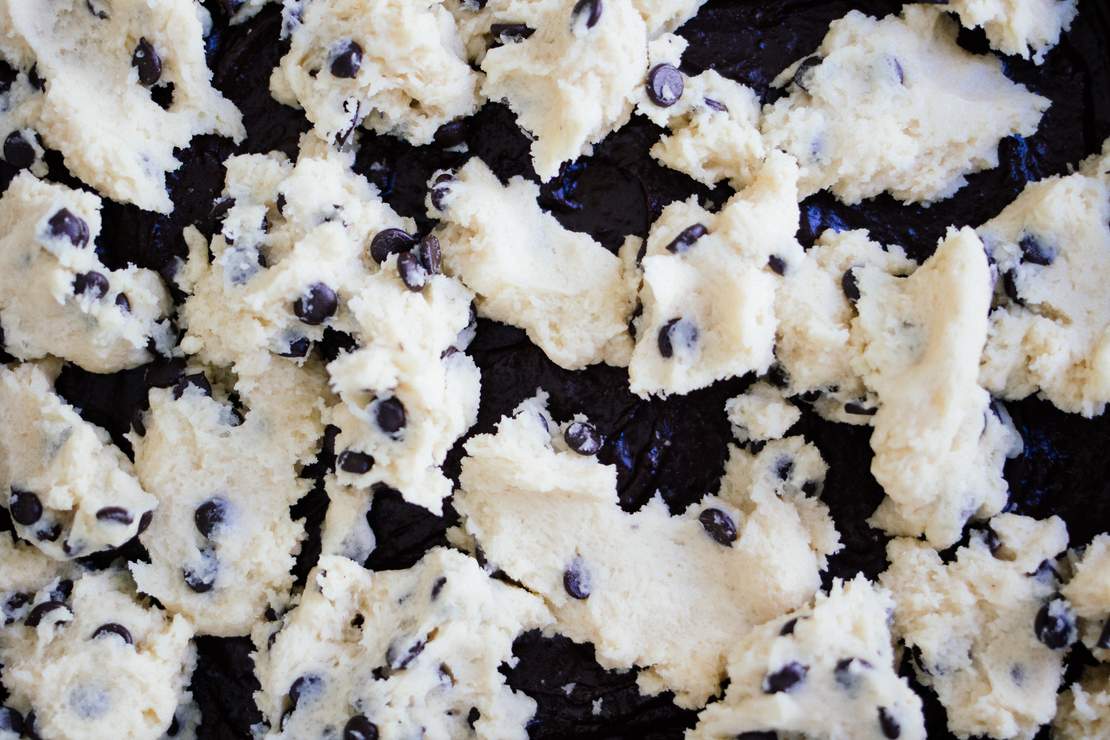 Vegan Brookies
9-12 servings (Backform: 20x25 cm)
20 minutes (+30 minutes baking time)
Ingredients
brownie dough
200 g (1 cup) white sugar
8 g (0.28 oz) vanilla sugar
50 g (1.9 oz) cocoa powder
200 g (1.5 cups) flour
200 g (7 oz) dark chocolate
100 g (3.5 oz) apple sauce
100 ml (0.4 cups) plant-based oil
200 ml (0.8 cups) plant-based milk
cookie dough
200 g (1.5 cups) flour
80 g (0.4 cups) white sugar
125 g (0.55 cups) plant-based butter
1 pinch of salt
8 g (0.28 oz) vanilla sugar
1 tsp baking powder
2 tbsp apple sauce
75 g (2.6 oz) dark chocolate drops
Instructions
brownie dough
Preheat the oven to 180 °C.
For the brownies, mix all the dry ingredients in a large bowl: sugar, vanilla sugar, cocoa powder, and flour.
Melt the dark chocolate in a water bath or microwave.
Add the melted chocolate, the apple sauce, the plant-based milk and the oil. Mix well! Grease the brownie tin and sprinkle it with some cocoa powder. Fill in thr brownie dough.
cookie dough
In a large bowl, mix all the ingredients for the cookie dough.
Add the chocolate drops and mix briefly.
Spread the cookie dough on the brownie dough and bake for 30 minutes in the middle of the preheated oven.
After 30 minutes, turn off the oven and allow the brookie to cool down in the oven with the door closed. Make sure that the brookie doesn't turn too dark at this time. Once it has cooled down, cut into pieces and serve.