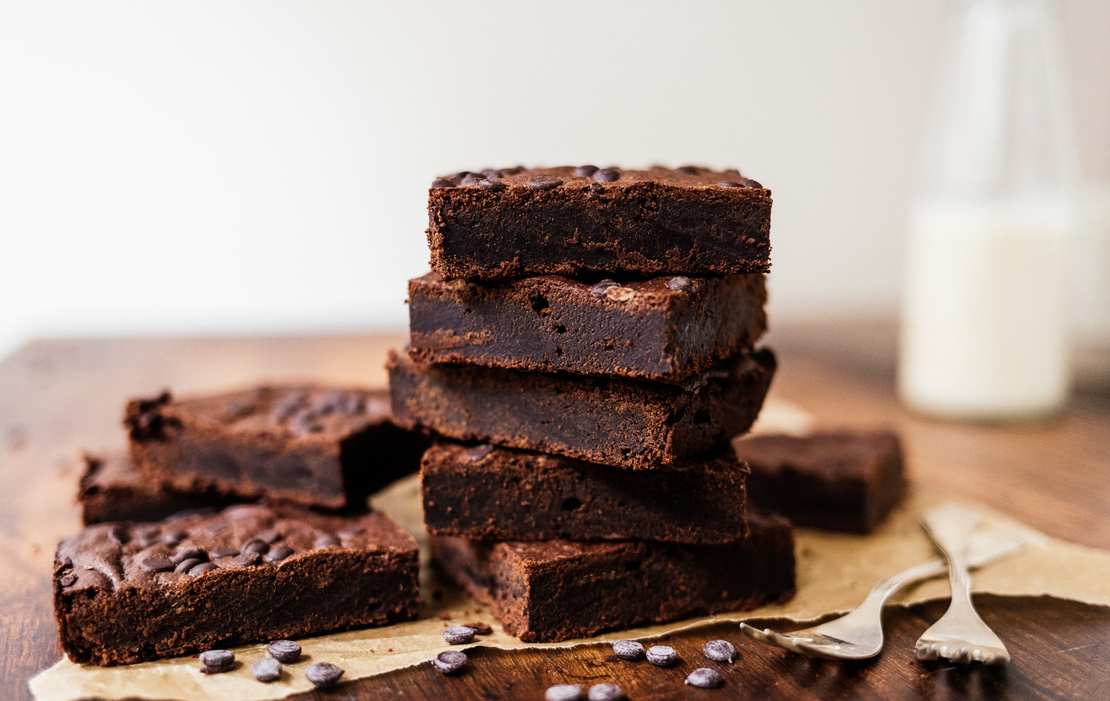 Fudgy Vegan Chocolate Brownies
When it comes to food, we love trying out new things. Here at the office, we are always busy trying new recipes or products. But although trying new things is fun, there are some recipes on our blog that we revisit all the time. One of our office favorites is our vegan brownie recipe. We also often use previous, much-loved recipes as inspiration when developing new ones. These brownies, for example, are super versatile and can be changed up according to season. I should be able to prepare them standing on my head by now. For me, it's the perfect recipe: It's quick and suitable for any occasion.
I add cocoa powder and melted dark chocolate to the batter to give the brownies a rich chocolate flavor. Of course, you can also use vegan milk chocolate instead of dark one. But remember that the brownies will taste sweeter in this case. The apple sauce makes the brownies extra fudgy. If you don't have it at hand, you can also use a mashed banana. You can use whatever plant-based milk you have at home, but we recommend using oat or almond milk. However, what is much more important is choosing the right vegetable oil. We recommend sunflower oil, as it has the most neutral flavor and isn't too thick. Olive oil and canola oil have a strong flavor and can be too viscous. There are some oils made of canola and sunflower oil that are pretty neutral in taste, so you can use those too.
The best thing about this recipe is that you can adjust it according to your mood. We have already tried adding all kinds of fruit like cherries or even dried fruits. Rhubarb or nuts also work well. Stored in an airtight container, the brownies stay moist for up to five days so you can prepare a batch in advance and enjoy it all week long!
Fudgy Vegan Chocolate Brownies
9 brownies (baking dish: 20x25 cm/8x10 inches)
20 minutes (+ 30 minutes baking time)
Ingredients
For the batter:
200 g (7 oz) dark chocolate

200 g (1.66 cups) wheat flour type 405 (or spelt flour type 630)

200 g (1 cup) sugar

50 g (0.5 cup) unsweetened cocoa powder

1 pinch salt

100 g (0.5 cup) apple sauce

100 ml (0.5 cup) vegetable oil

200 ml (0.75 cup) plant-based milk
Also:
50 g (1.75 oz) chocolate drops
vegan butter for greasing
Instructions
Preheat your oven to 180°C/350°F (convection heat). Melt the dark chocolate in a double boiler or a microwave.

Mix flour, sugar, cocoa powder, and salt in a bowl. Add the melted chocolate, apple sauce, vegetable oil, and plant-based milk and stir until combined.

Grease a baking dish (20x25 cm/8x10 inches) with vegan butter, pour in the batter, and smooth it out. Sprinkle the chocolate drops evenly over the batter.

Bake at 180°C/350°F (convection heat) for approx. 25-30 minutes. After cooling, the brownies will keep for about five days in an airtight container.