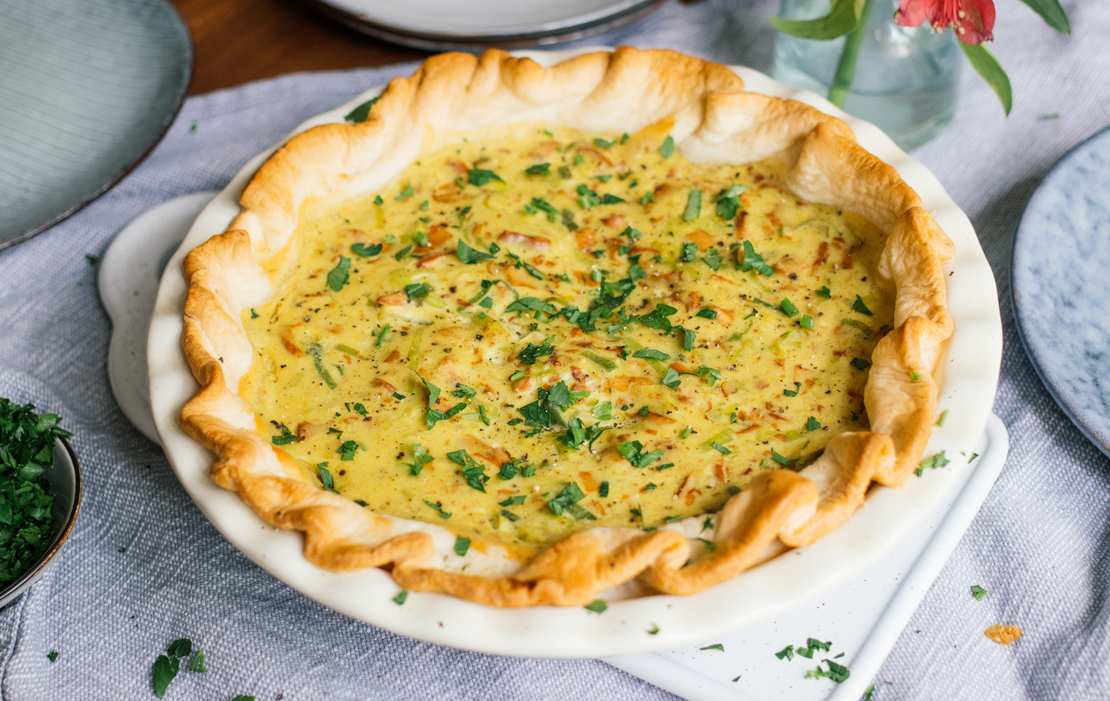 Vegan Chanterelle and Leek Quiche
Anyone who has already tried to bake a vegan quiche will confirm that it's not the easiest thing to do. Usually, there are a lot of eggs in the filling that helps to thicken the quiche in the oven. As a vegan alternative, some recipes call for very simple solutions, e.g., just a few tablespoons of soy flour. I've tried several of these recipes, and unfortunately, they always failed. The filling was often very liquid long after the given baking time when the dough already turned quite dark. I could only manage to let the quiche cool down to thicken, but then I ate a cold quiche in hangry mode. Not what I expected my lunch to be...
This is why we've been working on our own vegan quiche recipe for a long time. We even update it sometimes when we tested out new ideas to refine it. The result of this recipe isn't a super firm filling, but thanks to starch and chickpea flour it's a fluffy mixture that easily holds together even when the quiche is warm. The black salt called kala namak gives an egg-like taste, and ground turmeric is the reason for the yellowish color. Both are enhancing this recipe, but the quiche will also taste great without them.
If chanterelles aren't in season right now, feel free to add any vegetable to your quiche. Using pre-made vegan dough from the store is a shortcut, but if you want to go all the way, here's a recipe for homemade vegan short-crust pasty.
Vegan Chanterelle and Leek Quiche
Ingredients
1 sheet pre-made vegan quiche dough
300 g (10.5 oz) chanterelles
200 g (7 oz) leek
1 garlic clove
400 g (14 oz) silken tofu
100 ml (0.5 cups) plant-based heavy cream
3 tbsp nutritional yeast
2 tbsp starch
2 tbsp chickpea flour
0.5 tsp kala namak salt
0.5 tsp turmeric
1 tsp nutmeg
parsley for serving
vegan butter for greasing
vegetable oil for frying
salt
pepper
Instructions
Clean chanterelles and wash leek. Slice the leek into rings and chop chanterelles. Peel and finely chop garlic.

Heat some oil in a frying pan and fry chanterelles over medium heat for approx. 5 minutes. Add leek and garlic and keep frying for 2 minutes, then season with salt and pepper.

For the liquid part of the quiche, blend silken tofu, plant-based heavy cream, nutritional yeast, starch, chickpea flour, kala namak, turmeric, and nutmeg using a blender or immersion blender — season to taste.

If desired, grease and flour your quiche dish, then carefully transfer the pre-made quiche dough inside. Some of the dough will overlap, but that's just fine. Add fried chanterelles, leek, and the silken tofu mixture to the quiche dish and stir to combine.

Bake in your preheated oven at 190°C/375°F for approx. 40 minutes, or until the filling is set and the quiche is golden brown. Serve with freshly chopped parsley on top. Before cutting, let the quiche rest for approx. 5 minutes.