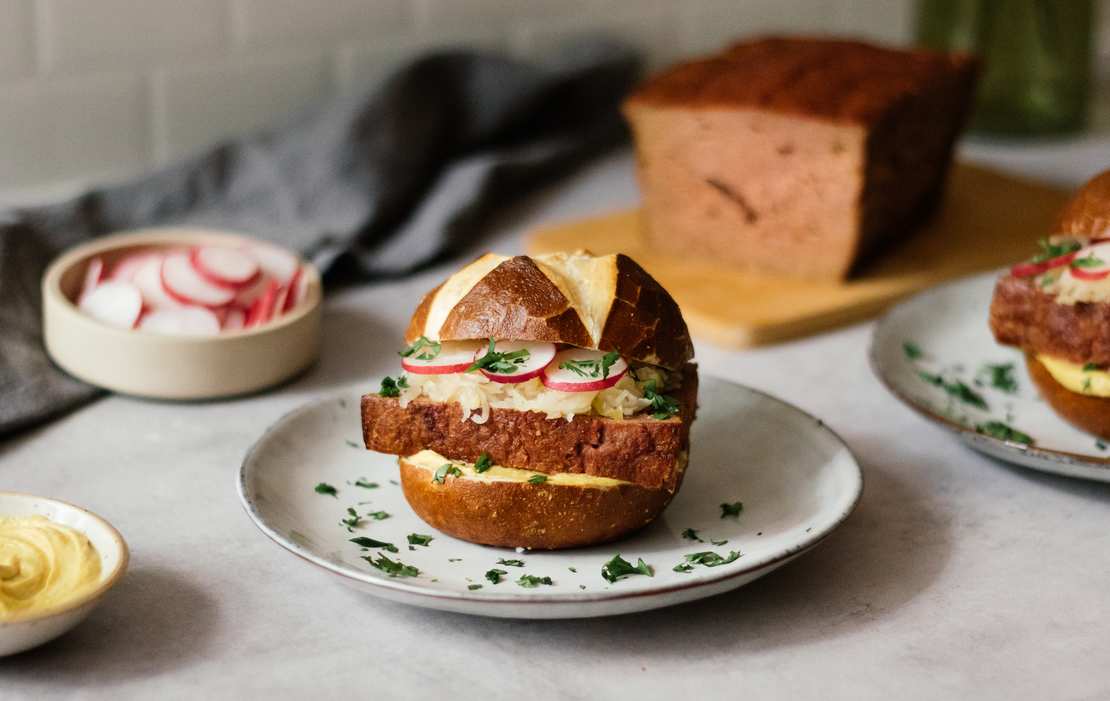 In my family, it's a tradition to eat Bavarian meatloaf (so-called "Leberkäse") with sauerkraut on New Year's Day. Unfortunately, I never liked the meatloaf that much. For me, it was all about the sauerkraut. My family has a superstition that it will help your finances to eat loads of sauerkraut on the first day of the year. Good thing for me that my plate is exclusively filled with sauerkraut every year. But from now on, I'm going to change that. I've been testing my vegan meatloaf for a loooong time, and I am finally at the point where everyone in the office is pleased with the recipe - even the former meatloaf lovers. Yay!
There aren't many vegan recipes for vegan meatloaf, but in most recipes, the main ingredient is tofu. I wanted to change that. First, I had to research how to make a traditional meatloaf. A few videos and recipes later, here's what I found out: According to Wikipedia, meatloaf is made of lean pork, bacon, or beef. The meat is heavily minced (chopped) and seasoned with pickling salt, pepper, mace, coriander, and ginger—the seasoning varies from recipe to recipe. So much for the theory; now it's time to veganize it.
As a meat substitute, I opt for vegan ground beef. Next, we have to add some spices. I created a special spice mix that everyone in the office was very pleased with. As always, you can adjust the seasoning to taste. The original meatloaf often contains curing salt, which gives it a reddish color. We substitute it with a few drops of beetroot juice. After blending everything, I pressed the mixture through a sieve to achieve the typical soft texture, but it's not a must.
There are loads of suitable side dishes for a german meatloaf: vegan potato salad, vegan fried eggs, or sauerkraut. You can also serve it in a bun with coleslaw, radishes, and mustard. Either way, it will taste fantastic!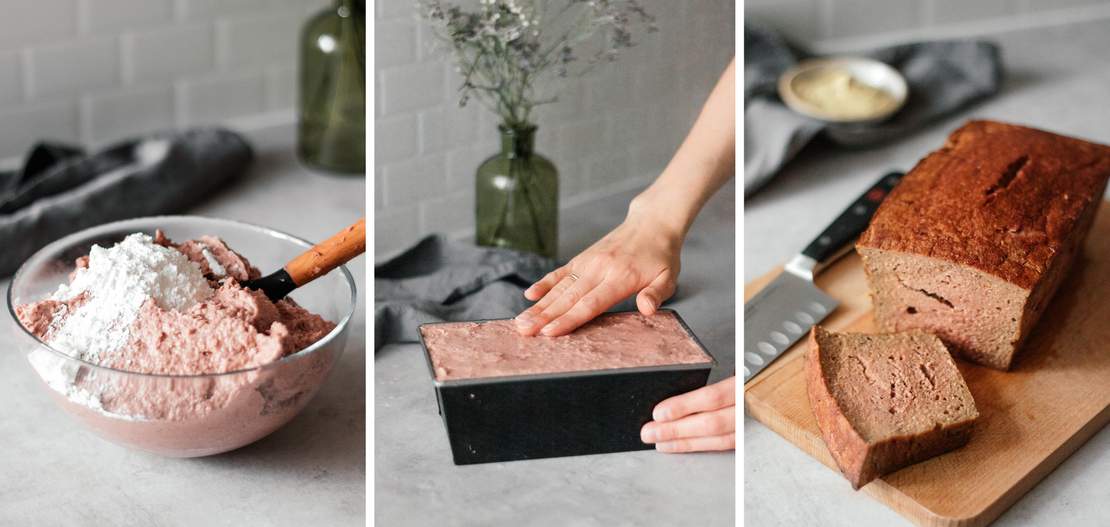 Vegan Bavarian Meatloaf
1 vegan Bavarian meatloaf (20x11 cm / 8x4 inches)
30 minutes (+ 50 minutes baking time)
Ingredients
For the Bavarian meatloaf
1250 g (2.75 lbs) vegan "raw" ground meat
350 ml (1.5 cups) water
25 ml (2-3 tbsp) beetroot juice
2.5 tsp ground allspice
1.25 tsp ground white pepper
2.5 tsp ground nutmeg
2.5 tsp garlic powder
1.25 tsp onion powder
2.5 tsp dried lovage
2.5 tbsp cornstarch
2.5 tsp baking powder
Also:
radishes
pretzel rolls
mustard
coleslaw
vegetable oil for greasing
Instructions
First, fill the water in a small container and let chill in the freezer for about 10 minutes until it's freezing cold. Next, preheat the oven to 180°C/350°F (upper-lower heat).
For the meatloaf, add vegan ground meat to a bowl and blend until smooth. Stir in beetroot juice, then gradually add the ice-cold water and blend again until creamy. The color should be slightly pink.
Press the mixture through a fine sieve into a bowl.Season with ground allspice, white pepper, nutmeg, garlic and onion powder, dried lovage, cornstarch, baking powder, and mix well.
Tip: Everything remaining in the sieve can be used for other dishes.
Add the mixture to an oil-greased baking pan (20x11 cm/8x4 inches), pour a little water on top and rub it in with your hands so the surface is slightly wet. This will help to create the typical dark crispy crust of the meatloaf. Bake at 180°C/350°F (upper-lower heat) for about 35 minutes. Then remove the baked meatloaf from the pan and add it back to the oven at 250°C/500°F (top heat) for another 7 minutes. Remove from the oven and allow to cool briefly before slicing.
While the vegan meatloaf is baking, wash and slice the radishes. For serving, top the pretzel rolls with mustard, vegan meatloaf, coleslaw, and sliced radishes.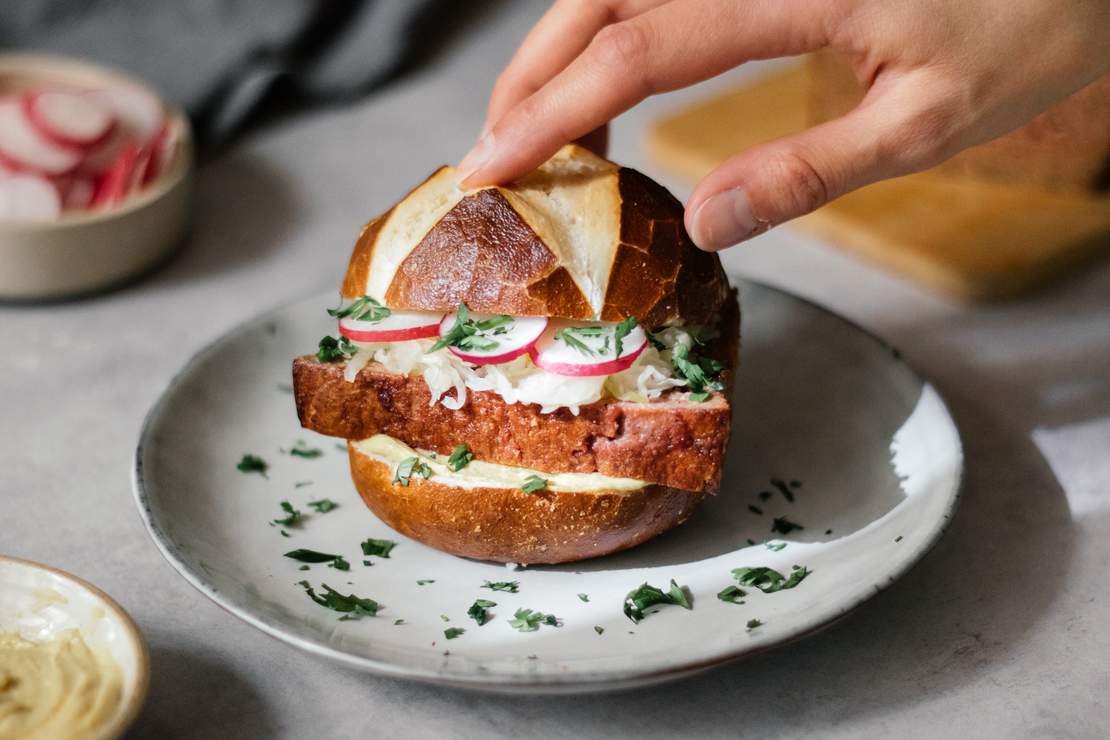 More Vegan Recipes for Traditional German Classics