Vegan Colcannon with Roasted Carrots
For me, mashed potatoes are a real comfort food for several reasons. For a start, it's a convenient dish that only requires a few cheap ingredients. Its preparation is so easy that you'll even manage to cook this dish if you're a beginner in the kitchen. On the other hand, the warm, creamy and buttery mash is simply one of my favorite "side dishes". I put this in quotation marks on purpose because I love mashed potatoes that much that it's not just a side dish for me, but the highlight on my plate. I think more about what to serve to mashed potatoes than the other way round.
And that's where the Irish colcannon comes into play. It's some kind of "extended mashed potato" version that also contains cabbage or kale. This not only adds more flavor and texture to the mash, but is also helpful when you try to smuggle some greens into your kid's (or your own) diet. Colcannon is a traditional Irish dish made with kale or white cabbage, but you can use any kind of cabbage, such as savoy cabbage like in our recipe.
Today, we serve the colcannon with roasted carrots that you can first put in the oven and then take care of the mashed potatoes.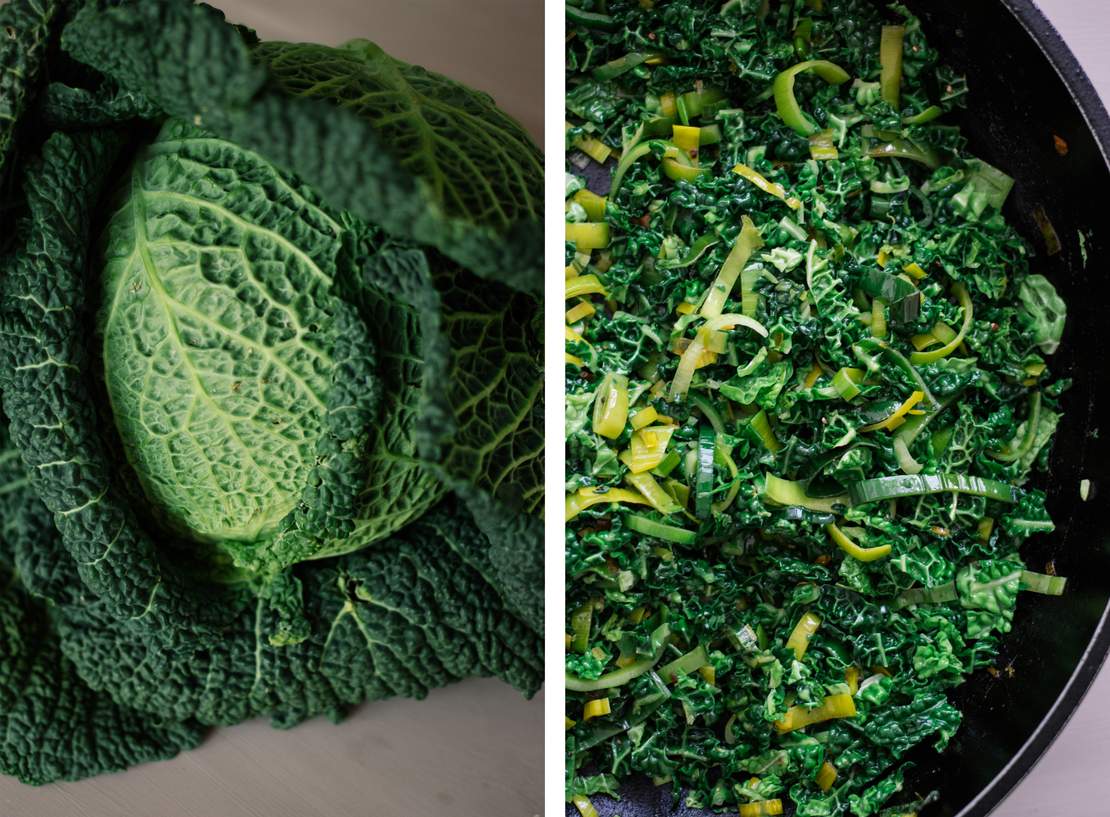 Vegan Colcannon with Roasted Carrots
Ingredients
For the carrots:
4 carrots
2 garlic cloves
2 tbsp olive oil
1 tsp maple syrup
1 tsp mustard
salt
pepper
fresh parsley
For the calconnon:
800 g (1.75 lbs) potatoes
100 g (3.5 oz) leek
200 g (7oz) savoy cabbage
1 scallion
6 tbsp vegan butter
250 ml (1 cup) plantbased milk
100 ml (0.5 cup) plantbased heavy cream
salt
pepper
nutmeg
Instructions
Roasted carrots:
Preheat oven to 190°C/380°F. Halve carrots and transfer them to a baking sheet – they shouldn't overlap but lie next to each other. Finely chop garlic and mix with olive oil, maple syrup, and mustard. Season with salt and pepper to taste, then drizzle mixture over carrots and toss to coat.

Bake the carrots in your preheated oven at 190°C/380°F for approx. 30 minutes – they should be fork tender, not too soft. Turn once after 15 minutes. Serve baked carrots with chopped fresh parsley.
Calconnon:
Peel potatoes and add to a pot. Cover with cold water and season with salt. Cook over medium heat for approx. 20 minutes until soft.

First halve the leek, then slice it. Finely chop savoy cabbage and cut scallion into fine rings.

Melt 2 tbsp vegan butter in a large frying pan and fry leek over medium heat for approx. 5 minutes, or until soft. Add chopped cabbage and fry until it wilts. Season with salt and pepper, then add plantbased milk and heavy cream. Bring to a boil, then remove from the heat.

In the meantime, the potatoes should be soft. Drain in a sieve and add cooked potatoes and the leek and cabbage mixture back to the large pot. Add remaining 4 tbsp vegan butter and mash the potatoes until they're creamy. Season with salt, pepper, and nutmeg to taste. If desired, add more plantbased milk or cream until the desired texture is reached.

Serve vegan colcannon with scallions and even more butter on top – because why not.