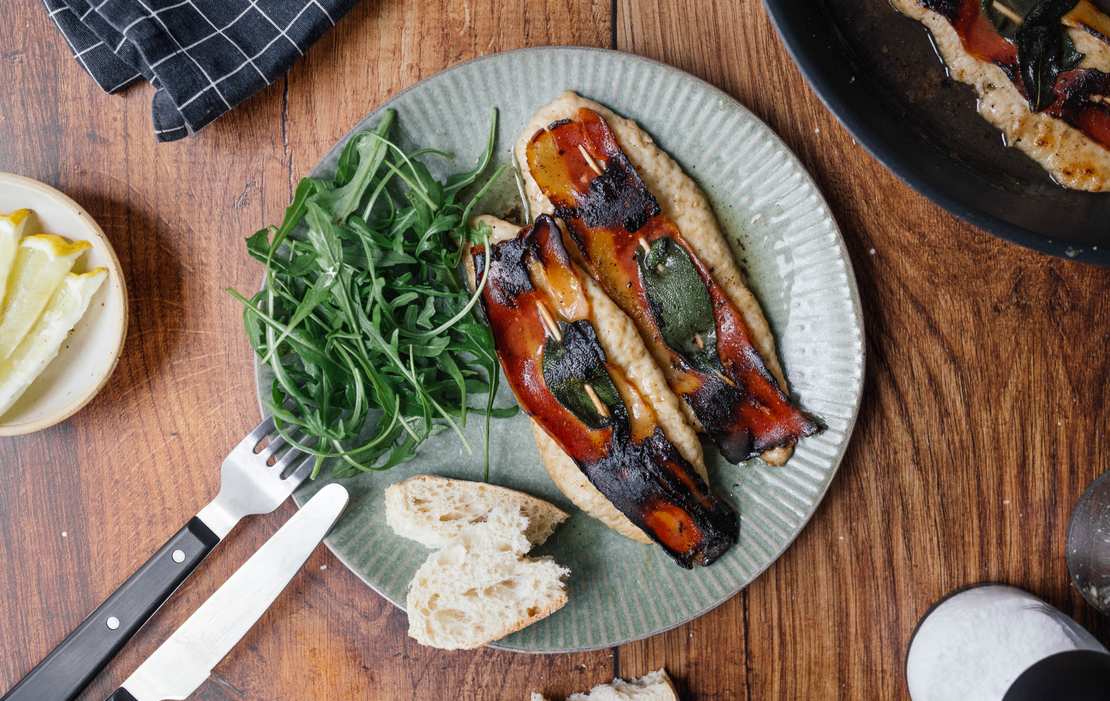 Vegan Saltimbocca alla romana
Unlike most, I don't know saltimbocca from a vacation in Italy or my favorite Italian restaurant. Instead, I know it from my mother! When I still lived at home, she often cooked saltimbocca for us. And now I know why – it's ready in 20 minutes and requires only a few ingredients. But what exactly is saltimbocca anyway?
Saltimbocca alla romana originated in Roman cuisine and basically consists of four ingredients: veal, ham, sage and white wine. And that's it – pretty simple. So today, we make an easy vegan version which wouldn't have been possible a couple of years ago. Why? Because we didn't have the proper vegan (substitute) products for it. But first things first.
Veal is lean meat. For saltimbocca, it's cut into thin strips and then pounded thin with a meat tenderizer. Well, what to do if you don't want to eat meat? A few years back, there were only dried soy stripes, soy mince, tofu, vegan sausages or meatballs on supermarket shelves. There were few alternatives that resembled a filet, let alone a veal substitute. In the meantime, the tide has turned somewhat, and you can now find meat substitutes in more and more supermarkets that imitate chicken filets and the like. Finally! These products are perfect for slicing and preparing saltimbocca, and roulades, for example. Of course, you can also use soy steaks and tofu slices, but they are just not as convincing.
With bacon or ham, it's very similar: It all started with smoked tofu or rice paper, coconut chips, and shaved vegetables that were marinated and baked. But the results often didn't look like "bacon" – even though they tasted pretty good. But things have changed here, too, and now you can find ready-made strips of bacon in the supermarket that look like "real" bacon, which can be pan-fried and made crisp. Hallelujah!
Since both products came into our lives, it has finally become possible to get relatively close to the classic Saltimbocca alla Romana – and now, after 15 years, I can finally cook it myself. It tastes almost like my mother's. Who would have thought?
Vegan Saltimbocca alla romana
Ingredients
For the saltimbocca:
4–8 sage leaves
2 (180 g / 0.5 lb) vegan (chicken) filets
4 slices of vegan ham/bacon (in strips)
2 tbsp vegan butter
250 ml vegan white wine
1–2 tsp cornstarch
toothpick
salt
pepper
To serve:
fresh bread
side salad
lemon
Instructions
Wash and dry the sage leaves.

Cut the vegan (chicken) filets in half lengthwise and pound them flat with a meat tenderizer. Season each slice with salt and pepper and attach a piece of vegan bacon and a sage leaf to each filet with 1–2 toothpicks.

Heat a pan with vegan butter and fry filets from both sides. You can also add more sage leaves to the pan if desired. Once the bacon and meat are crispy, deglaze with the vegan wine.

Mix the cornstarch with a bit of white wine or water until smooth, and add to the pan as well. The sauce should thicken a bit. Season to taste with salt and pepper and serve with bread, a side salad and a few lemon slices.
Tip: Depending on what kind of white wine you use, it is necessary to add some sweetness or acidity. For example, if your white wine tastes more acidic, a pinch of sugar can help.