Vegan Cottage Pie with Pumpkin
Cottage pie, shepherd's pie, or even hachis parmentier? Maybe you've heard one of these terms before, read it on a menu, or even eaten it. Or perhaps you've never heard of any of these - then let me tell you: Today, we're making a vegan ground beef and veggie casserole covered with a layer of mashed potatoes and vegan cheese. That's right, this meal is calling our names - and yours, too!
What is cottage pie, anyway?
The original dish is a British and Irish classic and gets its name depending on the meat used - ugh. However, that also means whenever you're using a vegan substitute, you can choose one of the names or come up with a completely new one! Basically, a (what we call today) cottage pie consists of two layers.
The bottom layer
The first layer consists mainly of vegan minced meat sautéed together with onions, garlic, and extra vegetables - it can be carrots, mushrooms, peas, or corn, but feel free to go wild. Beans, for example, will also taste fantastic in this! Adding a bit of tomato paste to the roast makes your vegan cottage pie wonderfully hearty and gives it a more intense flavor. To make the layer juicy, simmer it in some broth and (if you like) red wine. It's optional, though, and can be omitted. Overall, you'll definitely get gravy vibes with this layer. Worcestershire sauce, as an English seasoning sauce, is not to be missed and gives the dish a slightly sour note - but when grocery shopping, make sure it's vegan because it classically contains anchovies. However, vegan ones are also available in organic food stores and larger supermarkets.
For this layer, we use the endori veggie hack.It's pea-based which is excellent because we have several people around us who can't tolerate soy and were hugely excited about this alternative. The peas for the veggie hack come from German and European cultivation, and production takes place in Bamberg. In general, no meat-processing companies are involved in the entire value chain - and that's pretty rare these days. You can already find the products from endori in many supermarkets.
The top layer
Our bottom layer is covered by a layer of mashed potatoes, into which we mix vegan butter and plant-based cheese. If you like it extra-cheesy, you can even sprinkle a final layer of grated vegan cheese on top. We probably don't need to tell you how to make vegan mashed potatoes - but for this recipe, we need much drier, firmer mashed potatoes so that nothing falls apart later when we serve it. Therefore, we add potato flour but you can also use an alternative flour of your choice. Vegan cheddar cheese is the best option for us because of its flavor - but here, you can use any plant-based cheese you find or have in the fridge anyway.
Our special ingredient: pumpkin
Since we're in our pumpkin theme-week right now, however, we don't just have potatoes in our mash, we also have cooked pumpkin - specifically acorn squash, which originates from the USA. As you have probably guessed, acorn describes the shape of the pumpkin quite well. Unfortunately, it is not available in every supermarket, but you should be able to get it in the fall at weekly markets, really large supermarkets and online. And once you find it, you can store it in a cool, dark place for up to six months. Its flesh is yellowish, its pulp relatively firm, and its peppery-nutty . Unfortunately, you can't eat the peel, but you can fry the pulp or half the pumpkin, remove the seeds, fill it and bake it (but even then, you shouldn't eat the peel). For this recipe, you can also use any other pumpkin or, if you do not like pumpkin, replace it with more potatoes or sweet potatoes.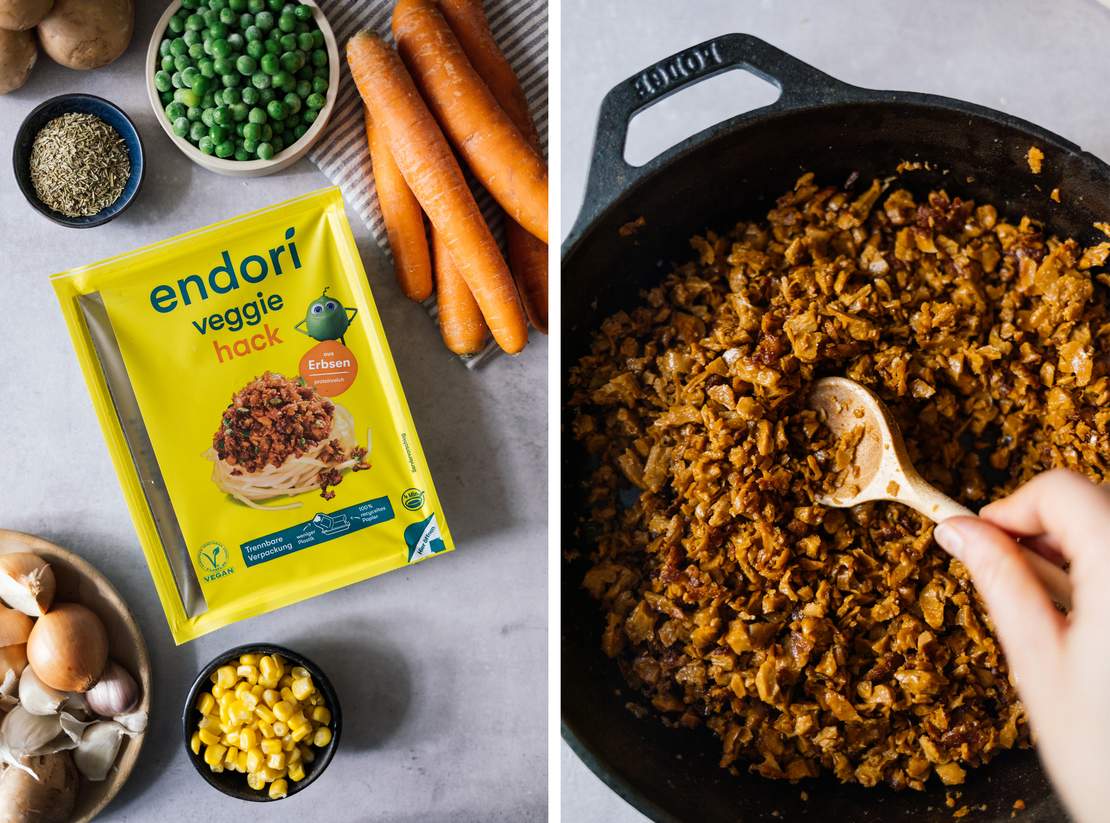 Vegan Cottage Pie with Pumpkin
4 servings
40 minutes (+ 20 minutes baking time)
Ingredients
For the pumpkin-potato mash:
500 g (17.5 oz) acorn squash
500 g (17.5 oz) floury potatoes
150 g (5.33 oz) vegan cheddar cheese
75 g (2.66 oz) potato flour
2 tbsp vegan butter
salt
pepper
nutmeg
For the minced meat mixture:
350 g (12.33 oz) vegan "minced meat" (e.g. from endori)
2 onions
1 clove of garlic
2 carrots
150 g (5.33 oz) mushrooms
1 tsp dried rosemary
1 tsp dried thyme
3 tbsp tomato paste
150 g (5.33 oz) frozen peas
3 tbsp canned or frozen corn
2 tbsp flour
100 ml (0.5 cup) vegan red wine
300 ml (1.33 cup) vegetable broth
2 tbsp vegan Worcestershire sauce
vegetable oil for frying
salt
pepper
Instructions
Cut off the ends of the acorn squash, cut the squash in half, remove the seeds and peel. Cut the flesh into coarse pieces. Peel the potatoes and cut them in half if they are too large.

Put the potatoes in a pot, cover with salted water and bring to a boil. Then add the pumpkin and simmer everything for about 20 minutes until both ingredients are soft. Then drain and return the potatoes and squash to the hot pot, so the pieces will definitely be dry.

Coarsely mash the potatoes and the squash. Add vegan butter, grated vegan cheddar cheese, and potato flour and mix them together. The mashed potatoes should not be as creamy as usual. Finally, season with salt, pepper, and nutmeg.

While the potatoes are cooking, peel and finely dice the onions and the garlic. Clean and chop carrots and mushrooms.

Heat vegetable oil in a pan and sauté the vegan "minced meat" over medium heat for about 4 minutes. Add onions and garlic, dried rosemary, and thyme, and fry for about 3 more minutes. Then stir in tomato paste and add carrots, frozen peas, corn, and mushrooms to the pan. Sauté everything for about 5 minutes until the tomato paste has darkened.

Dust with flour and add the vegan red wine after about 1-2 minutes. Pour in vegetable broth and vegan Worcestershire sauce and let everything simmer for about 10 minutes. Finally, season with salt and pepper and remove pan from heat.

Preheat the oven to 180°C/355°F (convection oven). Put the vegan "minced meat" mixture into a casserole and spread the mashed potatoes over it. Use a fork to draw patterns in the mash. Bake the vegan cottage pie for about 20 minutes until the top is browned. Let cool for a few minutes before serving.