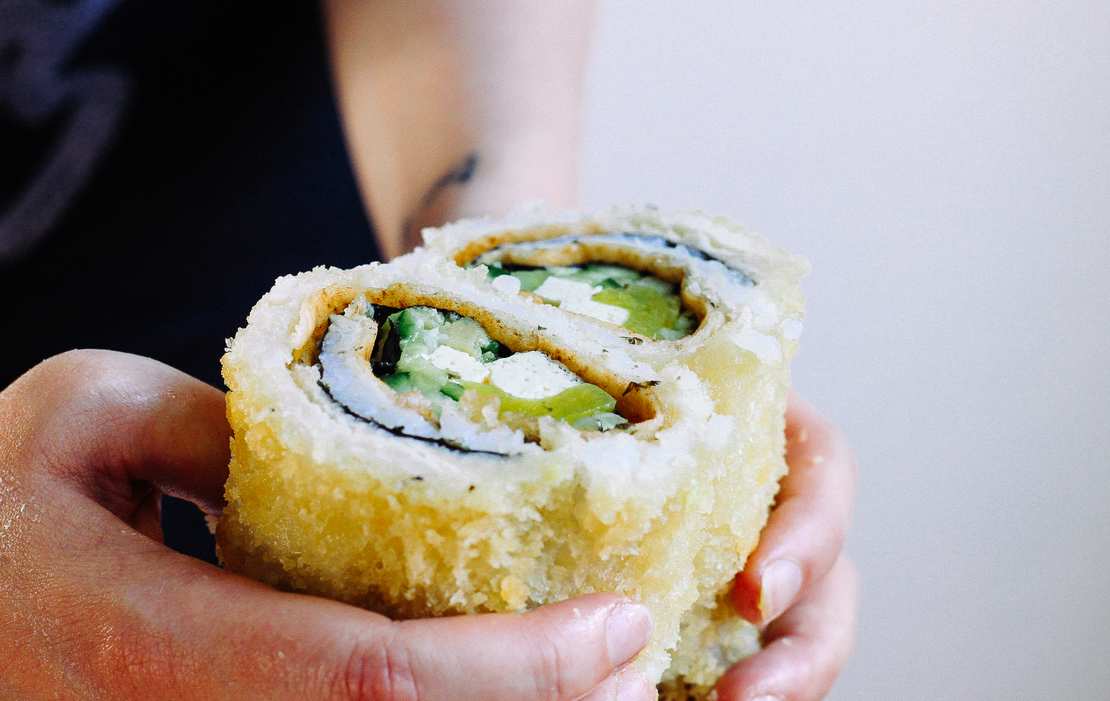 Vegan Deep Fried Crispy Sushi Taco Rolls
We have a soft spot for tacos and love to experiment with them. Besides classics such as fish tacos (vegan, of course!), tostadas or taquitos, we also serve Korean tacos, ramen tacos, chanterelles tacos or even chocolate tacos. You can find all our taco recipes here.
Is it a sushi taco or a taco with sushi? We just missed international sushi day, but we would love to celebrate it today, on Taco Tuesday! Which is why we asked ourselves how to combine tacos with sushi. Maybe put some sushi rice in it and add wadame, pickled radish and wasabi topping? We somehow lost ourselves in the idea and thought about deep frying a taco sushi roll. We couldn't find anything like that on the internet so we decided it's time to just do it! And it ended with vegan foodporn at it's best. We can just recommend to visit the Asian supermarlet of your choice, to get all ingredients without any problems and a lot cheeper than in any standard supermarket.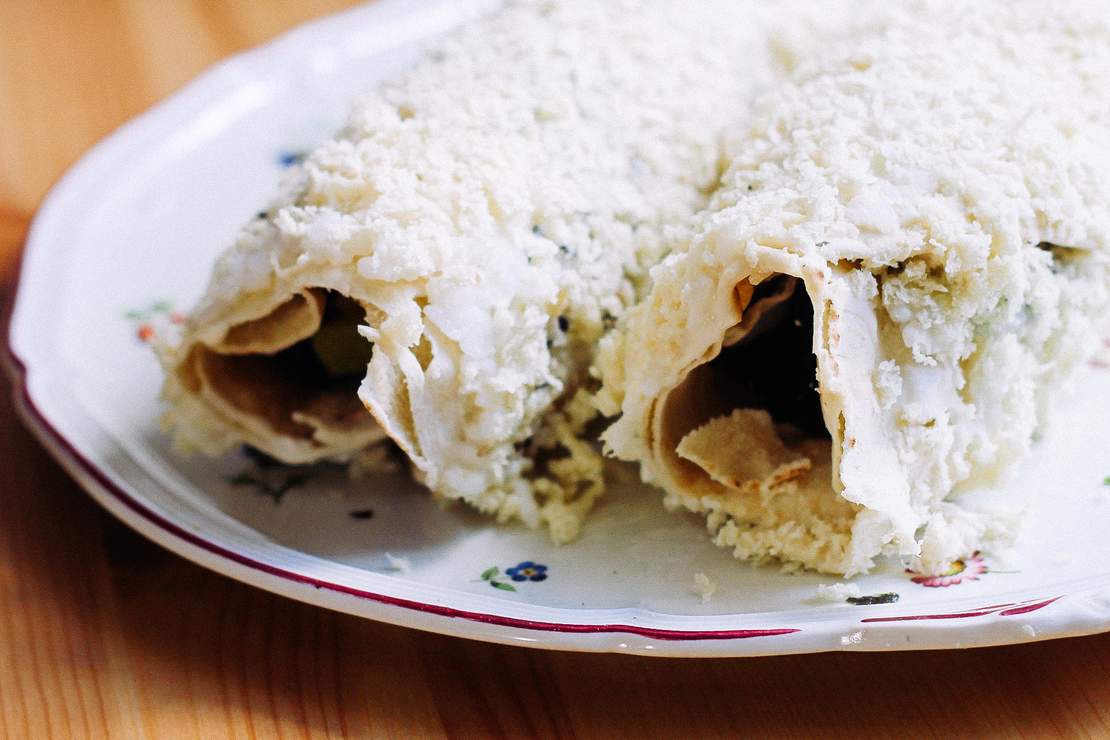 Vegan Deep Fried Crispy Sushi Taco Rolls
Ingredients
3 big tacos or wraps
3 nori sheets
250 g (8.8 oz) sushi rice
1 pickled radish
1 avocado
1 cucumber
sesame
tempura batter mix
panko
rice vinegar
Mirin (Japanese rice wine)
oil for frying
FOR YOUR DIP
100 g (3.5 oz) vegan mayo
2 tbsp wasabi
Instructions
Start with cooking some sushi rice according to the package's instruction. Usually it's done somehow like this: First rinse sushi rice with cold water and let it drain. Afterwards let it cook with twice as much water (in this case 2 cups) in a pot, it should be boiling for 2-3 minutes. Afterwards cut the heat, put a lid on it and let the rice soak for 20 minutes. Mix 3 tbsp rice vinegar, 1 tbso mirin, 1 tsp sugar and 1 tsp salt and heat it up (it should not boil!). Afterwards season your rice with this mix.
Cut avocado, cucumber and pickled radish in thick stripes.
Rice and filling ready? Well, let's go! Take a wrap, put a nori on it and cut off all overlapping pieces of wrap. Then lay nori aside. Spread a nice, thin layer or sushi rice on your wrap, then turn it over and put it on some wrapping film with the rice side down.
Now add a nori on your wrap and top it with your diced vegetables. They should be on the bottom end of your wrap. Now start rolling the nori sheet above your filling tightly. You can do this best with a bamboo mat, but if you don't have any, you can also do it without. But be careful to roll it real tight, so the roll won't fall apart afterwards.
Take out two bowls. In one, mix tempura batter with water, until you get a nice, soft batter. In another one put some panko.
Now roll your sushi wrap in the tempura mix batter first and afterwards roll it in panko, so everything is covered with it.
Take a large pot (your sushi roll has to fit in there completely) and heat up oil for frying, about 170°C/340° F. Then put in your sushi roll carefully (HOT OIL, OUCH!) and let it fry for some minutes, until it is golden brown. Then take it out and let it drain off on a kitchen roll.
Cut into slices.
Stir vegan mayo with as much wasabi as you like and serve sushi rice with it.
More Taco Tuesday - Vegan Taco Recipes