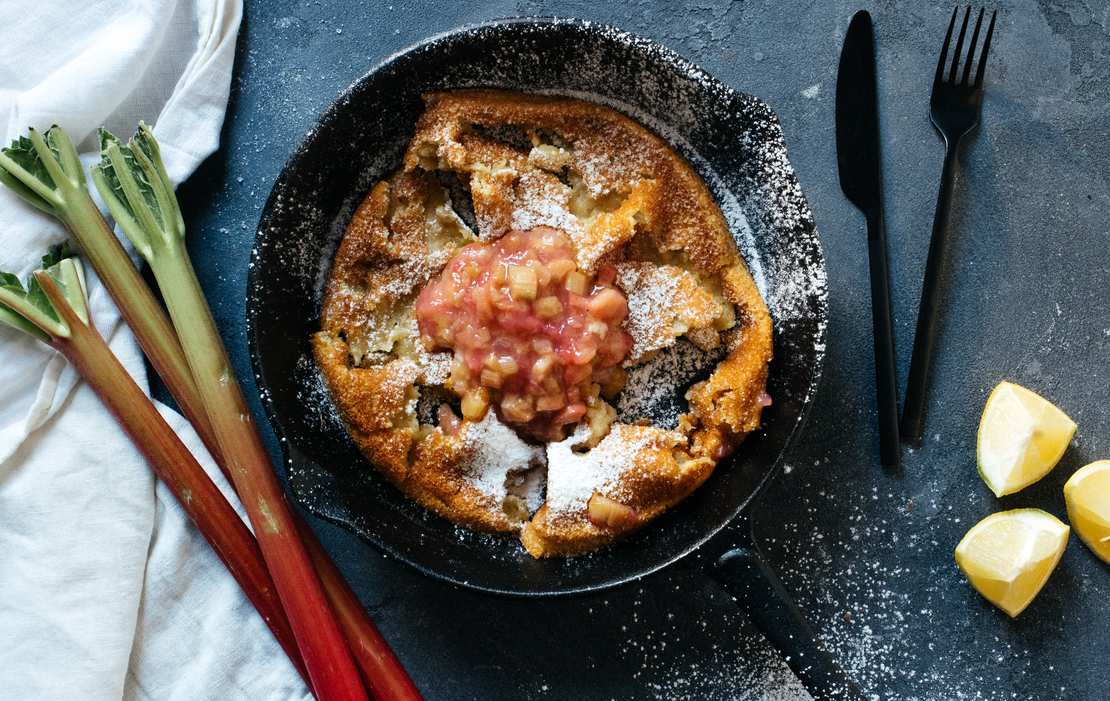 Vegan Dutch Baby with Rhubarb Compote
It's not easy to prepare a vegan Dutch baby. It took me five different recipes to get a fluffy pancake out of the oven. But what's the problem? An "oven pancake" doesn't sound very difficult.
Normally a Dutch Baby needs 2-3 eggs to "puff" in the oven. And actually it's not very difficult to replace eggs with plant-based alternatives, but for this recipe, we need to replace the volume of beaten eggs. And this is damn difficult! Cause without the beaten eggs, the dough doesn't "puff" and the pancake doesn't turn fluffy.
So we added baking powder to the dough (which you normally don't need), so the dough rises while baking in the oven. And after baking, we pull apart the pancake with two forks, so we get a bit of the typical "Dutch Baby look." In the end, we were very happy with the final result (especially in combination with rhubarb compote) and can highly recommend this recipe for a Sunday morning - but we are still working on a perfectly "puffing" dough.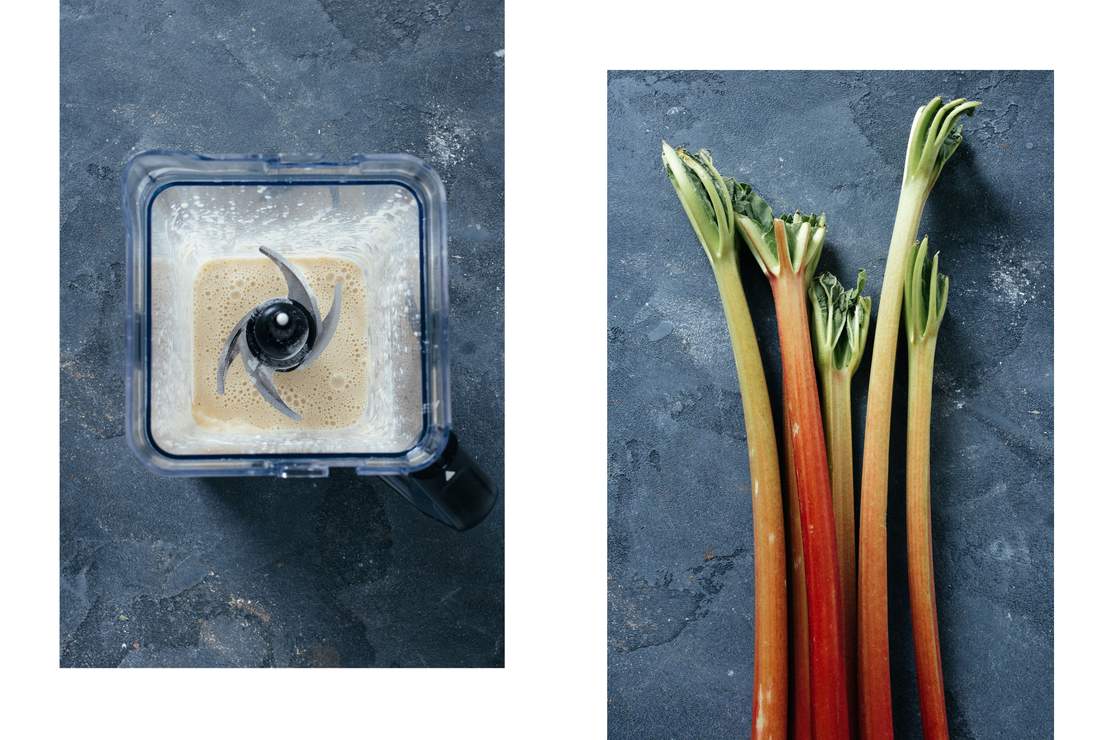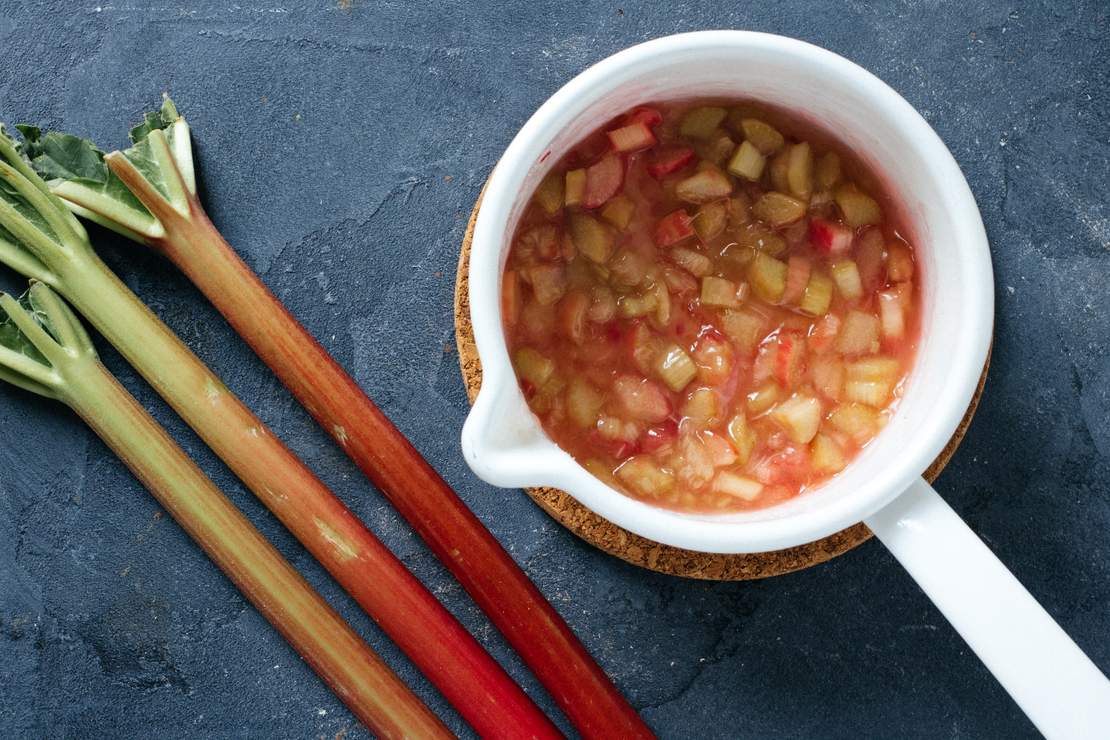 Vegan Dutch Baby with Rhubarb Compote
1 Dutch Baby for 2 servings
40 minutes
Ingredients
dough
125 g (1 cup) flour

7 g (0.24 oz) baking powder

10 g (0.35 oz) vanilla sugar

25 g (0.125 cus) white sugar

1 pinch of salt

1 tsp apple cider vinegar

200 ml (0.8 cups) plant-based milk

1 tbsp plant-based butter
rhubarb compote
1 stick rhubarb

1 pinch of cardamom

5 tbsp water

2 tbsp white sugar

1 tsp starch (+ 2 tbsp water)

1-2 tbsp powdered sugar
Instructions
Preheat the oven to 180°C/350°F and put your skillet into the oven to heat up while you prepare the batter.
Mix all ingredients for the batter in a bowl or blender and mix to a smooth dough: flour, baking powder, vanilla sugar, white sugar, a pinch of salt, apple cider vinegar, and plant-based milk.
Once the skillet in the oven has become very hot, carefully remove it from the oven and add 1 tbsp of plant-based butter. The pan should be very hot, so the butter instantly begins to melt and bubble. Swirl the skillet to coat the bottom and sides of the pan.
Pour batter into the center of the skillet and bake for 20-30 minutes.
In the meantime, wash the rhubarb and cut into 1 cm thick pieces.
Heat the rhubarb, sugar, cardamom, and water in a small saucepan.
Mix the cornstarch with the water in a small bowl and add to the saucepan. Stir well, boil and set aside after 5 minutes.
Carefully remove the Dutch Baby from the oven and pull apart the dough with two forks (I also turned the pancake upside down, cause the bottom comes out more crispy while working with a gas oven).
Sprinkle with powdered sugar and serve with rhubarb compote.