Vegan Tartar with Beetroot, Tomatoes, Peas, and Carrot Lox
Do you also know this phenomenon, that you eat vegan dishes that you never liked before when they were non-vegan? For me, steak tartare is a great example of this. Raw minced meat? Urgh! A vegan minced meat based on rice cakes? Bring it on! At this point, I don't even want to go far and talk about the history or details of a tartare, so let's get straight to today's vegan version, shall we? This one, unlike our first vegan minced meat, isn't made of rice cakes but of several layers of vegetables. It's therefore not even an attempt to come close to a classic steak tartare, but rather a deconstructed layered salad.
I went all out and prepared four layers of vegetables: a juicy tomato layer with balsamic vinegar, a steamed beetroot layer with horseradish, a creamy pea layer with mint, and a slightly salty-smoky carrot lox layer. As if that weren't enough, our small salad tower is topped with vegan feta cheese, toasted nuts, and fresh cress. So you see that any flavors and consistencies are covered. Plus, this salad will be a true eye-catcher to serve as a side dish or starter.
Of course, you can reduce the individual layers and pick out just one, two, or three components. You could also swap out individual layers and get creative in your own kitchen. For example, I can imagine a fruity layer with mango or apples, a vegan tartare made of roasted eggplant, and also the mentioned vegan tartare based on rice wafers.
The layers are prepared one after the other, which is why this recipe takes longer than a simple salad. However, if you save one component, you also save time. Otherwise, you can prepare this recipe with several people. If you want to eat the tartare later, prepare the individual components beforehand and layer them just before serving. Speaking of which, layering is best done in a dessert or food ring, which not everyone has in the kitchen. Alternatively, you could try your luck by hand, but I think the easiest will be to serve the tartare in a jar in this case.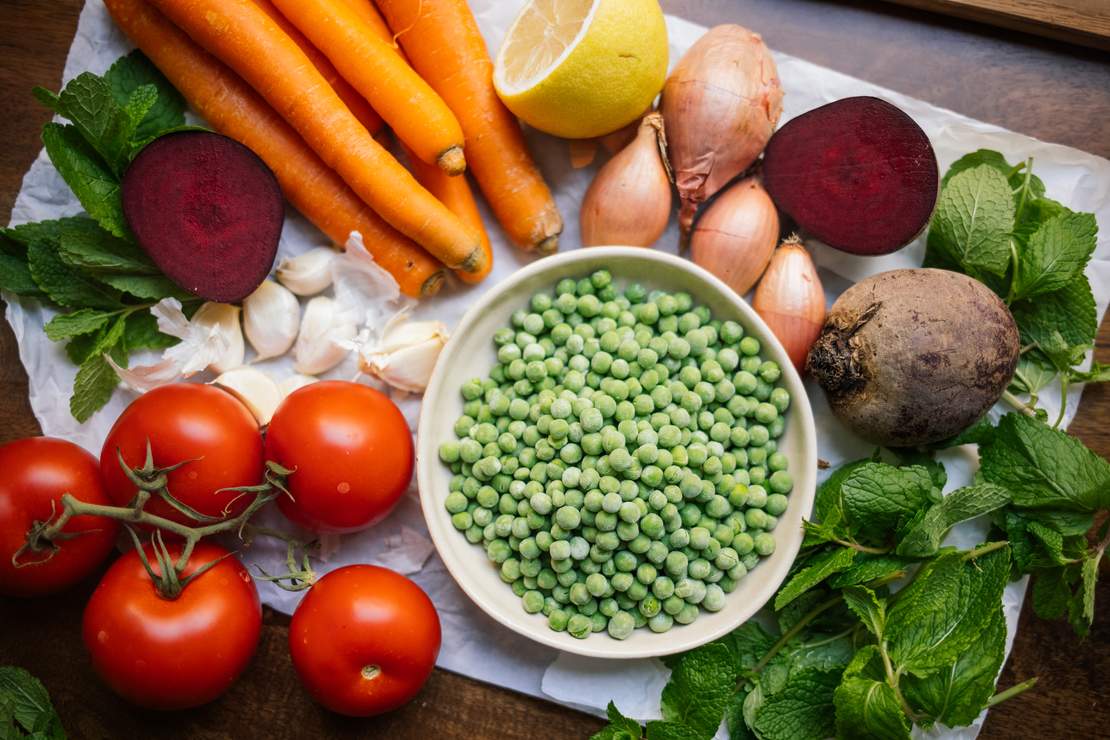 Vegan Tartar with Beetroot, Tomatoes, Peas, and Carrot Lox
6 servings (food ring ∅ 7,5 cm / 3 inches)
70 minutes
Ingredients
For the carrot lox layer:
250 g (9 oz) carrots
1.5 tbsp olive oil
1 tsp liquid smoke
1 tsp rice vinegar
1 pinch Old Bay Seasoning (optional)
0.5 nori sheet
salt
For the beetroot layer:
300 g (10.5 oz) beetroot
1.5 tsp mustard
2 tsp horseradish cream
2 tbsp vegan cream cheese
0.5 tsp dried thyme
lemon zest
salt
pepper
For the tomato layer:
4 large tomatoes
2 shallots
2 garlic cloves
2 tsp dark balsamic vinegar
2 tbsp tomato paste
salt
pepper
For the pea layer:
250 g (9 oz) frozen peas
10 g (0.33 oz) mint leaves
0.5 lemon (juice and zest)
salt
pepper
For serving:
50 g (2 oz) almonds
100 g (3.5 oz) vegan feta cheese
garden cress
bread
Instructions
For the carrot lox layer, peel and finely dice carrots, then steam them until fork-tender. Meanwhile, whisk together olive oil, liquid smoke, rice vinegar, Old Bay Seasoning, and some salt in a bowl. Tear or cut the nori sheet into small pieces, then mix it into the marinade. Add the steamed, still warm, carrots to the bowl. Mix and let them sit until all the other ingredients are ready.

For the beetroot layer, peel and finely dice the beetroot, then also steam it until fork-tender. Transfer the steamed beetroot to a food processor and roughly chop it with the pulse function. Season with mustard, horseradish cream, vegan cream cheese, dried thyme, lemon zest, salt and pepper.

For the tomato layer, half and deseed the tomatoes, leaving only the firm tomato flesh. Finely dice it and transfer to a bowl. Peel and finely dice shallots and garlic. Heat some oil in a frying pan and sauté shallots and garlic until the shallots are translucent. Add both to the tomatoes along with balsamic vinegar and tomato paste. Stir to combine and season the mix with salt and pepper to taste.

For the pea layer, blanch frozen peas, then roughly mash them or use the pulse function of your food processor to do so. Finely chop mint leaves and add them to the peas along with lemon juice, lemon zest, salt, and pepper.

For the topping, toast almonds in a fat-free frying pan, then coarsely chop them.

For serving, layer each vegetable component in a food ring, starting with tomatoes, then continuing with beetroot, peas, and carrot lox. Sprinkle crumbled vegan feta cheese, toasted almonds, and garden cress on top and serve the vegan tartar with bread.