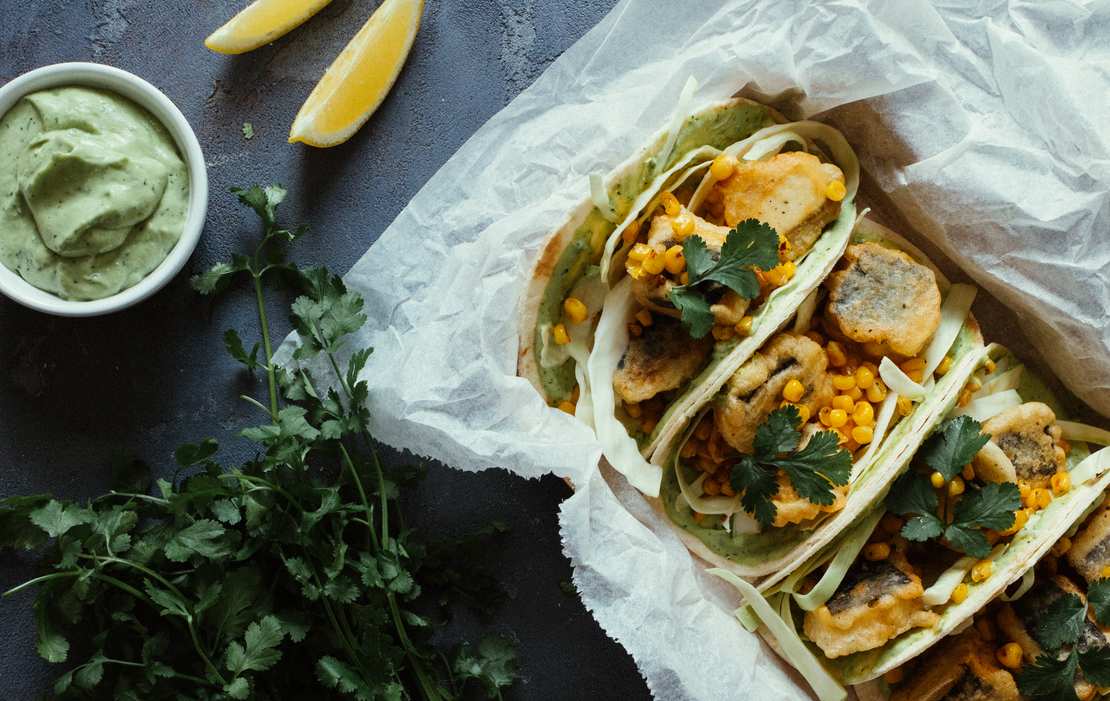 Vegan Fish Tacos with Avocado Cream
We have a soft spot for tacos and love to experiment with them. Besides classics such as fish tacos (vegan, of course!), tostadas or taquitos, we also serve Korean tacos, ramen tacos, chanterelles tacos or even chocolate tacos. You can find all our taco recipes here.
It's a really hard task to create a recipe for vegan fish. Although it's pretty easy to convince your family and friends of vegan egg salad and stuffed soy steaks. But the consistency and texture of fish is still hard to recreate. For our todays fish taco we solved this problem with tofu and nori sheets. The nori sheet actually looks like fish skin and gives a fishy flavour. But to be honest: the consistency is still like tofu. We are working on this, but until then we show you this vegan tofu fish.
Vegan fish tacos with avocado cream
Ingredients
6 tacos
200 g firm tofu
1/2 nori sheet
100 g (3.5 oz) sweet corn
1/4 white cabbage
1 lemon
several stalks cilantro
breading
80 g (2.8 oz) flour
1 tsp salt
1 tsp pepper
1 tsp garlic powder
70 ml beer
oil
avocado cream
1 avocado
1/2 lime
10 g (0.35 oz) cilantro
2-3 tbsp vegan mayonnaise
1/2 tsp garlic powder
salt&pepper
Instructions
avocado cream
Cut the avocado in half, remove pit and peel, dice the flesh. Put flesh in a high container.
Cut the lime in half and squeeze the juice of one half in high container.
Wash and add cilantro and the rest of the ingredients. Season!
tofu fish
Cut tofu into big cubes. Cut 1/2 nori sheet also into squares and match with tofu cubes. Press it on lightly.
Mix the ingredients for the breading in a small bowl.
Heat the oil thoroughly in a deep frying pan, dip tofu cubes in the breading and fry for 3-4 min. until golden brown. Take out and drip off side by side on a kitchen cloth.
taco
Wash and slice white cabbage. Brown corn in a pan with some oil until corn turns light brown.
Heat tacos with oil in a pan (optional) and spread avocado cream all over. Now top with tofu fish, white cabbage, avocado slices and corn.
More Taco Tuesday - Vegan Taco Recipes