If you listen to our podcast regularly, you know already know that the sweets of my childhood definitely include jaffa cakes, those little cakes/cookies/biscuits (what exactly is it though...) that consist of a sponge base and a fruity jelly layer covered with dark chocolate.
These fruity and chocolaty sweets are eaten in many countries and got the name from Jaffa oranges. For the homemade version, I first thought it would be great to build this fascinating machine from the YouTube video "How Jaffa Cakes are made", but didn't succeed. Interestingly enough, the video shows a different version of the jaffa cakes that I remember from childhood, as they are only made with an orange jam filling.
I stuck to the version I know and prepared a simple vegan jelly from orange juice (self-pressed if possible), sugar, and agar-agar. For the sponge cake base, I stuck to our well-known recipe but baked the small cake bases slightly longer than needed to get a rather "crisp" texture instead of a super fluffy cake as the jelly will soften it over time anyway. All together, homemade vegan jaffa cakes are definitely not difficult, but they require a bit of effort and time.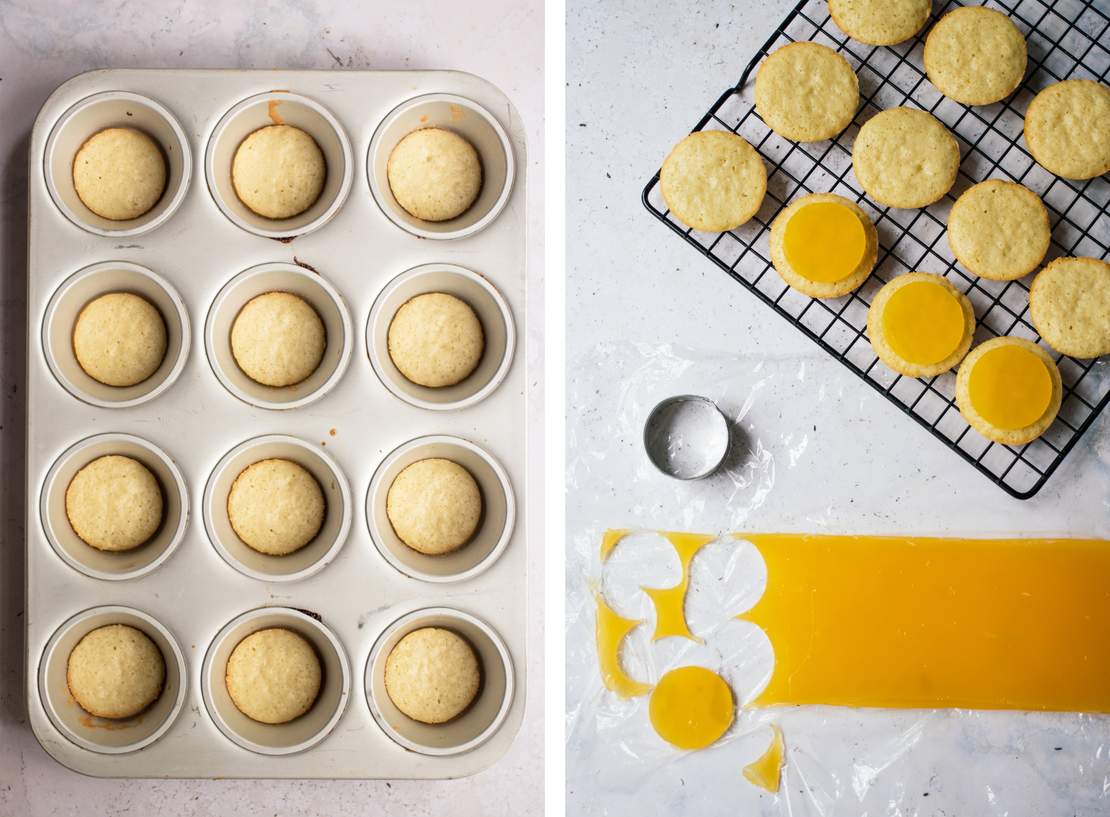 Vegan Jaffa Cakes
12 cakes
30 minutes (+ 10 min. baking time + resting time)
Ingredients
For the batter:
75 g (0.66 cup) flour
50 g (0.25 cup) sugar
75 ml (0.33 cup) sparkling water
1 tbsp vegetable oil
0.25 tsp baking powder
0.5 tsp vanilla sugar
For the jelly:
150 ml (0.66 cup) orange juice
2 tbsp sugar
1 tbsp agar agar
For the chocolate glaze:
150 g (5.5 oz) dark chocolate
2 tsp coconut oil
Instructions
Let's start with the jelly as it needs to firm up in the fridge. Use a flat baking pan or something similar for this (e.g., a loaf pan) and measure out if it's actually large enough to cut out enough circles of jelly BEFORE filling the jelly into it. Add some plastic wrap to the bottom of the pan and set aside. Add 50 ml (0.25 cup) of the orange juice, sugar, and agar agar to a small pot and bring to a boil. Simmer for approx. 2 minutes.

Stir remaining 100 ml (0.5 cups) orange juice into the pot, then quickly fill the mixture into the prepared baking pan. Refrigerate until the jelly is firm. This should work until the sponge cake is baked and cooled out.

Preheat oven to 180°C/355°F. Grease and flour a muffin tin. Mix flour, sugar, vanilla sugar, and baking powder. Add vegetable oil and sparkling water and until stir until it's just combined.

Add approx. 1 tbsp of the batter to each muffin tin. Bake for approx. 10-12 minutes, the edges around the cakes should get slightly browned. Remove from the oven and the muffin tin and let cool out completely.

Once the small cakes are cooled, and the orange jelly is set, it's time to prep the chocolate glaze. Roughly chop the chocolate and add to a heatproof bowl set over a pot of simmering water. Add coconut oil and melt the chocolate.

In the meantime, cut out circles of the orange jelly that are a bit smaller than the cakes. Add one orange jelly centered on a sponge cake base.

Let the melted chocolate cool down for a few minutes, then carefully glaze the top of the jaffa cakes, so the whole jelly up until the edges of the cake. Press a fork lightly into the chocolate to create the typical jaffa cake pattern.

Refrigerate jaffa cakes until the chocolate is set, then also store them in the fridge afterward.
More Vegan Chocolate & Sweets Recipes and Plant-Based Copy Cats