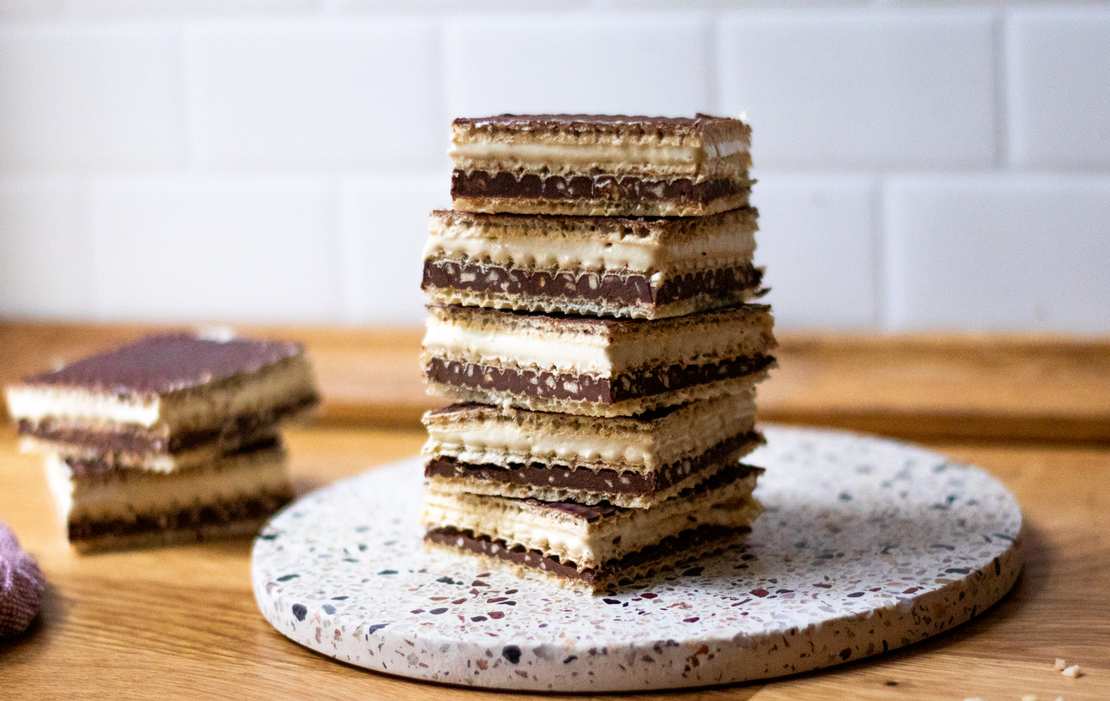 Vegan Milk-Hazelnut-Slice (Knoppers)
What do you think, Germans eat at half past nine in the morning? The advertisement for one of Germany's favorite sweet snacks would say: "Knoppers" (and as of today, we would even say: vegan "Knoppers"). It was the most wished-for recipe after a vote on Instagram which we regularly do to fulfill your recipe dreams in our format "Make a Wish". I went straight to the test kitchen and I must say that it worked out pretty quickly.
So what is "Knoppers" even? It's a candy bar consisting of several layers: a wafer, hazelnut cream, another wafer, milk cream, and a chocolate-covered wafer on top. Making vegan "Knoppers" yourself might sound a bit complicated at first, but I can assure you that it's pretty simple and quick to make. The most complex part is probably getting the vegan wafer sheets. We unfortunately only found them online, but you can also get them in large supermarkets or Turkish or Russian grocery stores if you're lucky. A little tip right at the beginning: to get the wafer sheets as crispy as in the original, you need to briefly bake them. But be careful! They can burn very quickly.
The milk cream was probably the most difficult layer to veganize. In my first attempt, I mixed vegan butter and vegan white chocolate. Unfortunately, the consistency was not satisfactory. Studying the original ingredient list, however, I then had the idea to simply replace the milk powder for the cream with oat milk powder. And sometimes, it can be that simple. You can find the powder in various online stores or, if lucky, in organic food stores or larger supermarkets. And if you are still unsure where to get plant-based nougat, we have some ideas: we buy it in larger supermarkets or organic grocery stores, but you can also find it online. With nougat, you just have to make sure that no milk powder or other dairy products are on the ingredient list.
In the end, all the components are assembled together and refrigerated for one or two hours. Afterwards, you can cut them into wafer bars and enjoy them. You can also put the Slices in the freezer to store them.
And if you're still in the mood for other classic sweets, here are our recipes for vegan "Yogurette", vegan "Raffaello" and vegan "Twix".
Vegan Milk-Hazelnut-Slice (Knoppers)
8 vegan Milk-Hazelnut-Slices
40 minutes (+ 2 hours cooling time)
Ingredients
For the nougat cream:
200 g (7 oz) nougat
85 g (3 oz) semi-sweet chocolate (50% cocoa)
40 g (1.33 oz) toasted chopped hazelnuts
1.5 tbsp hazelnut butter
For the vegan milk cream:
120 g (4.25 oz) vegan butter
80 ml (0.33 cup) plant-based milk
240 g (8.5 oz) oat milk powder
Also:
3 vegan wafer sheets (24 x 24 cm or 9.5 x 9.5 inches)
60 g (2 oz) vegan dark chocolate
1 tsp coconut oil
Instructions
Preheat the oven to 150°C/300°F (upper-lower heat). Bake the wafer sheets for about 2 minutes until they are lightly browned. Be careful here, as they can burn quickly.

Melt vegan dark chocolate and coconut oil in a double boileror in the microwave. Coat the baked wafer sheets with it, then refrigerate them to dry.

For the nougat cream, melt nougat and semi-sweet chocolate in a double boiler or in the microwave. Add the toasted chopped hazelnuts and hazelnut butter and mix well.

For the vegan milk cream, beat vegan butter with a hand mixer until slightly creamy, then slowly add plant-based milk. Once the two ingredients are combined, add the oat milk powder. Now continue whipping until you get a creamy consistency.

Now it's time for layering: For this, it's handy if you use a square mold so that the "fillings" don't run out. At the bottom is a wafer sheet, on which the nougat cream is spread. Place another wafer sheet on top and spread the vegan milk cream all over it. Finally, add the chocolate-coated wafer sheet on top and press everything down. Refrigerate until the fillings are firm.

For serving, cut the vegan knoppers into wafer bars (6x6 cm / 2.5x2.5 inches).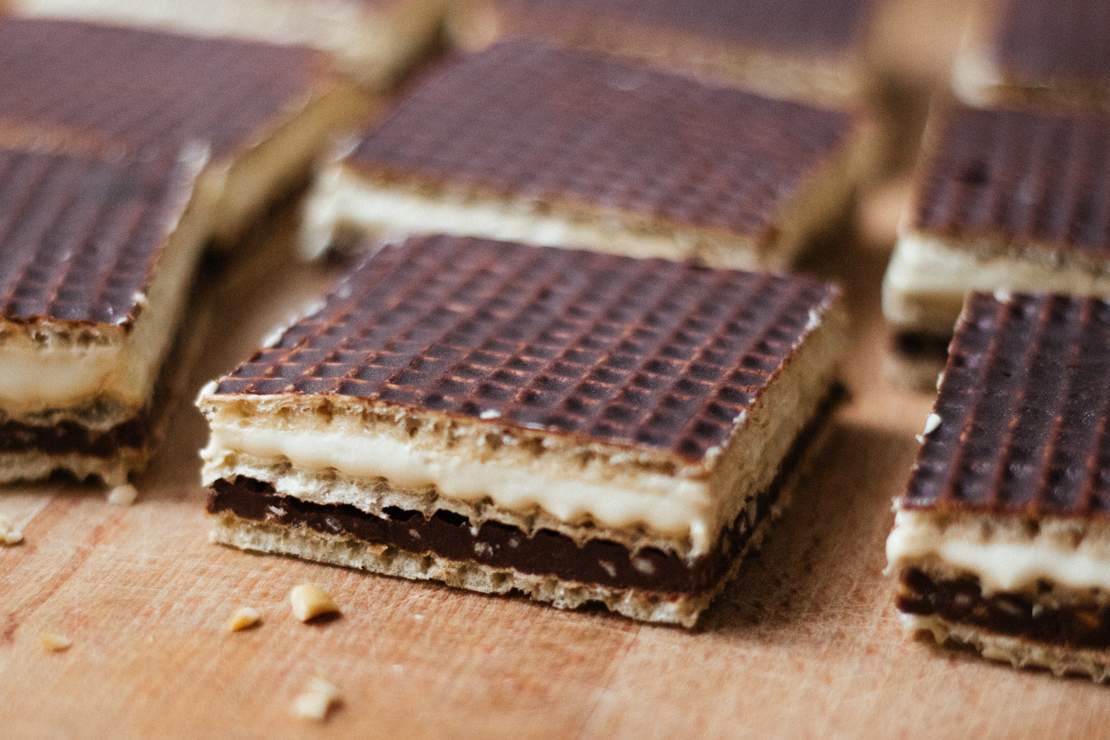 More Vegan Chocolate & Sweets Recipes and Plant-Based Copy Cats