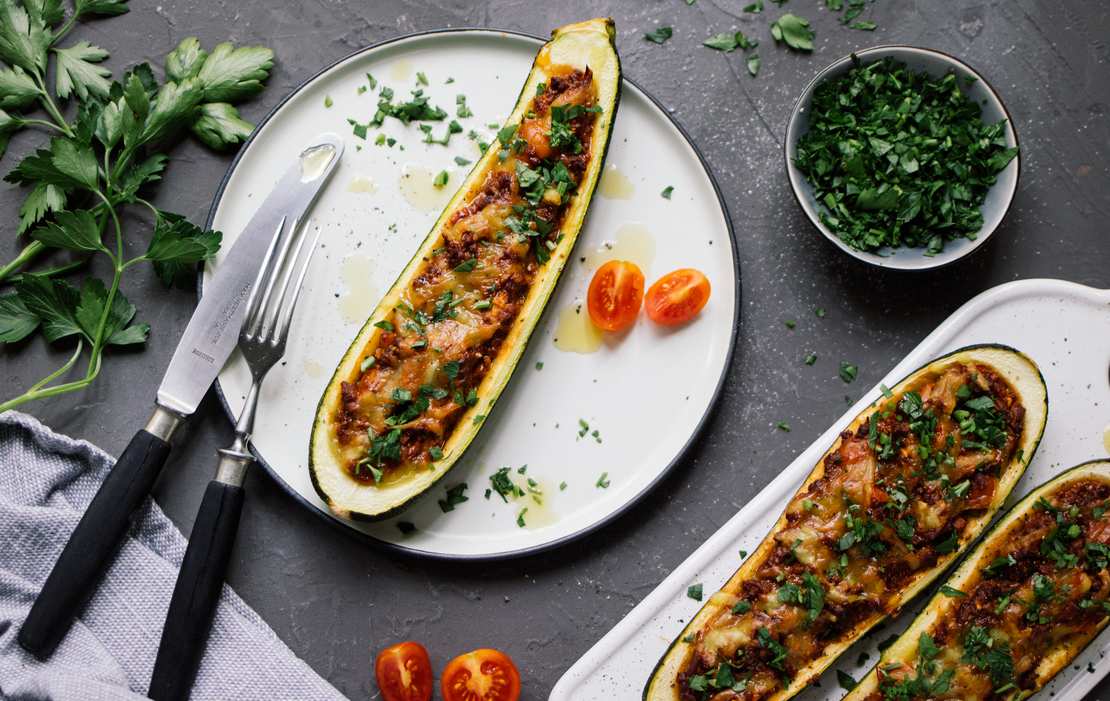 Vegan "minced meat" stuffed zucchini boats
Stuffed zucchinis are actually known as a low-carb classic. A dish that reminds me of spaghetti bolognese, just without the nasty carbs. But we love carbs like pasta and potatoes in all kinds; you know that! However, we don't like the idea of counting calories but the idea of stuffed and gratinated veggies like bell peppers or eggplants.
So we replaced the regular minced meat with soy granulate and used plant-based cheese instead of dairy cheese. And that's it! Say hi to our stuffed, vegan zucchini boats! No matter if low-carb or not, it's a fantastic dinner for fall and winter.
Vegan "minced meat" stuffed zucchini boats
Ingredients
2 zucchinis
1 garlic clove
1 onion
plant-based-oil for frying
1 tsp oregano
1 tsp thyme
1 tbsp tomato paste
100 g fresh cherry tomatoes
1/2 carrot
50 g soy granulate
1 tbsp agave syrup
1 tbsp soy sauce
100 - 150 ml sieved tomatoes
salt & pepper
50 g vegan shredded cheese
1 tbsp water
1 tbsp plant-based oil
Instructions
Wash and halve zucchinis. Use a spoon to scoop the flesh out of the zucchinis.
Place the zucchini flesh in a fine sieve and squeeze out the liquid with the help of a tablespoon. Chop and set aside.
Soak the soy granulates in vegetable broth according to the package instructions. Then squeeze out the water with the help of a sieve and a bowl. Set aside.
Peel and chop onion, carrot, and the garlic clove. Wash and quarter tomatoes.
Heat 2 tablespoons of oil in a large, high pan (or saucepan) and sauté the onion and garlic. Add thyme and oregano after 2 minutes.
After 2-3 minutes, add the soy granulate, the flesh of the zucchinis, tomatoes and the carrot cubes and let them brown for about 10 minutes.
Add the tomato paste and roast for 2 minutes. Add the agave syrup and soy sauce as well.
Gradually add the sieved tomatoes. You should be able to portion the filling easily with a tablespoon.
Simmer for a few minutes and season with salt, pepper, oregano, and thyme.
Put the plant-based shredded cheese in a bowl and mix with 1 tablespoon of water and 1 tablespoon of oil.
Place the zucchini boats on a baking tray with baking paper and fill with the "minced meat". Sprinkle with the plant-based cheese.
Bake at 180 ° C on a medium rack (top/bottom heat) for 30 minutes in the oven.