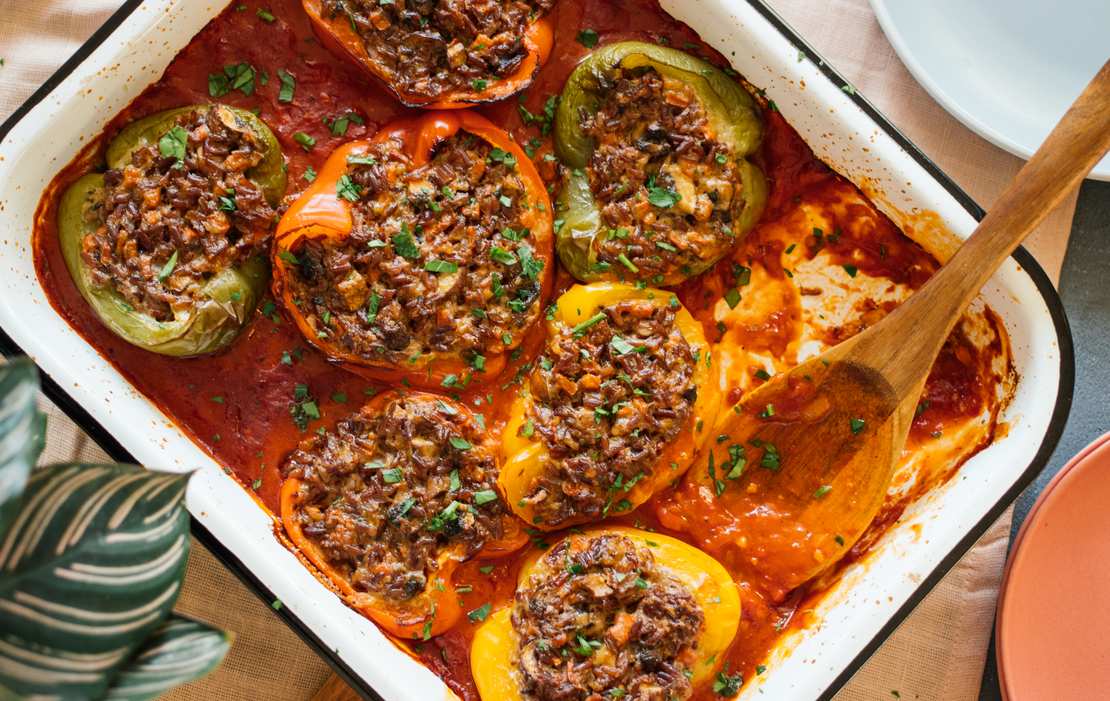 Stuffed Bell Peppers with Red Rice
Whenever I eat stuffed bell peppers, I wonder why I don't do it more often. The soft and juicy texture of baked bell pepper is one of my favorite ways to enjoy vegetables. Plus, it's such a versatile dish as you can stuff the bell peppers however you like. But then, I suddenly do remember why I enjoy it only rarely. You have to invest quite some time in this dish to prepare the filling AND bake it as long as it takes to get these super-soft bell peppers. It's this effort that turns an actually down-to-earth dish into something special for me.
The "most classic" filling is probably ground meat, which you can easily prepare vegan – you can check out our recipe here). If you're looking for something "healthier" and more wholesome, many people go for couscous. In my opinion, rice is the better choice for this because it soaks up some liquid from the sauce and bell pepper, which results in a wonderful juicy filling. We used red Camargue rice today (which suddenly looked like vegan minced meat after baking), but you can use any long-grain rice. Depending on the type of rice used, the cooking time will also change.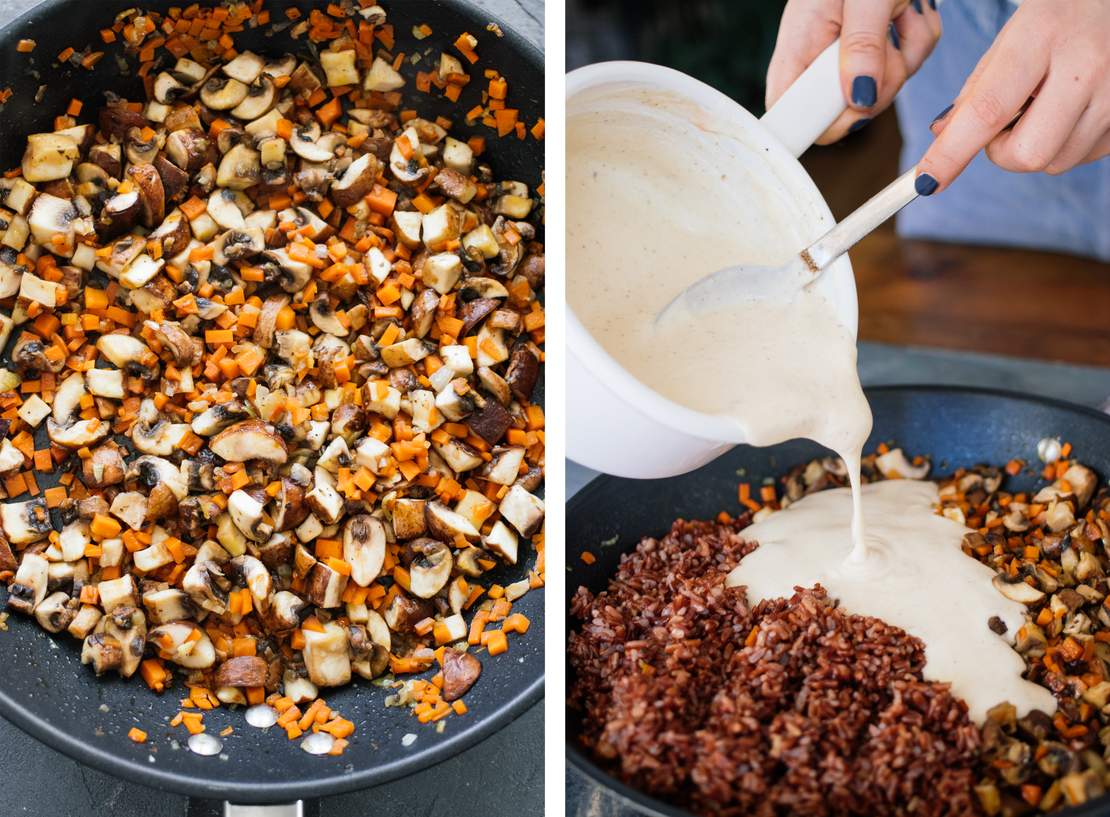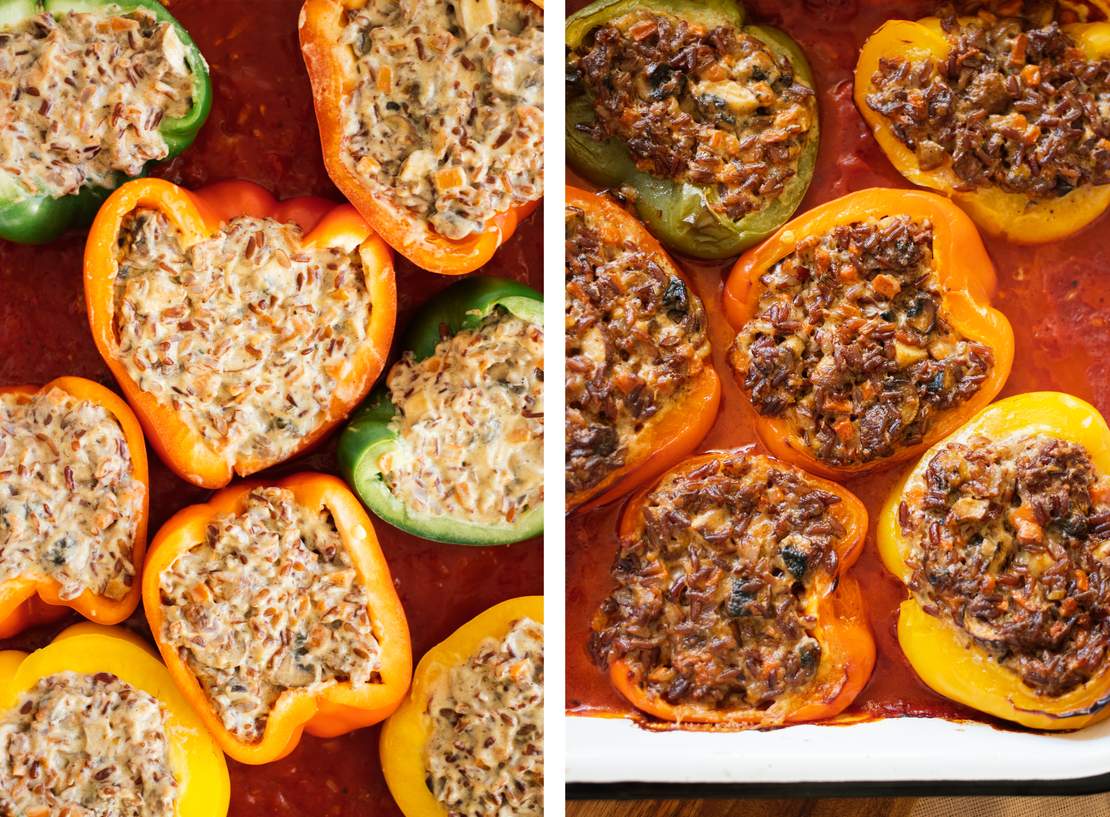 Stuffed Bell Peppers with Red Rice
4 servings
40 minutes (30 minutes baking time)
Ingredients
4 bell peppers
vegetable oil for frying
For the filling:
200 g (1 cup) red rice (or long grain rice)
1 onion
2 garlic cloves
250 g (9 oz) button mushrooms
1 carrot
4 tbsp vegan butter
4 tbsp flour
250 ml (1 cup) plant-based heavy cream
150 ml (0.66 cup) vegetable broth
1 tsp nutmeg
0.25 tsp cinnamon
1 tsp cumin
1 tsp coriander
0.5 tsp paprika
1 lemon
salt
pepper
For the tomato sauce:
1 onion
1 garlic clove
5 tbsp bell pepper paste (or ajvar)
1 tbsp harissa (or 1 tsp chili flakes)
400 g (14 oz) canned chopped tomatoes
salt
pepper
sugar
vegetable oil for frying
Instructions
Prepare rice according to package instructions. Parallelly, half bell peppers lengthwise and deseed. Alternatively, you can also cut off only the top part of a bell pepper if you want to fill the whole bell pepper. Peel and finely chop onion and garlic. Chop button mushrooms and carrots. 

Heat some vegetable oil in a large frying pan. Add diced onion and fry until translucent. Add garlic and keep frying for approx. 1-2 minutes over medium-low heat. Add carrot and button mushrooms and keep frying for approx. 5 minutes. Season with salt and pepper.

Parallelly, melt vegan butter in a saucepan and stir in flour carefully. Slowly, add vegetable broth and keep constantly stirring to avoid any lumps forming. Stir in plant-based heavy cream and season the mixture with nutmeg, cinnamon, cumin, coriander, and paprika. Season with salt, pepper, and lemon juice to taste.

The rice should be done by now. Add the sauce, fried vegetables, and rice to a large bowl. Stir to combine, and season with salt and pepper to taste. Fill the mixture into halved bell peppers.  

To prepare the tomato sauce, peel and finely chop onion and garlic. Heat vegetable oil in a frying pan and fry onion until translucent. Add garlic and keep frying for approx. 1-2 minutes. Add paprika paste and harissa, keep frying for 3-4 more minutes, then add canned tomatoes. Season with salt, pepper, and sugar. 

Preheat oven to 200°C/390°F. Spread the tomato sauce into a baking dish, and place stuffed bell peppers on top, making sure that the open, filled side is up. Bake for approx. 30 minutes, or until the bell peppers are softened enough. If the bell peppers turn too dark in the oven, cover the baking dish with aluminum foil.