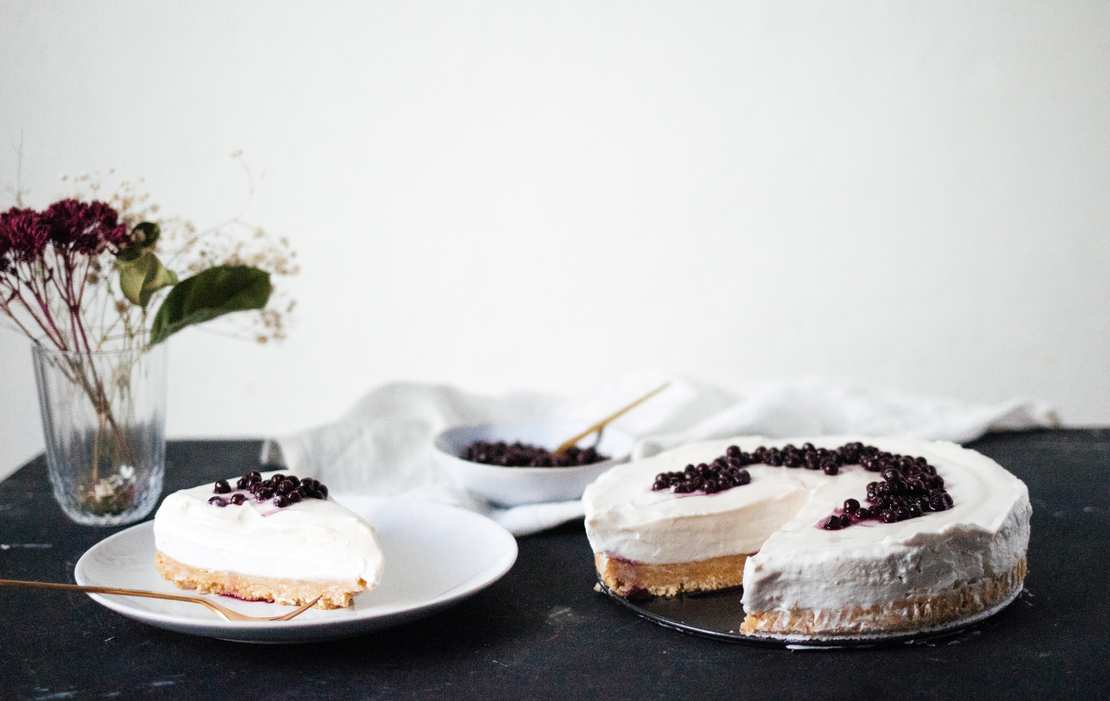 Vegan New York Cheesecake
While thinking about a classic New York Cheesecake, we all have this flat, white cake in our mind with a bottom made of biscuits and topped with strawberry sauce. But what makes the difference from a New York cheesecake to a regular cheesecake? Let me tell you! The biggest difference is the filling cause the classic cheesecake is made of curd or yogurt, and the New York Cheesecake is made of cream cheese (and sometimes sour cream). Besides, the bottom of a New York cheesecake is usually made of biscuits and melted butter, and the typical "German" cheesecake can also have a simple shortcrust pastry as a base.
We tried a vegan version that does not contain curd, yogurt or tofu. We also decided to develop a version that's no bake and instead needs to rest in the fridge overnight. Depending on the season you can top your cake with cherries, strawberries, a sauce or fresh fruits.
Vegan New York Cheesecake
1 cake (12 pieces)
30 minutes (+24 hours cooling time)
Ingredients
blueberries from the glass
fresh berries, fruits
biscuit bottom
400 g plant-based butter biscuits
140 g plant-based butter
"cream cheese" layer
100 ml plant-based cream for whipping
8 g cream stiffener
8 g vanilla sugar
80 g sugar
300 g plant-based cream cheese
5 g vanilla extract
1/2 lemon (zest)
"crème fraîche" layer
300 g plant-based crème fraîche
50 g white sugar
1 tbsp fresh lemon juice
50 g plant-based white chocolate
Instructions
biscuit bottom
Melt the butter in a pot or microwave.
Shred the biscuits in a blender or fill in a sealable bag and roll them over with the rolling pin until all the biscuits are small crumbs.
Add the plant-based butter to the biscuits crumbs and mix well.
Grease a round cake tin (about 20-24 cm diameter) with some vegetable oil. Add the biscuit filling and press evenly with a spoon or your fingers on the bottom of the cake tin. Place in refrigerator.
"cream cheese" layer
Beat the cream cheese with the sugar in a bowl.
In a tall container, whip the plant-based cream with the cream stabilizer and the vanilla sugar. Add the cream cheese and stir again.
Wash a lemon under hot water and add the rub of half a lemon to the cream. Also, add vanilla extract.
Spread the "cream cheese" layer on the biscuit bottom and put it back in the refrigerator.
"crème fraîche" layer
In a bowl, mix the plant-based crème fraîche with the sugar and add 1 tablespoon of fresh lemon juice.
Melt the vegan white chocolate and stir. Add more lemon or sugar if needed and spread the "crème fraîche" layer on the "cream cheese" layer.
Leave the cake in the refrigerator for at least 24 hours.
Top with blueberries before serving or with fresh berries and fruits.