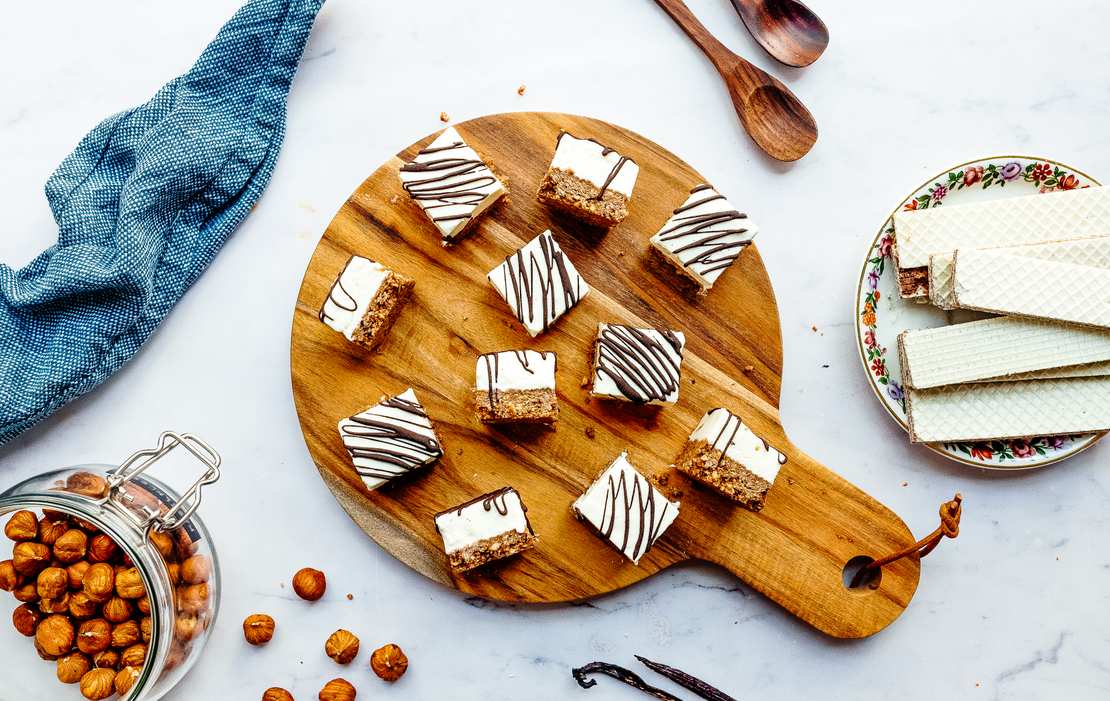 Vegan No Bake Hazelnut Cheesecake Bites
In summer, we love two words in particular: no bake! During this season, we love to prepare all our meals without any oven or unnecessary heat – whether it's a chilled cucumber-avocado soup or gazpacho pasta. The little sweet bites we'd like to introduce to you today are also perfect for summer. Once prepared, they wait patiently in the freezer until you're having a sweet craving and are a chilled and refreshing snack. And if you have friends coming over spontaneously, you'll always have something small to serve, isn't that great?
The vegan cheesecake cream is made with plant-based heavy cream, curd, and cream cheese seasoned with agave syrup and lemon juice to taste. For us, they had the perfect creamy consistency! If you can't find plant-based curd, you can substitute it with plant-based yogurt. And if you can't find any plant-based cream cheese, just use a bit more plant-based curd. Always season the cream to taste as some products are pre-sweetened or taste sourer than others. Then, depending on your taste, you can adjust the cream with more or less agave syrup or lemon juice.
For the base of our cheesecake bites, we used Knuspino Hazelnut wafers from Manner. They consist of three layers of wafers filled with two layers of fine hazelnut cocoa cream. The cream contains 10% hazelnuts and only sustainable UTZ-certified cocoa. This makes them ideal as a snack to go and as a base for our cheesecake bites. For this, we finely ground them and mixed them with whole hazelnuts and vegan butter. This saves us some time and brings the typical Manner taste to our little sweet treats. By the way, Manner is still mostly family-owned and produces all products in Austria. Besides the classic Manner wafers, there're also a few other varieties that are vegan! You can find all of Manner's vegan products here.
Two last notes before we start: We used a size-adjustable, square baking frame for the preparation. However, the bites work just as well in a round springform pan, a baking dish, or whatever you have at hand. For garnish, we chose melted dark chocolate, which we drizzled over the bites. The chocolate rounds off the flavors of the cream and crust, but it also provides a small crunch after freezing. Still, you can, of course, also skip the garnish and keep the cheesecake bites plain.
Vegan No Bake Hazelnut Cheesecake Bites
49 bites (3x3 cm / 1.2x1.2 inches)
60 minutes (+1 hour freezing time)
Ingredients
For the hazelnut crust:
220 g (8 oz) Manner Crispino Hazelnut wafers
80 g (3 oz) whole hazelnuts
100 g (1 stick) vegan butter
1 pinch of salt
For the cheesecake cream:
150 ml (0.66 cup) plant-based whippable heavy cream
8 g (2 tsp) cream stiffener
8 g (1.5 tsp) vanilla sugar
400 g (14 oz) plant-based plain curd
150 g (5.33 oz) plant-based cream cheese
50 g (2.5 tbsp) agave syrup
1 vanilla pod
0.5 lemon (juice)
Also:
dark chocolate for garnish
Instructions
For the hazelnut crust, melt vegan butter. Add wafers, whole hazelnuts, salt, and melted vegan butter to a food processor and process until you get sticky fine crumbles.

Line a square baking pan (21x21 cm/8x8 inches, at least 4 cm/1.5 inches high) with parchment paper. Transfer the hazelnut mix to the baking pan and press it down firmly to form a crust. Set the baking pan aside until the cream is ready.

For the cheesecake cream, add plant-based whippable heavy cream, cream stiffene, and vanilla sugar to a bowl and beat until stiff. Add plant-based curd, cream cheese, agave syrup, vanilla pulp, and lemon juice to the bowl, and carefully stir to combine. Season the cream to taste, then spread it on top of the hazelnut crust and smooth it out. Freeze the cake or at least 1 hour.

After the freezing time, remove the cake from the freezer and the baking pan, and cut it into small squares. If the cheesecake cream becomes too soft, transfer the cake back to the freezer in between.

Melt dark chocolate and drizzle it on top of the cheesecake bites, then freeze them again until serving.
Tip: These cheesecake bites only need a few minutes at room temperature until they are soft enough to eat, so don't leave them out too long or they will get too soft.