When it's hot outside and I long for some pasta, pasta salad has always been my first idea for what to cook, because I don't really feel like eating a warm dish at 30°C, right? But pasta salad doesn't feel like a "proper" dinner either. So my go-to option in this situation is no-cook sauces. Yes, you read it right: sauces that don't need to be cooked.
These sauces have several advantages: for one, they are prepares super quickly, and can also be made in advance, then stored in the fridge. Since these sauces consist mainly of fresh ingredients, they are also quite nutritious since many vegetables lose most of their nutrients when heated. Unlike a warming bolognese, no-cook sauces taste really refreshing – just what you need in summer.
For our first no-cook pasta on the blog, we use a famous chilled soup as a base, which turns out to be a great sauce as well: gazpacho. The Spanish-Portuguese soup consists of uncooked fresh ingredients, including tomatoes, green pepper (no hate!), cucumber, oil, vinegar, and white bread (in our recipe we use breadcrumbs). To turn a gazpacho into a sauce, we reduced the amount of liquid and thickened it with some of the pasta's cooking water.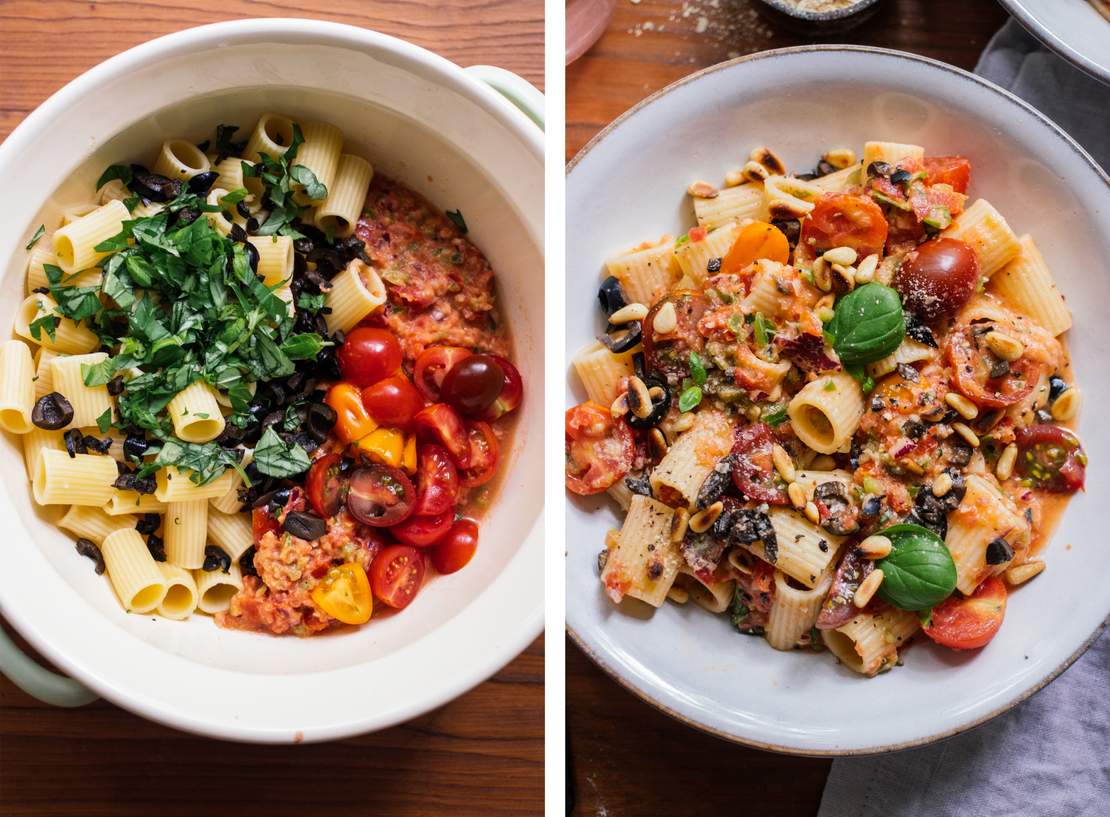 Gazpacho Pasta
Ingredients
For the gazpacho:
500 g (1 lb) plum tomatoes
1 green bell pepper
1 smaller red onion
2 garlic cloves
1 tbsp red wine vinegar
0.5 tsp chili flakes
3 tbsp olive oil
2 tbsp nutritional yeast
1 tbsp breadcrumbs
salt
pepper
Also:
250 g (9 oz) pasta of your choice
250 g (9 oz) cherry tomatoes
20 g (1 oz) basil
50 g (2 oz) black olives
100 g (3.5 oz) pine nuts
salt
Instructions
For the gazpacho, halve plum tomatoes and squeeze or cut out the inner liquids. Deseed and chop green bell pepper. Peel and quarter red onion. Peel garlic cloves.

Transfer all cut ingredients to a food processor along with red wine vinegar, chili flakes, olive oil, nutritional yeast, and breadcrumbs. Use the pulse function to mix roughly. The gazpacho should still be chunky, not completely smooth. Season with salt and pepper to taste.

Bring a pot of salted water to a boil. Add pasta and cook according to package instructions until al dente. Before draining, reserve approx. 1 cup (200 ml) of the cooking water and set aside.

While the pasta cooks, halve, or quarter cherry tomatoes. Pit black cherries if needed and roughly chop them. Tear basil leaves and finely chop basil stems. Toast pine nuts in a fat-free frying pan until golden brown.

Add gazpacho, cherry tomatoes, olives, chopped basil steams, half of the basil leaves, and the cooked pasta to a large bowl. Stir to combine and add as much of the cooking water as needed until a smooth sauce is sticking to the pasta. Sprinkle with toasted pine nuts and remaining basil leaves for serving.