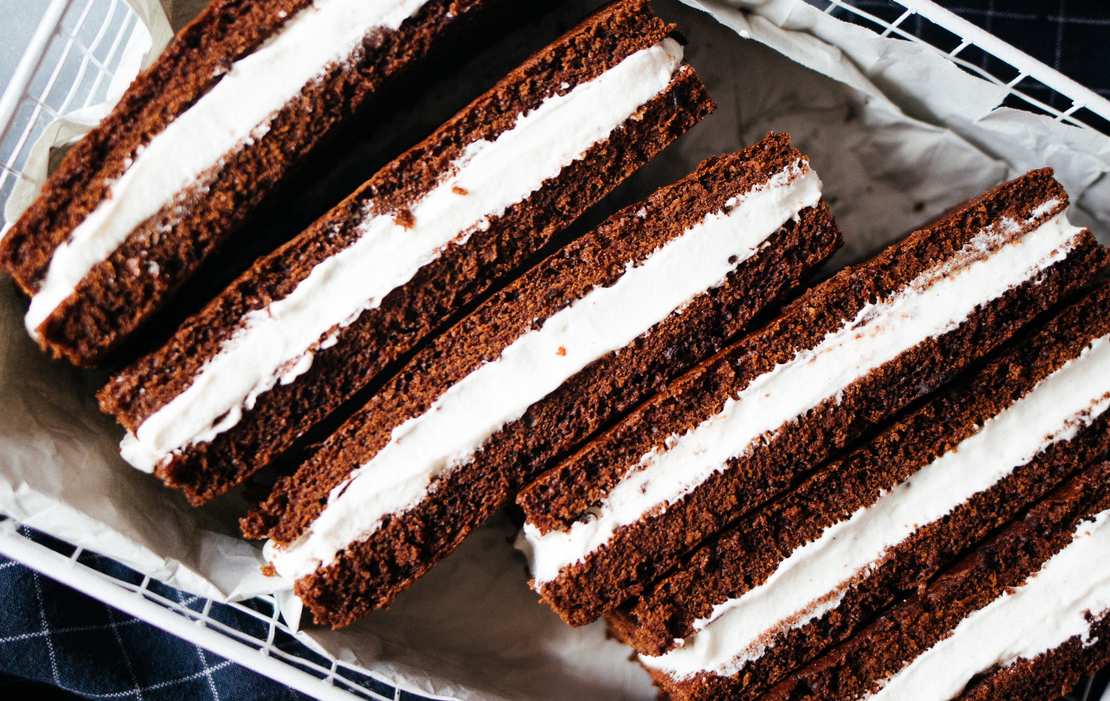 There are sweets that simply taste way better when you eat them cooled, right from the fridge. This is the case with Jaffa Cakes or After Eight, for example, but also with Milk-Slice. In my childhood, we often had these at home – and always well-chilled, of course. Being half cake, half chocolate bar, Milk-Slice is tough to put in any category, but it's still a classic when I think of sweets from the supermarket.
Unfortunately, there is no vegan option available yet, which is strange as the "vegan conversion" is not difficult at all. After all, Milk-Slices consist of only two main parts: a fluffy, thin chocolate cake, and a milk cream filling. We used a simple chocolate sponge cake for our vegan recipe, which we baked as flat as possible on a baking sheet.
In the original recipe, the milk for the cream filling is enriched with nitric oxide, which ensures that the cream becomes fluffy but firm at the same time. As this isn't really possible to recreate at home, we just used whippable heavy cream and added some vanilla flavor, agave syrup, and plant-based yogurt for the taste. Of course, you're completely free to do whatever you like, so you could also use vegan whipped heavy cream only. The no-milk slices will keep well in the fridge for about 2-3 days and should (yup, you guessed it) be served chilled from the fridge.
Vegan No-Milk Slices
7-8 servings
45 minutes (+ time for baking and cooling down)
Ingredients
For the chocolate sponge cake:
300 g (2.5 cups) flour
45 g (0.33 cup) unsweetened cocoa powder
220 g (1 cup) sugar
375 ml (1.5 cups) sparkling water
75 ml (0.33 cup) vegetable oil (canola or sunflower oil)
8 g (1 tsp) baking powder
8 g (1 tsp) vanilla sugar
For the "milk cream":
300 ml (1.25 cups) vegan heavy cream (whippable)
16 g (1 tbsp) whipped cream stabilizer
8 g (1 tsp) vanilla sugar
1-2 tsp vanilla flavor
1-2 tbsp agave syrup
50 g (0.25 cup) plant-based yogurt
Also:
vegan butter for greasing
unsweetened cocoa powder for dusting
Instructions
Chocolate sponge cake
Preheat oven to 180°C/355°F (circulating air). Mix flour, unsweetened cocoa powder, sugar, vanilla sugar, and baking powder in a large bowl. Add vegetable oil and sparkling water, then only stir shortly until the ingredients are just combined.
Grease a baking sheet with vegan butter and dust with unsweetened cocoa powder. Add the batter and smooth out.
Bake the sponge cake on the medium level of your oven for approx. 20 minutes. Insert a toothpick to check its doneness. If it comes out clean, your cake is done. Remove from the oven and let cool out completely.
"Milk cream"
In the meantime, add plant-based heavy cream, stiffener, vanilla sugar, vanilla flavor, and agave syrup to taste to a bowl. Whip until stiff.
Fold in plant-based yogurt, then refrigerate the cream until later.
Assemble
Once the sponge cake is cooled out, straighten the edges of the cake first, then cut the cake into 5x10 cm (2x4 inches) rectangles.
Transfer the no-milk cream into a piping bag and pipe the cream onto half of the cake slices.
Carefully place one of the remaining cake slices on top of a cream-piped slice and press slightly together.
More Vegan Chocolate & Sweets Recipes and Plant-Based Copy Cats