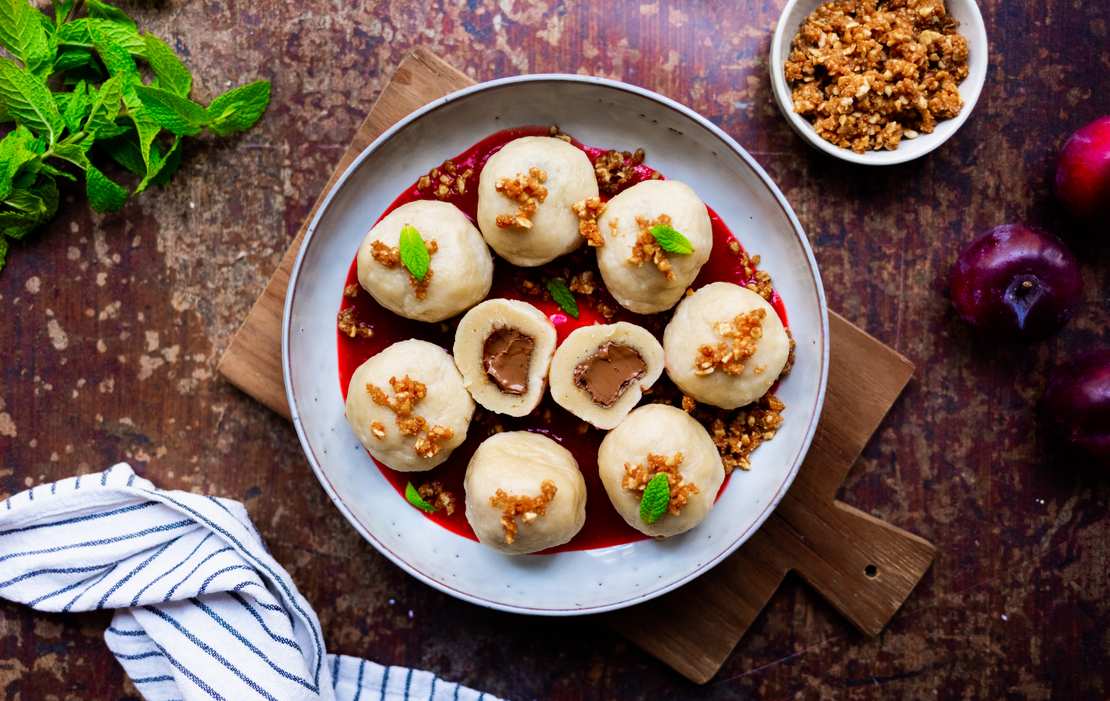 Vegan Nougat Dumplings with Plum Sauce
It seems that sweet main dishes divide humankind, at least that's what a survey in our office says. I'm an absolute advocate of rice pudding, filled yeast pastries, or sweet potato dumplings (called "Schupfnudeln") as the main course, so I jumped right in when it came to developing a sweet recipe for our dumpling theme week. If you haven't an exact idea when thinking about sweet dumplings, let me tell you that there are a lot of ways to prepare dumplings vegan and sweet.
Let's start with an absolute classic: "Marillenknödel" (apricot dumplings) are coated with a sweet dough and served with melted butter. Also, from Austria, there are "Mozart Dumplings" with a dough made of quark, flour, butter, and egg, and whose insides are ... correct, "Mozartkugeln"! Sweets covered in dough – what an awesome idea! But Germany also has some sweet dumplings to offer, such as "Dampfnudeln," yeast dumplings filled with plum jam.
We couldn't decide between a chocolatey or fruity version, so we combined both: the result is vegan nougat dumplings with plum sauce. Our recipe is very simple to implement, but we still have a few tips for you.
For this recipe, you need vegan nut nougat, which you can find in the baking section of bigger supermarkets. We don't refer to chocolate bars, but real baking nougat, which is much firmer and consists of sugar, hazelnuts, cocoa mass, and cocoa butter. Just enter "baking nougat" in the search engine of your choice to find a few brands directly. Just make sure that it doesn't contain milk powder. Another important ingredient is vegan quark. You can find it in many supermarkets and organic markets.
You should serve these sweet dumplings right after cooking as they taste best when warm. You can also let the dough rest in the fridge overnight and continue the recipe the next day. You can adjust the sauce depending on the season and use fresh berries instead of plums. We topped the chocolate dumplings with chopped and grounded nuts, which we simply pan-fried with vegan butter. If you're a fan of breadcrumbs (like I am), you can also substitute the ground nuts with breadcrumbs which also tastes fantastic.
Vegan Nougat Dumplings with Plum Sauce
4 servings (12 dumplings)
60 minutes (+ 60 minutes resting time)
Ingredients
For the dough:
40 g (0.33 stick) vegan butter
250 g (9 oz) plant-based curd
150 g (1.25 cups) wheat flour type 405
60 g (0.25 cup) soft wheat semolina
1 pinch of salt
30 g (2 tbsp) apple puree
15 g (1.5 tbsp) agave syrup
100 g (3.5 oz) vegan nut nougat (baking nougat)
For the sauce:
500 g (1 lb) plums
100 ml (0.5 cup) water
For the topping:
2 tbsp vegan butter
50 g (1.75 oz) breadcrumbs or ground nuts
25 g (1 oz) chopped nuts
1-2 tbsp agave syrup
fresh mint
Instructions
Melt vegan butter and transfer it to a bowl. Add plant-based curd, flour, soft wheat semolina, salt, applesauce, and agave syrup. Knead into a dough and let it rest in the fridge for an hour.

Form 12 small balls from the nut nougat and let them chill in the fridge as well. One ball is about one teaspoon of nut nougat.

In the meantime, prepare the plum sauce. Wash, half, and deseed plums, then transfer them to a saucepan. Add water and bring to a boil. While stirring regularly, let it boil down over medium heat for approx. 20 minutes until it's thickened. Blend until smooth, then transfer the sauce back to the pot, cover with a lid, and keep it warm until serving.

Remove the dumpling dough from the fridge and divide the dough into 12 equal-sized parts. Form small patties out of each part of the dough – they should roughly be the size of a palm. If the dough is too sticky, flour your hands first. Next, place one nougat ball in the center of a dough patty, and fold the dough around the filling to form a round dumpling. Repeat with the remaining dough.

Bring a pot of salted water to a simmer – it shouldn't be bubbling, but always be just close to it. Add the dumplings to the simmering water and let them cook for about 15-20 minutes.

In the meantime, melt vegan butter in a frying pan and fry breadcrumbs (or ground nuts) and chopped nuts until golden brown. Add agave syrup and let it caramelize briefly.

Serve the nougat dumplings with plum sauce, nut topping, and some fresh mint.