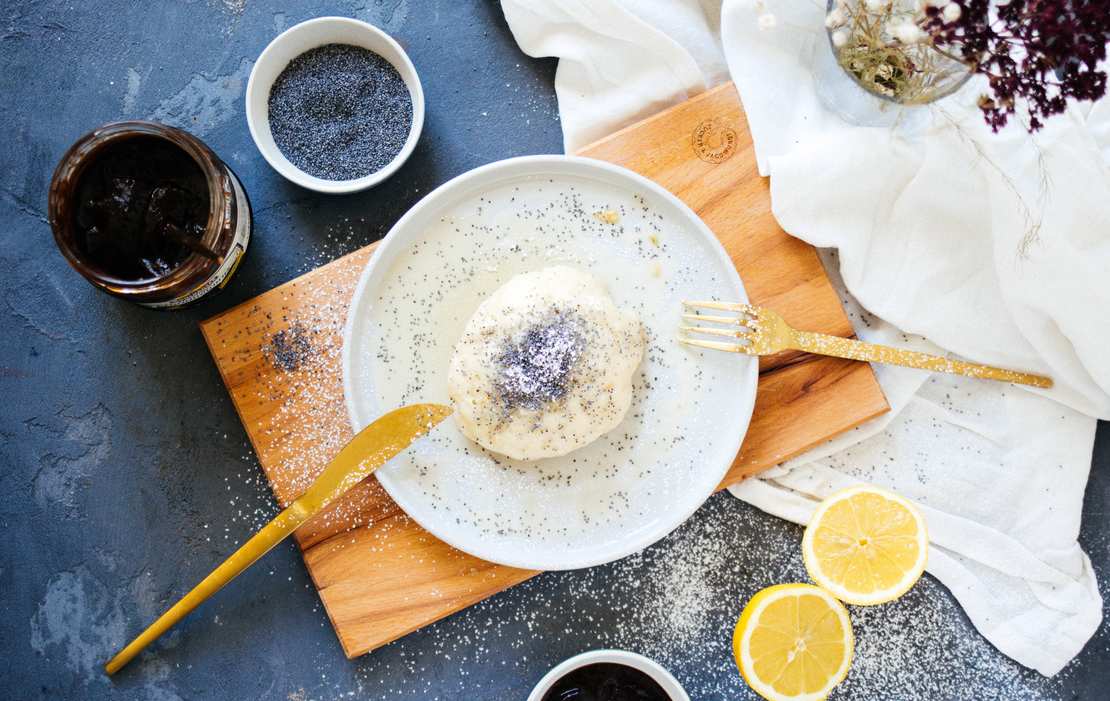 Vegan "Germknödel" (Yeast Dumplings filled with Plum Jam)
As you know, we have a weakness for dumplings: Pan fried dumplings, apricot dumplings or bread roll dumplings. Yeast dumplings are a perfect addition to the list cause they are fluffy, sweet and really delicious!
But each dumpling is different due to the ingredient list and preparation. In Germany, there are two famous yeast dumplings: "Dampfnudeln" and "Germknödel." Usually, Germknödel are filled with plum jam, and Dampfnudeln are served plain without any filling. Also, the preparation is entirely different! Germknödel are boiled in water and Dampfnudeln are steamed in a milk and sugar mixture in a high frying pan. So there are some significant differences even the dough is very similar. We tried both ways and quickly found our favorite. Steaming the yeast dumplings in a high frying pan turns the dough to fluffy and sweet bits with a beautiful brown crust on the bottom. So we decided to bring together the best of both worlds and prepared them like Dampfnudeln but filled them like Germknödel. Sounds complicated, but is just delicious!
Vegan Yeast Dumpling filled with Plum Jam
14-16 dumplings
60 minutes (+90 minutes waiting time)
Ingredients
yeast dumplings
600 g (5 cups) flour
40 g (1.4 oz) fresh yeast
1 tsp sugar
180 ml (0.7 cups) lukewarm, plant-based milk
2 egg replacer / no egg
80 g (0.37 cups) plant-based butter
60 g (0.25 cups) white sugar
1/2 lemon (zest)
1 pinch of salt
100 g (3.5 oz) plum jelly
frying
100 g plant-based butter
125 ml plant-based milk
75 g sugar
poppyseed butter
100-200 g (0.5-1 cup) plant-based butter
2 tbsp agave syrup
2 tbsp poppy-seeds
powdered sugar
Instructions
Put the flour in a large bowl. Mix sugar, lukewarm plant-based milk and fresh yeast in a smaller bowl. Give the mixture of the small bowl to the flour. Let rest for 5 minutes and start kneading afterward.
Now add all remaining ingredients for the dough (except for the plum jam) and form the dough into a large ball. Let the dough rise somewhere warm for at least one hour or until it's doubled in size.
Form the dough into a long sausage and divide into 14-16 pieces.
Flatten each piece with the palm of your hand (or with a rolling pin) and add 1-2 tsp plum jam into the middle of the circles. Seal well and form each piece into a ball again. Allow resting on a floured surface and covered with a towel for another 20 minutes.
The traditional "yeast dumplings" are cooked in water. We think that the baked version from the pan tastes much better. For this, heat plant-based butter, sugar and plant-based milk in a high, non-stick frying pan. The liquid should be about 1-2cm high.
Place 5-6 yeast dumplings into the pan, cover the pan with a lid and let it steam for 20 minutes over medium heat. Once no liquid is left, wait for another 10 minutes at low heat, so the dumplings turn brown and crispy on the bottom.
Now prepare the poppy seed butter. Melt the plant-based butter in a pot and add the agave syrup.
Serve the yeast dumplings with the sweet butter, poppy seeds, and powdered sugar (or vanilla sauce).