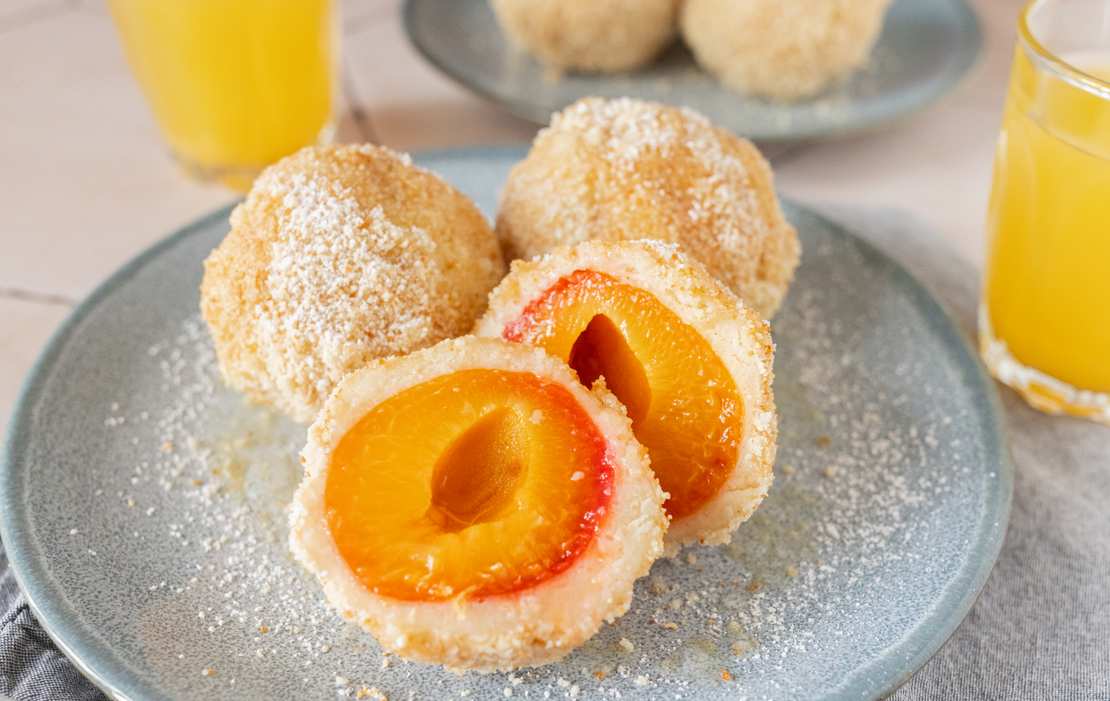 Vegan Marillenknödel (Apricot Dumplings)
The German language can be complicated from time to time. There are often many terms for one word, leading to confusion even among Germans. Apricot is one example: Most people refer to the fruit as apricot. Only in Bavarian and Austrian regions, the fruit is called "Marille". As "Marillenknödel" (Apricot Dumplings) is a typical Austrian dish, it's traditionally called "Marillenknödel" and not "Aprikosenknödel". You see how it can be confusing.
Another insider tip about apricots that we want to share with you is how to pit them. We use a wooden cooking spoon with a thin handle and push the pit out from the top of the fruit. If your apricots are not ripe enough, you can cut them from the side and remove the pit that way.
From July to September, you can enjoy them on a cake or straight from the tree. If that's too boring for you you can follow our recipe below and wrap the little orange fruits in dough, coat them with crispy breadcrumbs and top them with sweetened butter. A vegan vanilla sauce or whipped cream goes wonderfully with them. So make some space in your stomach for these little sweet dumplings – it's worth it!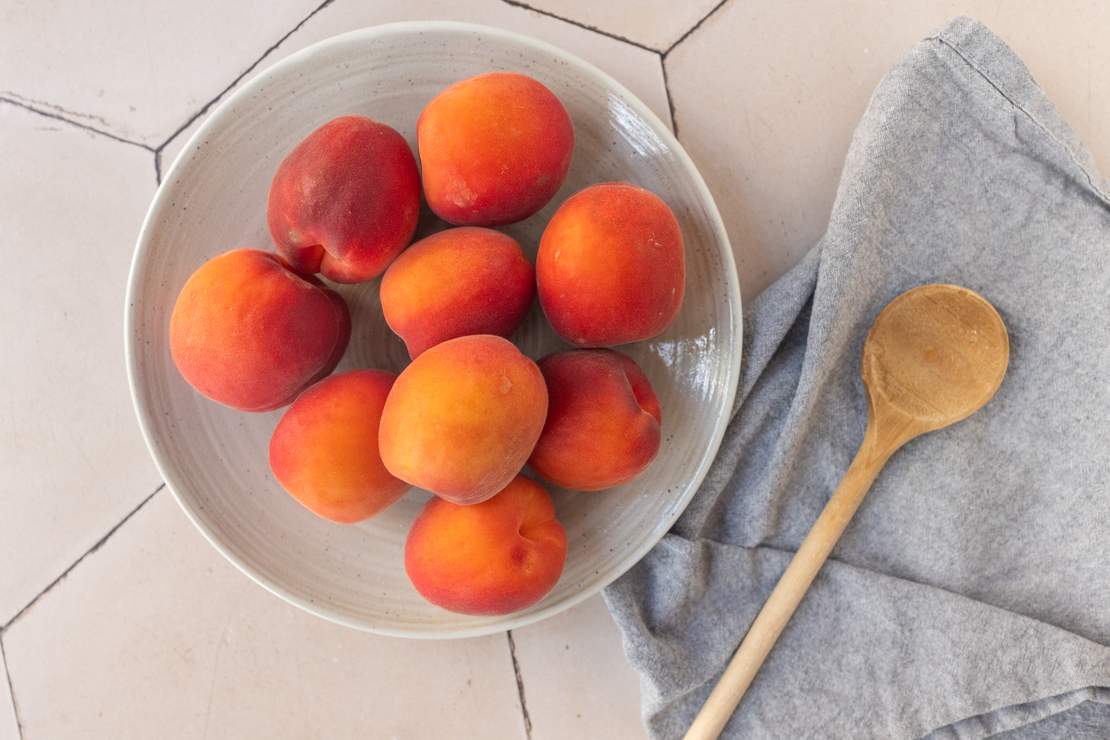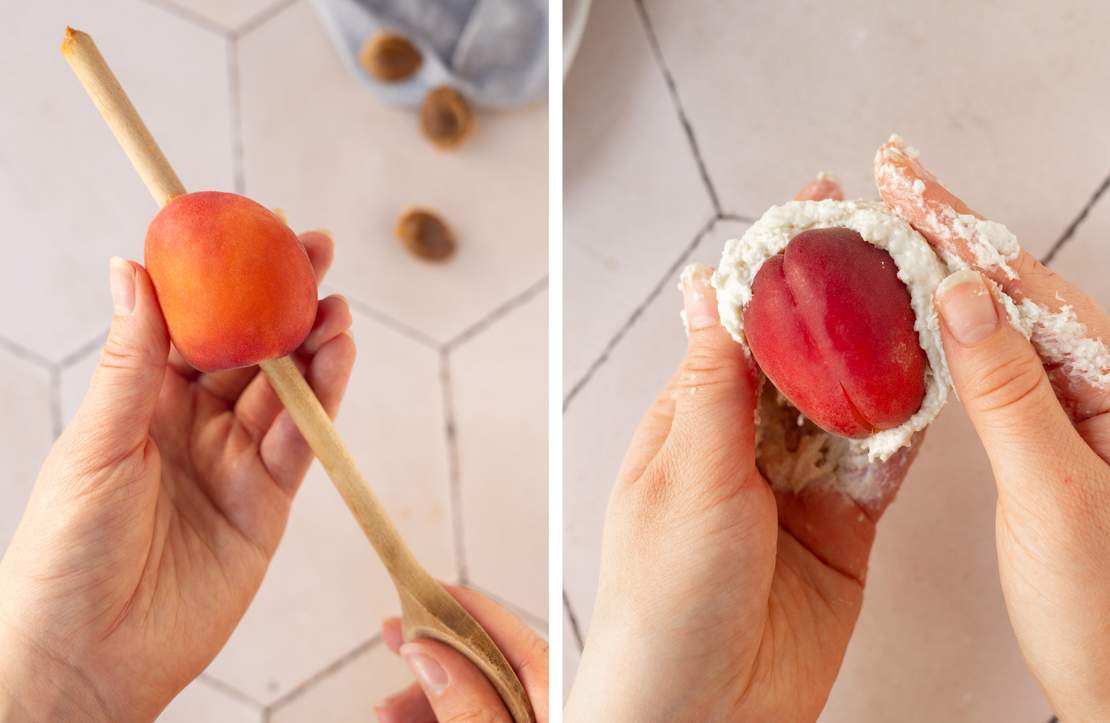 Vegan Marillenknödel (Apricot Dumplings)
8 Apricot Dumplings
30 minutes (+60 minutes resting time)
Ingredients
For the apricot dumplings:
2 tbsp vegan butter
250 g (1 cup) plant-based curd
125 g (1 cup) flour
80 g (0.5 cup) soft wheat semolina
1 tbsp applesauce
2 tbsp agave syrup
8–9 apricots
pinch of salt
For the breading:
2 tbsp vegan butter
100 g (3.5 oz) breadcrumbs
3 tbsp agave syrup
For the sweetened butter:
5 tbsp vegan butter
2 tbsp agave syrup
Instructions
Marillenknödel:
Heat butter in a pot until melted.

Knead all ingredients together in a bowl, including the melted vegan butter, plant-based curd, flour, semolina, applesauce and agave syrup, to form a dough. Let the dough rest for one hour.

Meanwhile, wash the apricots and pit them using the end of a spoon.

Now, coat each apricot with dough.
Tipp: Wetting your hands beforehand will make it easier to shape the sticky dough.
Heat a small pot of salted water and gently cook the dumplings for 15–20 minutes. Remove the dumplings from the water once they float on the surface for about 5 minutes.
Breading:
In another pan, melt some vegan butter and fry the breadcrumbs.

Add the agave syrup and briefly caramelize everything. Transfer the breadcrumbs to a plate and let them cool.

In a small pot, melt butter and add agave syrup.

Coat the dumplings in the breadcrumbs and serve with the melted sweet butter. Top the apricot dumplings with some powdered sugar.