Vegan "Kaiserschmarrn" with Plums
Franz Joseph I. loved Kaiserschmarrn, we love Kaiserschmarrn and you'll hopefully love the sugared pancake that's torn to bits as well! It's one of the most famous desserts from Austrian cuisine and has a really interesting history.
Kaiserschmarrn was served for the very first time to Empress Elisabeth of Austria in 1854. The sweet dessert probably tore by accident when it was served, but it has remained the dish's most characteristic feature to this day. Franz Joseph I. was served Kaiserschmarrn only a little later, still the dish was named after him and was called "Kaiserschmarrn" from that moment on.
While the classic recipe contains a few eggs, you actually don't need them to recreate this fluffy pan-fried dessert. However, make sure to pan-fry the batter in batches and don't add it all at once as this will result in a rather sticky and firm vegan Kaiserschmarrn – it needs enough space to get fluffy and crispy. If plums are not in season, just swap in apples, pears, rhubarb, berries, or any other seasonal fruit to your liking.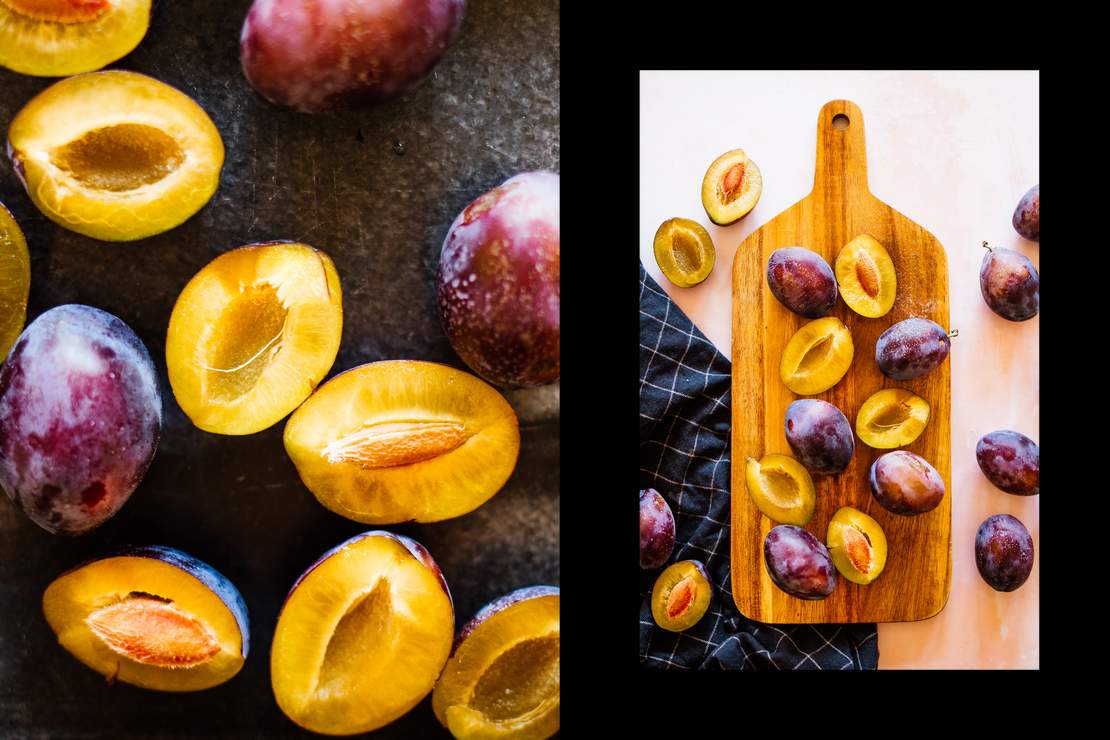 Vegan "Kaiserschmarrn" with Plums
Ingredients
For the batter:
8 plums
50 g (0.25 cup) vegan butter
2 vanilla pods
40 g (3 tbsp) sugar
0.25 tsp salt
1 tsp baking powder
200 g (1.66 cup) flour
300 ml (1.25 cup) plant-based milk
50 ml (0.25 cup) sparkling water
For frying:
3 tbsp vegan butter
4 tbsp raisins
3 tbsp sugar
confectioner's sugar for serving
Instructions
Wash, halve, and pit plums, then cut them into slices. Melt vegan butter in a saucepan. Halve vanilla pods lengthwise and scrape out the pulp.

Mix vanilla pulp, sugar, salt, and baking powder in a large bowl. Alternately, add flour and plant-based milk and thoroughly stir to combine. Add melted vegan butter, then sparkling water, and stir quickly. Lastly, carefully fold in plums but do not over-stir the batter.

For frying, melt remaining vegan butter in a large non-stick frying pan. Add some of the batter to the frying pan until it's approx. 1 cm / 0.4 inches high. The batter shouldn't be too high in order to cook thoroughly. Better pan-fry the batter in batches.

Scatter some raisins on top of batter to let them sink in. Pan-fry the pancake over medium-high heat until it's golden brown at the bottom, then flip and fry until golden brown from both sides.

Using two forks, tear the pancake into bits and sprinkle with sugar. Let the vegan Kaiserschmarrn caramelize for several minutes, then remove from the frying pan and repeat the frying with the remaining batter. For serving, dust vegan Kaiserschmarrn with confectioner's sugar.