Vegan Orzotto with Peas and Smoked Tofu
Attention, attention, this is no authentic Italian recipe!
But let's start from the very beginning: Once upon a time, there was a northern Italian rice dish called risotto. Many people were afraid to prepare it. Especially those who never even treid to cook it. Luckily, the brave ones that overcame their fear realized that cooking risotto isn't complicated at all! The part when you do broth-stir-broth-stir is even kind of meditative. Detox for your stressed soul! The moral of the story is that you should boldly dive into the infinite depths and widths of the world of risotto and try it with all kinds of seasonal ingredients.
But today's story doesn't end here, because we're cooking orzotto, right?! This dish is also known in Italy, but it's made with pearl barley instead of rice. But if you take a closer look at our recipe photos, you'll recognize neither rice nor barley, but: orzo! This short-cut pasta is found in Italian cuisine as "risoni", but certainly not in an orzotto.
But it just tastes wonderful!
And it's easy to prepare!
It's very versatile!
So be brave!
Try it!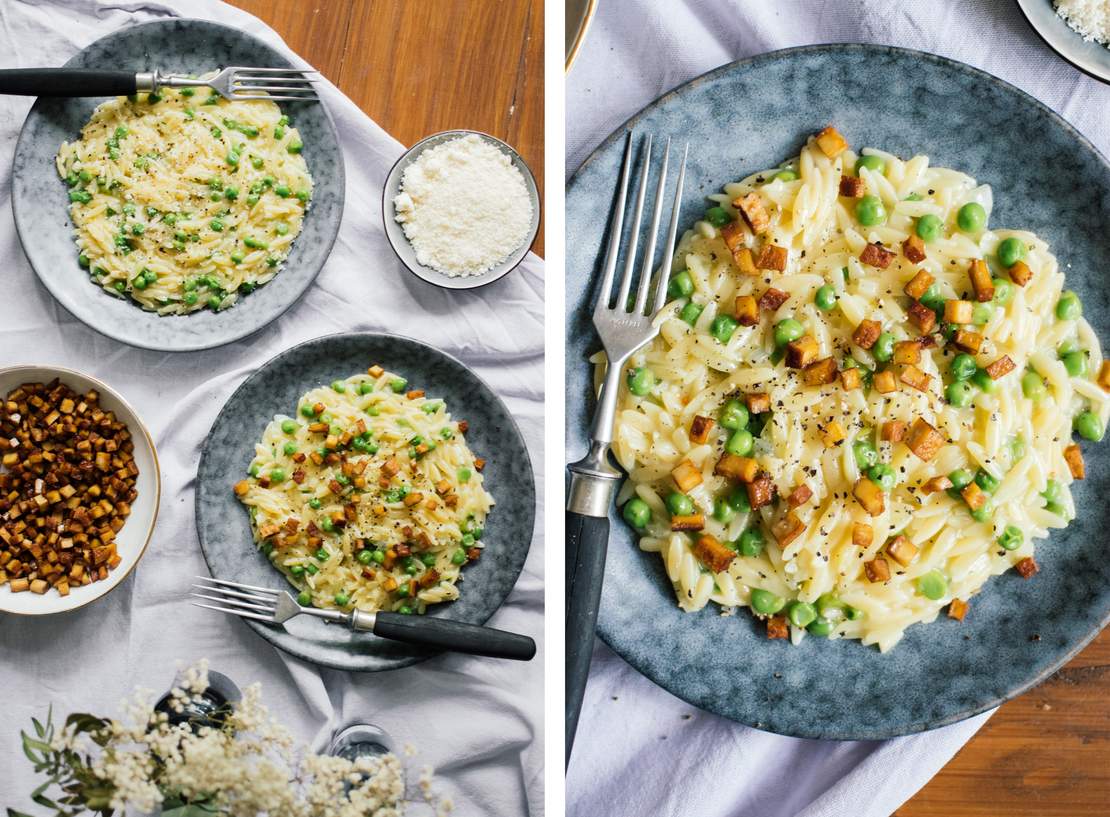 Vegan Orzotto with Peas and Smoked Tofu
Ingredients
250 g (9 oz) orzo pasta
1 shallot
1 garlic clove
200 g (7 oz) smoked tofu
200 ml (0.75 cup) white wine
700 ml (3 cups) vegetable broth
150 g (5.5 oz) peas
0.5 lime (zest)
4 tbsp nutritional yeast (or vegan grated Parmesan cheese)
2 tbsp vegan butter
olive oil for frying
salt
pepper
Instructions
Peel and finely chop shallot and garlic. Cut smoked tofu in small dices.

Heat olive oil in a large pot over low heat and fry onion for approx. 3 – 4 minutes, or until translucent. Add garlic and keep frying for approx. 1 minute before adding the orzo pasta. Continue to fry for 2-3 minutes, or until the orzo pasta is slightly toasted.

Deglaze with white whine and bring to a boil. Simmer for approx. 3 minuten until the white wine is absorbed by the orzo pasta.

Now, the fun part begins. Add vegetable stock little by little, only as much as needed to cover the orzo pasta while stirring regularly. Once the liquid is completely absorbed, add some more vegetable stock until the orzo pasta is covered again. Repeat this process while stirring until you used up all vegetable stock. The orzo pasta should be done in approx. 15 minutes, but add more stock if needed.

After adding vegetable stock for the last time, add peas to the orzotto and season with lime zest, salt, pepper, and nutritional yeast to taste. Last but not least, add vegan butter and stir to combine.

In the meantime, heat vegetable oil in a frying pan and sear diced smoked tofu over medium heat. After 2-3 minutes, add soy sauce and keep frying the tofu until crispy.

Serve orzotto with crispy tofu on top or add it to the orzotto directly and stir to combine. If desired, sprinkle with more nutritional yeast or vegan Parmesan cheese.