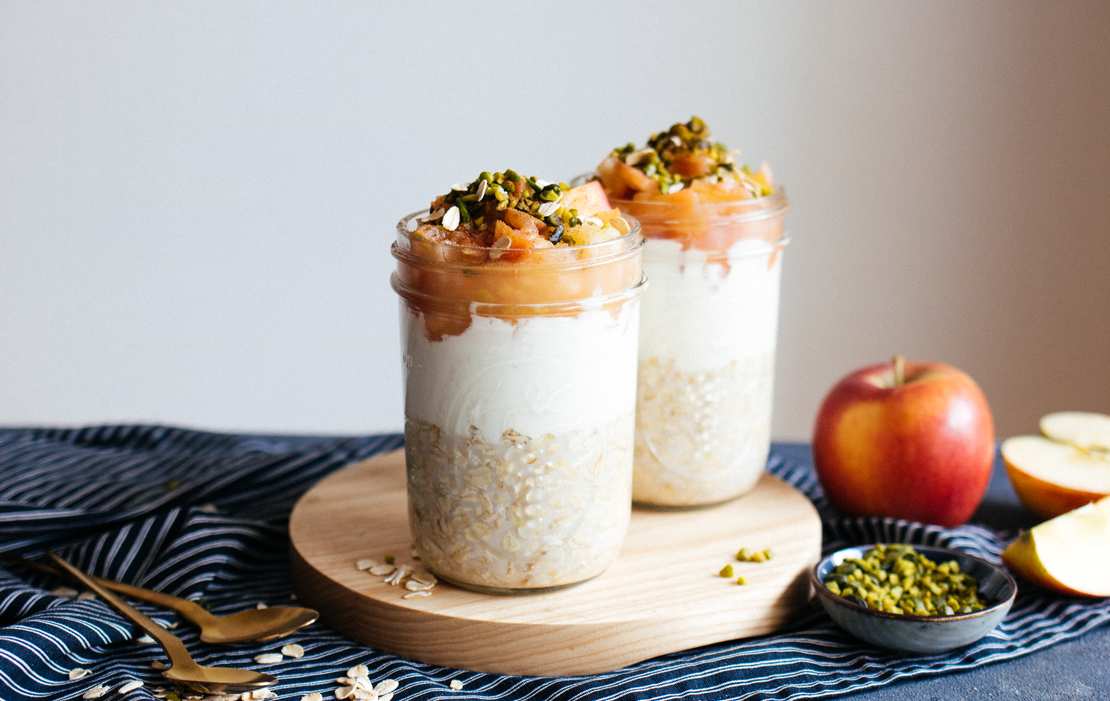 Vegan Overnight Oats with Homemade Applesauce
There is always less time for breakfast, the earlier you leave your home for work. At least, that's my thesis! Every minute of sleep counts, and you really can't blame anyone for that. So we prepared a recipe that gets you through the day and is prepared in just a few minutes (or the evening before). The only thing you should have in mind: don't forget your breakfast in the fridge, friends!
Overnight oats are the perfect recipe to prepare in the evening and to take away with screw-top jars. Depending on the season, you can top the overnight oats with different fruits. We prepared apple sauce because the variety of fresh fruits is very limited in January. When preparing the apple sauce, we did not remove the skin. This way, we avoid food waste and get more nutrients from the apples. Additionally, the apple sauce also gets a great red color. Also, we did not puree the applesauce at the end but crushed it with a fork. If you want your apple sauce to be very fine, fill the cooked apple pieces in a tall container and puree. If you want to save yourself a little time in the morning, then it is best to prepare the apple sauce in larger portions at the weekend or in the evening. It is best to fill the fresh apple sauce into hot-washed jars, which you can turn upside down for a few minutes afterward. This keeps the apple sauce fresh for a week or two. By the way, you can also freeze apple sauce!
We are very happy that [Kölln] (https://www.koelln.de/) supported us with this recipe! We used [Echte Kölln Kernige] (https://www.koelln.de/produkte/haferflocken/kernig/) for our overnight oat recipe. These are whole grain oats, which are made from the whole oat grain, including the germ and outer layers. We also used the [oat drink] (https://www.koelln.de/produkte/haferdrinks/) from Kölln in the recipe, which works wonderfully! You can find out more about the advantages and types of oats [here] (https://www.koelln.de/produkte/haferflocken/).
Vegan Overnight Oats with Homemade Applesauce
Ingredients
1 tsp cinnamon
100 g (3.5 oz) plant-based yogurt
50 g (1.7 oz) nuts (pistachios, hazelnuts, walnuts, etc.)
overnight Oats
150 g (5.3 oz) Kölln oats
300 ml (1.3 cups) Kölln oat drink
apple sauce
3 apples
50 ml (0.2 cups) water
0.5 lemon
Instructions
overnight oats
In a glass or bowl, mix the oats with the oat milk. Place in the fridge overnight. Take 75 g oats and 150 ml oat milk per serving.
apple sauce
Wash, peel (optional), de-seed, and cut apples into small pieces. Place apples in a saucepan.
Add water and lemon juice and simmer over medium heat for about 10 minutes. Mash apples with a fork or puree.
Serve overnight oats with plant-based yogurt, homemade apple sauce, and nuts.