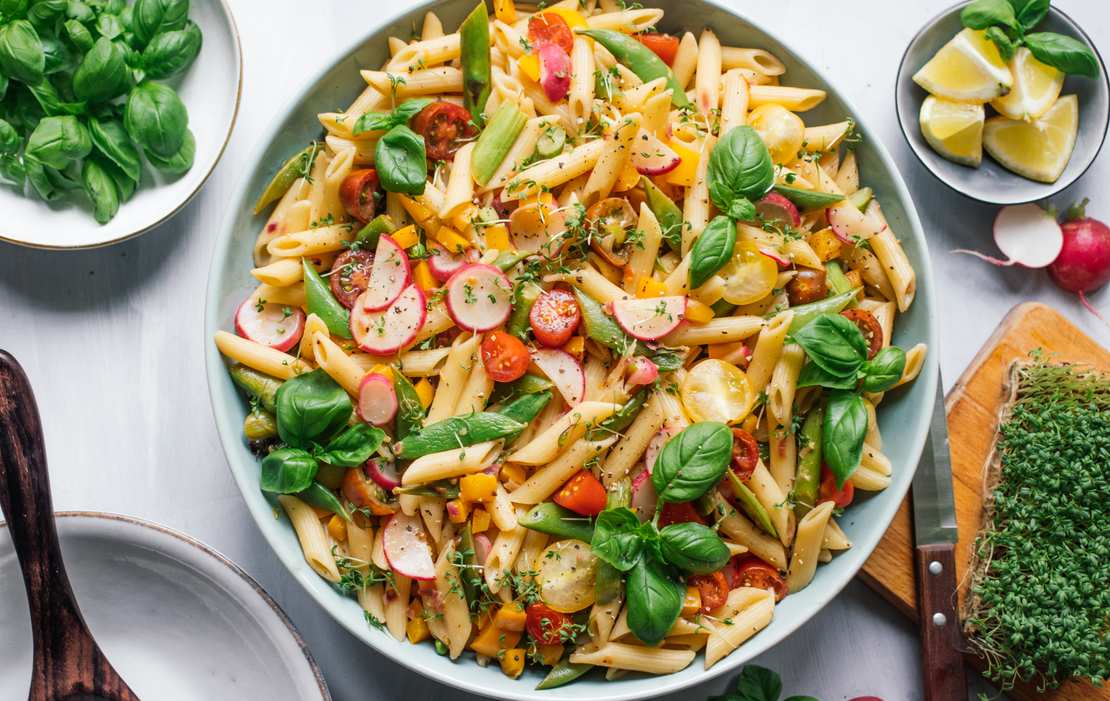 I would like to eat pasta 365 days a year, but I have to admit that not all pasta recipes are suitable for it. Especially when the temperatures rise, our beloved bolognese or lasagna don't feel like a light spring dish. Fortunately, there is a pasta dish that is named after spring – "Primavera" is the Italian word for my favorite season, and "Pasta Primavera" definitely deserves the title.
Like a mixture of a pasta salad and a very light pasta dish, this recipe is filling, full of seasonal vegetables, and can be easily adapted to every taste. We added green asparagus, radishes, peas, peppers, red onions, and cherry tomatoes and only fried the veggies briefly, so they still have a light bite. If you like, you can also use zucchini, sugar snap peas, or other vegetables. The type of pasta is also variable - but I think that medium-length pasta like penne is very suitable because it is similar in length to the vegetable pieces, and the creamy sauce is sticking very well to them. There are also a few options for the sauce. We prepared a very, very light sauce with plant-based cream that is only set with a little cooking water. Yeast flakes add flavor, and lemon ensures freshness.
We are super happy that [Byodo] (https://tinyurl.com/y843srnw) supported us with this recipe. Byodo is a natural food company from Upper Bavaria and only produces organic products. They pay attention to sustainable action and an environmentally friendly production. We used Byodo Bio-Penne for our pasta Primavera, whose durum wheat comes from 100% controlled organic cultivation and is made up of different Italian durum wheat varieties. You can find Byodo products in organic markets or visit their online shop.
Vegan Pasta Primavera
Ingredients
500 g (18 oz) medium lenght pasta, e.g. penne
400 g (14 oz) green asparagus
1 red onion
1 yellow bell pepper
8 radishes
300 g (10 oz) mixed cherry tomatoes
200 g (7 oz) fresh peas (or sugar snap peas)
100 ml (0.33 cup) plant-based heavy cream
1 tsp white wine vinegar
2 tbsp nutritional yeast
0.5 lemon
vegetable oil for frying
basil for serving
cress for serving
salt
pepper
sugar
Instructions
Start by preparing the vegetables. If needed, cut off the dry ends of asparagus and cut the stalks into bite-sized pieces. Peel and finely dice red onion, dice bell pepper, slice radishes, and halve cherry tomatoes. Chop peas, or snap peas if used.

Bring a pot of salted water to a boil and cook pasta according to package instructions. Make sure to cook then 2 minutes less of what the package is saying to keep them very al dente. Before draining, reserve approx. 100 ml (0.5 cup) of the cooking water.

While the pasta is cooking, heat some vegetable oil in a large frying pan. Start by frying the diced onion for approx. 1-2 minutes, or until translucent. Add green asparagus and bell pepper and keep frying for approx. 3-4 minutes. Season with salt and sugar. Add peas and fry for another 2 minutes.

Add plant-based cream, white wine vinegar, and nutritional yeast, the zest and juice of half of a lemon and toss to coat the vegetables in the sauce. Season with salt and pepper.

Finally, add radishes, tomatoes and cooked pasta. Add as much of the cooking water as needed to combine all ingredients and create a silky sauce. Heat all ingredients for another 1-2 minutes, or until the pasta is perfectly al dente.

Serve pasta primavera in a large bowl with fresh basil and cress.