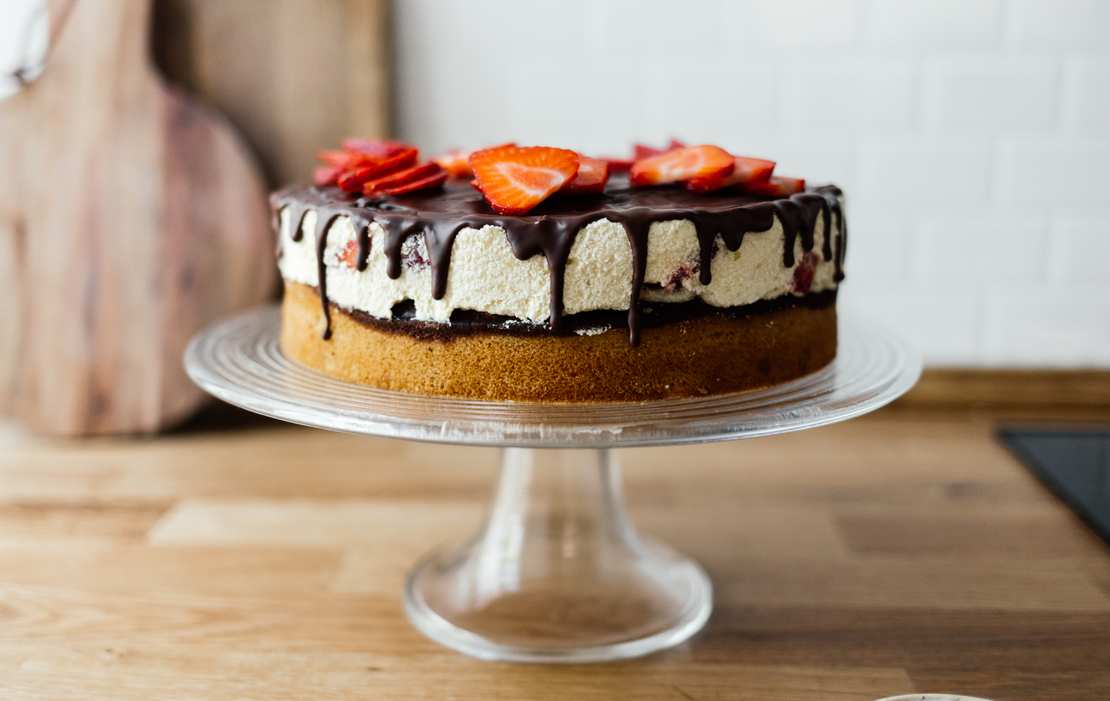 Vegan Pound Cake with Vanilla Pudding and Strawberries
I must admit that the German cake called "Donauwelle" (a vegan pound cake with vanilla custard and sour cherries that's topped with a chocolate glaze) has not necessarily been one of my favorite cakes. For me, it was rather a cake my grandma would bake and which I, therefore, just ate at family celebrations. However, after I developed a vegan recipe for the blog, this cake was already a little more likable to me, and now I couldn't imagine a life without it anymore!
How did this happen, you ask? The answer is simple: strawberries! Instead of morello cherries, we use fresh strawberries in this recipe. Chocolate and strawberries are always a wonderful match and make this usually quite heavy cake suitable for spring. Thus, our pound cake with vanilla custard and strawberries is the perfect companion for the first warm days of the year when you sit on the balcony. And since we don't have a family celebration coming up every day, where it feels like half of a village has to be supplied with cake, we don't prepare the cake on a huge baking sheet, but in a smaller springform pan.
As a basis for our cake, we use our vegan sponge cake batter, once with and once without cocoa powder. The cake base is topped with a vegan custard buttercream and lots of fresh strawberries. When preparing the cream, make sure that your custard has cooled down well before folding it in. Additionally, your vegan butter should be at room temperature when you whip it! And that's it. Let's go!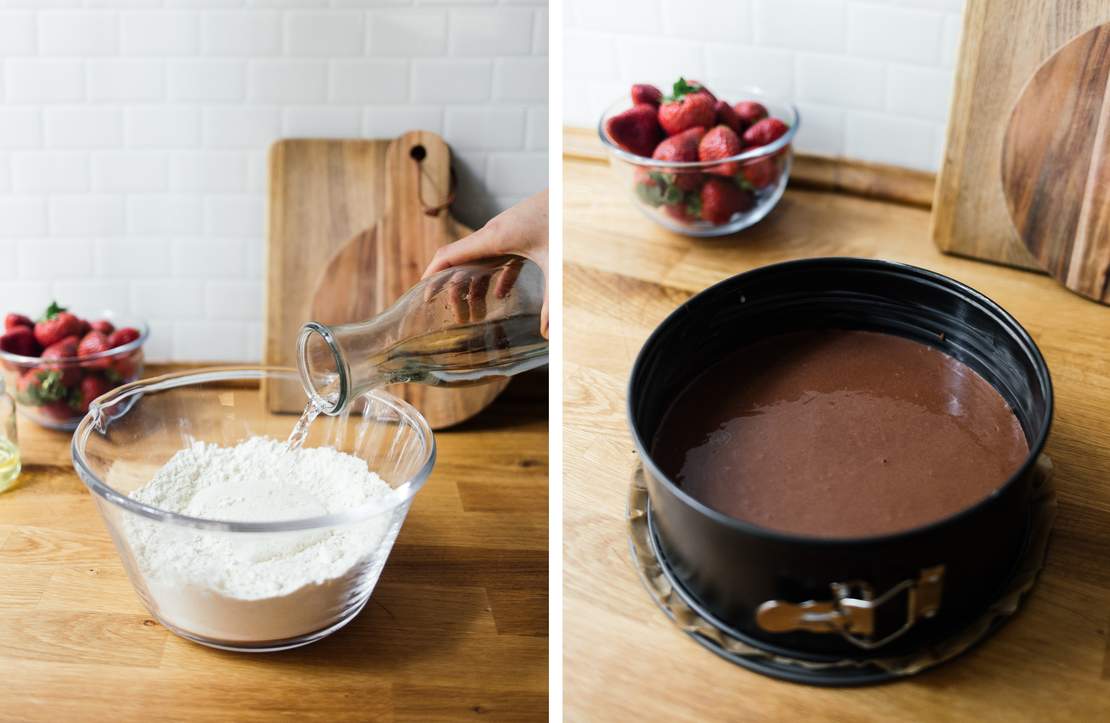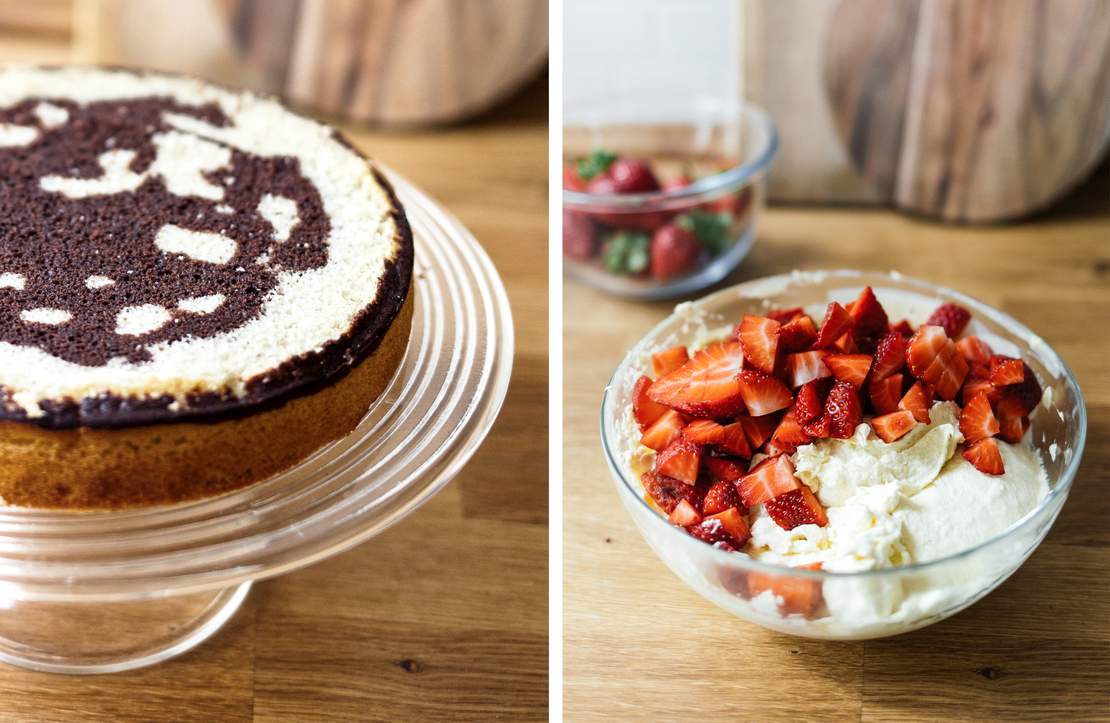 Vegan Pound Cake with Vanilla Pudding & Strawberries
1 springform pan (∅ 26 cm / 10 inches)
60 minutes (+ 40 minutes baking time + 2 hours cooling time)
Ingredients
For the batter:
340 g (2.75 cups) wheat flour type 405 or spelt flour type 603
150 g (0.66 cup) sugar
8 g (1.5 tsp) baking powder
8 g (1.5 tsp) vanilla sugar
425 ml (1.75 cups) sparkling water
75 ml (0.33 cup) sunflower oil
20 g (0.75 oz) unsweetened cocoa powder
For the vegan buttercream:
74 g (2.66 oz) vegan vanilla custard powder
80 g (0.33 cup) sugar
1 l (4.25 cups) soy or nut milk
125 g (1 stick) vegan butter (room temperature)
300 g (10.5 oz) strawberries
For the chocolate layer and decoration:
100 g (3.5 oz) dark chocolate
2 tbsp coconut oil
200 g (7 oz) strawberries
Instructions
Preheat the oven to 180°C/355°F (convection oven). For the batter, mix flour, sugar, baking powder, and vanilla sugar in a large bowl. Add 375 ml (1.66 cups) of the sparkling water and the plant-based oil and mix just briefly. Grease a springform pan (∅ 26 cm/10 inches) and pour in half of the batter.

Stir cocoa powder and the remaining 50 ml (0.25 cup) of sparkling water into the remaining batter. Now pour the chocolate batter on top of the light batter. Bake the cake for about 40 minutes, then let it cool completely.

In the meantime, prepare the custard powder according to package instructions and let it cool completely as well. For the custard, you usually stir to combine the powder with sugar and some soy or nut milk, then pour the mix into already boiling plant-based milk.

Wash and hull the strawberries. Finely dice the strawberries for the filling (300 g/10.5 oz) and finely slice the strawberries for the decoration (200 g/ 7 oz).

Beat vegan butter at room temperature with a hand mixer and gradually add the cooled custard until you get a smooth cream. Gently fold in diced strawberries. Spread the cream on the cooled cake and refrigerate.

For the chocolate layer, heat the dark chocolate in a double boiler until melted and stir in the coconut oil. Let the chocolate cool to room temperature and spread it evenly over the cake. Now garnish directly with the strawberry slices and let the cake chill for at least 1 hour before serving.
Tip: The best way to cut the cake is to use a sharp knife that has been dipped in hot water (and then dried, of course).