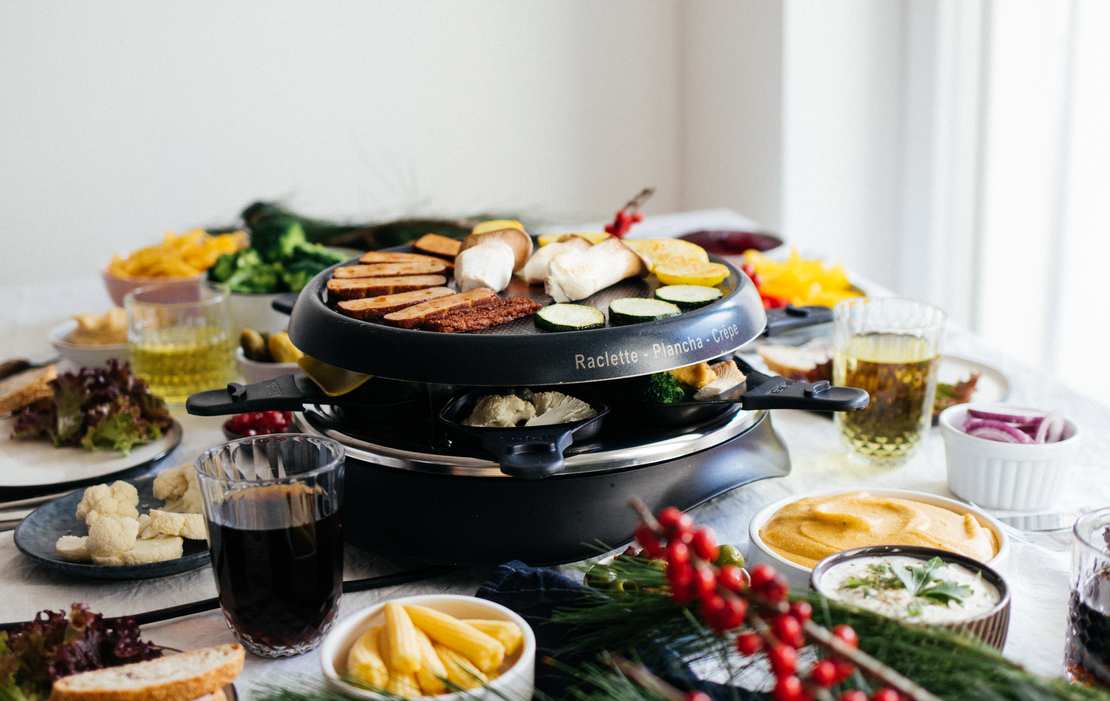 Christmas and New Year's Eve is just around the corner! So it's time to find your raclette again. Since we are big fans of dumplings and goulash for Christmas, we only serve raclette on New Year's Eve. For the first, but also the last time this year. Raclette is not only the perfect leftover meal after the Christmas holidays but also the ideal meal to share with friends and family.
Of course, you can serve raclette the way you and your friends like it the most! But we made a little list full of ingredients we love the most, to inspire but also to cover you with the most important things (so you don't forget anything). We always add lots of veggies to our list, cause we are really looking forward to eating something fresh again after days and days full of dumplings and goulash! As a cheese substitute, we use a homemade cheese sauce made from potatoes, carrots, and cashew nuts and buy vegan sliced cheese. Both cheese alternatives are working super easy and are melting and turning brown in the pans. We also linked you to our onion dip below in the post, which also goes very well with a raclette. To get you covered with new ideas, we added a Mexican, oriental, Mediterranean, and sweet version too.
We are very happy that [EDEKA] (https://www.edeka.de/) supported us with this recipe! You can find all the ingredients for our raclette at EDEKA supermarkets. They offer a huge selection of fresh fruits and vegetables, which is super important for preparing a raclette. We used EDEKA organic potatoes, organic zucchini, and organic red onions, which come from controlled organic production. Many of the products also come from regional agriculture, which supports local farmers.
Vegan Raclette
Ingredients
Warm ingredients
1 kg hard-boiling potatoes
1 broccoli
1 zucchini (e.g., EDKEA organic Zucchini)
150 g mushrooms (e.g., EDEKA king oyster mushrooms)
300 g corn
190 g small corn cobs
250 g beans (black beans, kidney beans)
1-2 bell pepper
1-2 beetroots
400 g tofu (e.g., smoked tofu)
Cold ingredients
100 g silverskin onion
2 red onions (e.g., EDEKA organic red onions)
100 g gherkins
100 g olives
100 g vegan tortilla chips
1 glass of jalapenos
1-2 fresh loaves of bread
Vegan cheese sauce
400 g starchy potatoes
1 large carrot
1 onion
100 g natural cashew nuts (soaked overnight, or at least in warm water for 30 minutes)
25 g nutritional yeast
100 ml plant-based milk
0.5 tsp garlic powder
0.5 tsp onion powder
3 tbsp jalapeno juice + 3 jalapeno slices (inserted from the glass)
1 tbsp lemon juice
0.5 tsp Worcestershire sauce
salt
pepper
pinch of cayenne pepper
Sweet option
1 banana
1 pear
100 g dark chocolate
100 g vegan cookies
Dips
150 g lingonberry jam
vegan yogurt dip with herbs
vegan garlic dip (garlic, plant-based yogurt, salt & pepper)
vegan onion dip (recipe on the blog)
additionally
100 g vegan sliced cheese
optional: vegan feta cheese
500 g grapes
100 g walnuts
Instructions
Vegan Cheese Sauce
Peel potatoes, carrots, and onions and cut them in same-sized pieces. Place in a saucepan, cover with water and add a pinch of salt. Simmer for about 10-15 minutes until the vegetables are soft. Drain and collect about a cup of the cooking water.
Put the vegetables in a blender and mix with the soaked cashews, the jalapenos, the jalapeno juice, worcestershire sauce yeast flakes, and the plant-based milk. Add cooking water as needed to create a creamy sauce.
Season with garlic powder, onion powder, lemon juice, salt, pepper, and cayenne.
preparations
Boil the potatoes in salted water for about 20 minutes. Let potatoes cool down, peel if necessary and cut into thick slices.
Wash broccoli and cauliflower, cut into florets and boil in a saucepan with water for 3 minutes.
If necessary, wash, peel, and cut the remaining vegetables. You can place the veggies later in the raclette pans with a little cheese sauce or use the grill plate on top.
The classic veggie pan
Place broccoli, mushrooms, zucchini, bell pepper, and corn to a pan and add vegan cheese or cheese sauce on top.

Depending on the power of your raclette, heat for 4-6 minutes until the cheese melts.

Eat with grilled tofu and grilled potato slices.
The fried potato pan
Place the potato slices and red onions in a pan and add vegan cheese or vegan cheese sauce on top.
Depending on the power of your raclette, heat for 4-6 minutes until the cheese melts.
Eat with grilled smoked tofu.
The Mexican pan
Place the tortilla chips, beans, jalapeno slices, and corn in a pan and add vegan cheese or vegan cheese sauce on top.
Depending on the power of your raclette, heat for 4-6 minutes until the cheese melts.
The oriental pan
Put the cauliflower and beetroot in a pan.
Depending on the power of your raclette, heat for 4-6 minutes until the cauliflower turns a bit brown.
Eat with hummus, olives, and pomegranate seeds.
The Mediterranean pan
Place the beetroot and vegan feta in a pan.
Depending on the power of your raclette, heat for 4-6 minutes.
Eat with walnuts and pomegranate seeds.
The sweet pan
Place pear slices, banana slices, chocolate pieces, and biscuits in a pan.
Depending on the power of your raclette, heat for 4-6 minutes so that the chocolate melts.
Vegan onion dip
Ingredients
4 large, yellow onions
2 garlic cloves
1 tbsp plant-based oil
1 tbsp vegan butter
2 tbsp agave syrup
400 g (14.1 oz) silken tofu
100 ml (0.4 cup) plant-based cream for cooking
50 g cashews (1.7 oz), soaked in warm water for at least 30 minutes
1 tbsp cider vinegar
2 slices of jalapenos
3 tbsp nutritional yeast
1 tsp paprika powder
1 tsp cayenne
salt & pepper
Instructions
Peel onions and garlic. Cut onions in thin rings and slightly press garlic with the back of a knife but keep it like this as a "whole" clove. Heat 1 tbsp oil and 1 tbsp vegan butter in a large pan and sauté onions and garlic until they are glazed.
As soon as they turn glazed, add a shot of agave nectar and let it caramelize for some minutes. They should NOT get dark but stay light.
Take a mixer and throw in soft tofu, cashews, vegan sour cream or soy cream, nutritional yeast, jalapenos and cider vinegar. Mix it until it's a smooth unity.
Now add about 3/4 of your onion-garlic-mix (put the rest beside for later). Start mixing again until everything is a delicious mash.
Season with salt, pepper, paprika and cayenne and top with the remaining fried onions.