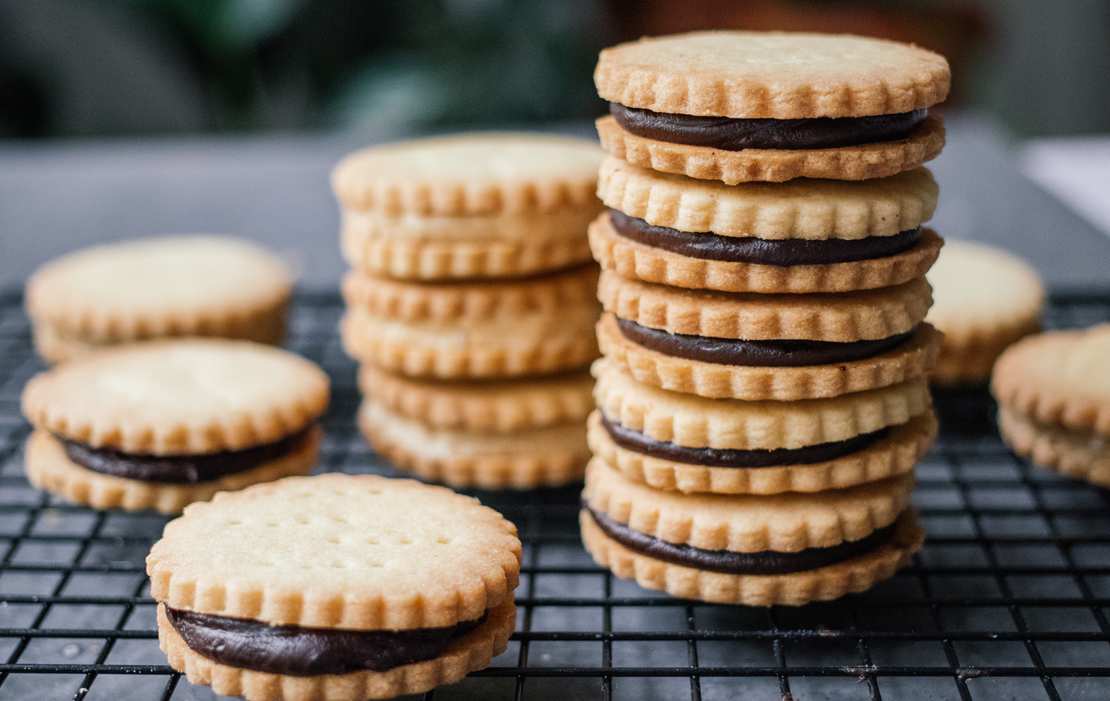 Two round cookies and chocolate filling in between – this is the classic sandwich cookie, one of the most popular cookies in Germany. Most of the time, you'll find them exactly like this, only from different brands. But it's (almost) always the same type of cookie and the same type of chocolate filling.
Since we don't want to fail your expectations, we've prepared a vegan version of the classic cookies, BUT we also did an alternative filling and want to use this recipe to let you know about some ways to adjust this recipe.
Starting with the cookie: add some cocoa powder to create a chocolate cookie as a base. You can also give your cookies a fresh or spiced flavor by adding some citrus zest (orange zest is a great wintery option for this recipe!) or spices (e.g., cinnamon or cardamom) to the cookie dough. We certainly don't have to mention that instead of a round shape, you can also get creative and use any kind of cookie-cutter that you have in your kitchen (our cookies were 5,5cm/ 2 inches in diameter, but you can also do smaller or bigger ones). However, you should be careful about the texture and thickness of the cookies. To prevent them from breaking, they can be rather thicker and bake them up to a point when they are neither too soft nor too crispy. Once they are filled, they will also get a bit softer in the next few days.
When it comes to the filling, everything is possible. Even if you like the chocolate option, why not try out a few cookies with a nut cream (yes, we talk about peanut butter) or add a little tahini? We also have a special highlight for everyone who loves caramel, which is the biscoff cream. You can find the biscoff spread in a lot of supermarkets – and it's vegan! So what will be your choice?
Vegan Sandwich Cookies
approx. 10-15 cookies
40 minutes (+ 75 min. resting time, + 10 min. baking time)
Ingredients
For the cookies:
250 g (2 cups) flour
150 g (0.66 cup) vegan butter
75 g (0.66 cup) confectioner's sugar
1 tsp vanilla flavor
salt
For the caramel cream:
50 g (0.25 cup) soft vegan butter
100 g (0.75 cup) confectioner's sugar
25 g (2 tbsp) biscoff spread (or any type of nut butter, or tahin)
For the chocolate cream:
100 g (3.5 oz) dark chocolate
1 tsp coconut oil
2 tbsp cold plant-based milk
salt
Instructions
Mix flour, sugar, and salt in a large bowl. Add vanilla flavor and cold vegan butter in flakes and start kneading and combining until a smooth dough forms.

Wrap dough in plastic wrap and refrigerate for 30-60 minutes.

Dust your working surface with flour and roll out the dough until it's approx. 5 mm thick (0.2 inches). Cut out round cookies in any size you prefer, as you can make smaller or larger sandwich cookies. Once you cut out all cookie circles, roll out the remaining dough and repeat the step until all dough is used up. Prick all cookies several times with a fork, then transfer them to a large plate or platter and refrigerate them again for at least 15 minutes (you could even freeze them).

Preheat oven to 180°C/355°F. Once the oven is heated, remove cookies from the fridge and place them on a lined baking sheet. Bake for approx. 10 minutes. The cookies should only get brown around the edges. Remove from the oven and let them cool out completely.

In the meantime, prepare the creams. For the chocolate cream, roughly chop the dark chocolate and add it to a heatproof bowl set over a pot of simmering water. Add coconut oil and let the chocolate melt. Once it's melted, stir in cold plant-based milk. You'll directly see that the cream thickens. Let cool down a bit at room temperature until it's easy to spread the chocolate cream. Either use a piping bag or just a spoon to add the chocolate cream on top of some of the cooled out cookies. Place a second cookie on top and carefully press together.

For the caramel cream, add soft vegan butter, biscoff spread, and confectioner's sugar to a bowl and whip until you get a nice fluffy buttercream. In case the cream should be too soft, refrigerate for just a few minutes. Otherwise, use a piping bag or a spoon to add the caramel cream on top of some of the cooled out cookies. Place a second cookie on top and carefully press together.

Store cookies at room temperature, they will soften after a few days, so it's best to eat them quickly.
More Vegan Chocolate & Sweets Recipes and Plant-Based Copy Cats