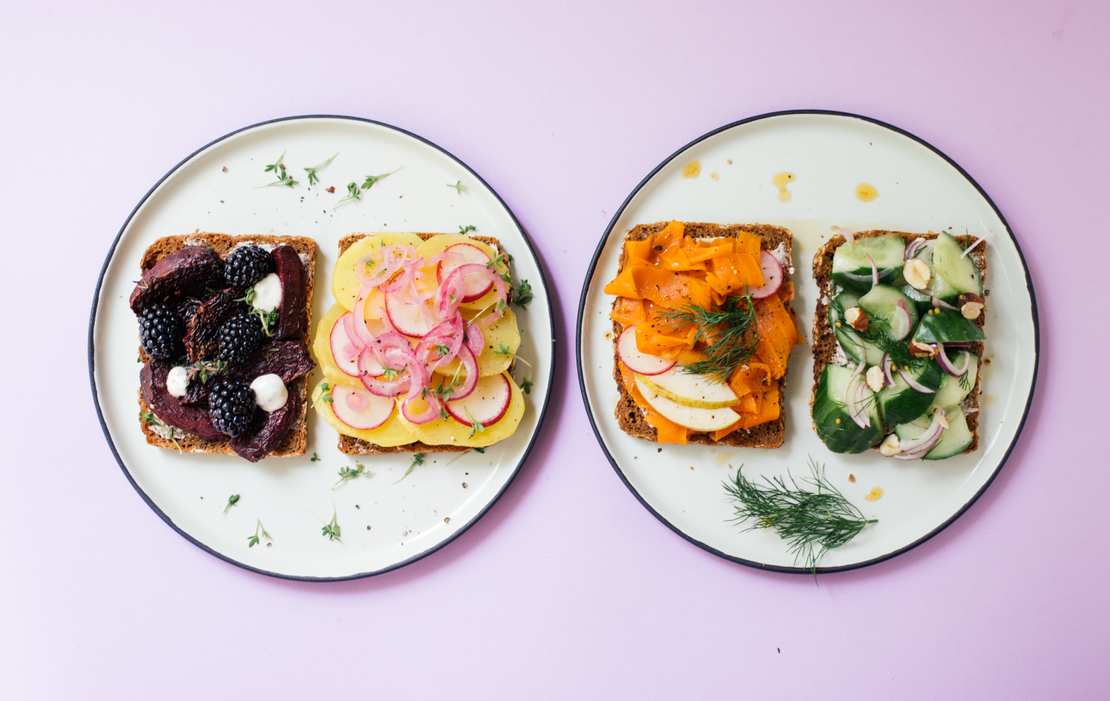 Sandwich Sunday: We love sandwiches, but unfortunately, most of the classic and famous ones are not vegan. This is why we're celebrating vegan Sandwich Sunday and present a new veganized classic sandwich each month. From Grilled Cheese Sandwich to Pastrami Sandwich – you can find all our vegan sandwich recipes here.
Say Hello to: Smørrebrød
About the how and why: Other than all the sandwiches we featured before, we're making an open-faced sandwich today. You might think... well, that's a slice of bread with some toppings, how fancy can it get? But wait for it. When I was a kid, we used to eat open-faces sandwiches almost every Sunday dinner, but it was miles away from this Danish classic which is usually served for lunch and eaten with a knife and fork.
What's usually on it: Smør means butter, brød means bread. So there we are with the two basic ingredients of this sandwich - it's usually a slice of rhy bread and salted butter. But when it comes to the topping, you could say that Smørrebrød sky is the limit. Some popular toppings are smoked herring, crab, gravlax, roast beef, liver pate, potatoes, plus fresh or pickles veggies, herbs, even fruits or extra sauces such as remoulade.
How we do it: Since we couldn't decide on one topping, you'll get four options, yay! As the base, we use rhye bread and vegan butter – unfortunately, we can't find salted vegan butter, but if you happen to find it somewhere, go for this one. Regarding toppings, you're spoiled for choice between beetroot&blackberry, cucumber salad, potatoes&radishes, and carrot lox.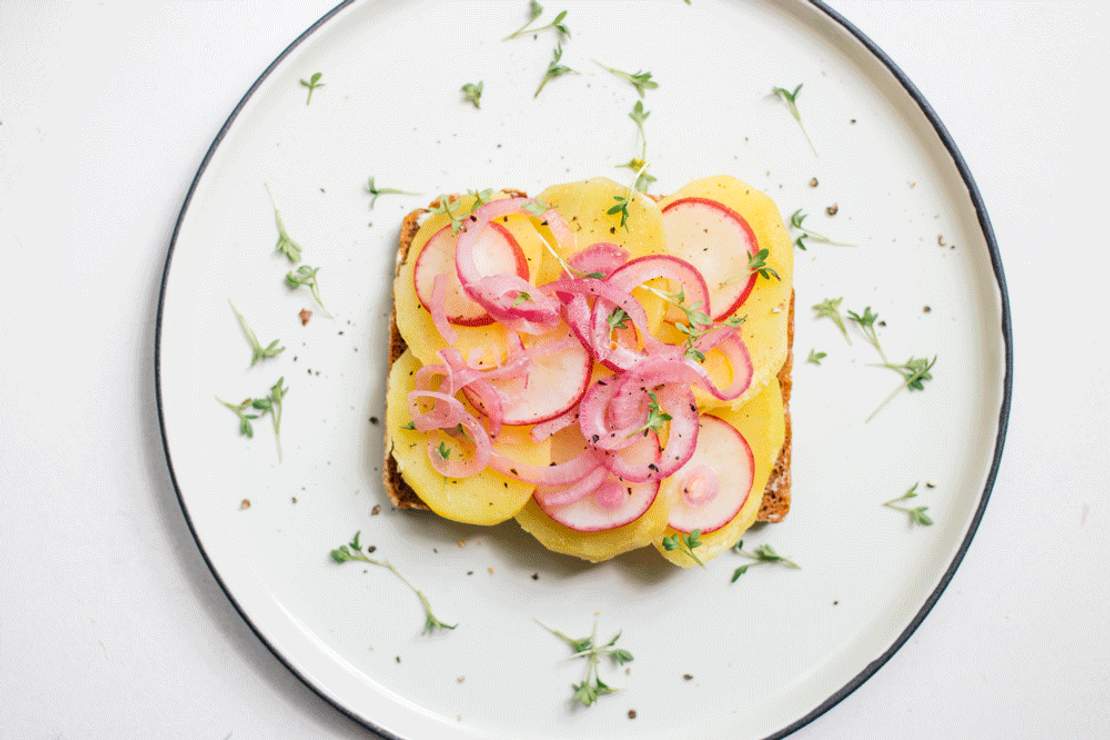 Vegan Smørrebrød
4 sandwiches per topping
30 minutes
Ingredients
4 slices rhye bread
2 tsp vegan butter
Potatoes and radishes:
3 potatoes
1 red onion
100 ml (0.5 cup) apple cider vinegar
200 ml (1 cup) warm water
1 tsp agave syrup (or sugar)
1 tsp sugar
1 tsp mustard seeds
1 orange peel
4 radishes
garden cress
Carrot Lox:
carrot lox (see recipe below)
1 pear
2 radishes
dill
Beetroot and blackberries:
2 beetroots
1 tbsp olive oil
100 g (3.5 oz) blackberries
1 tsp dried thyme
2 sprigs fresh thyme
vegan remoulade (see recipe below)
salt
pepper
Cucumber salad:
vegan cucumber salad (see recipe below)
50 g (2 oz) hazelnuts
garden cress
Instructions
Potatoes and radishes
Peel and thinly slice red onion, then transfer them to a jar. Mix apple cider vinegar, warm water, agace syrup, salt, and mustard seeds in a bowl. Use a vegetable peeler for one stripe of orange peel and add it to the mixture. Pour the mixture over the sliced onions and let them marinate for at least 1 hour (but even better, let it rest in the fridge overnight).
Add potatoes to a pot, cover with cold water and season wit salt. Boil potatoes for approx. 20 minutes or until soft. Drain, let them cool down a bit, then peel and slice them.
Spread some vegan butter on rhye bread and slice radishes. Top the smørrebrød with potatoes, radishes, pickled onion, and garden cress.
Carrot lox
Prepare carrot lox according to our recipe (find the recipe below).
Thinly slice pear and radishes.
Spread some vegan butter on rhye bread and top with carrot lox, pear and radish slices, fresh dill, and freshly ground pepper.
Beetroot and blackberries
Peel beetroot and cut into equal-sized pieces. Transfer to a baking sheet and drizzle with olive oil. Season with salt, pepper, and dried thyme. Bake at 180°C/355°F for approx. 15 minutes or until soft.
Spread some vegan butter on rhye bread and top with beetroot, blackberries, fresh thyme leaves, and some dollops of vegan remoulade.
Cucumber salad
Prepare cucumber salad according to our recipe (you can find it below).
Toast hazelnuts in a fatfree frying pan until golden brown. Afterwards, roughly chop them.
Spread vegan butter on rhy bread and top with cucumber salad, chopped toasted hazelnuts, and garden cress.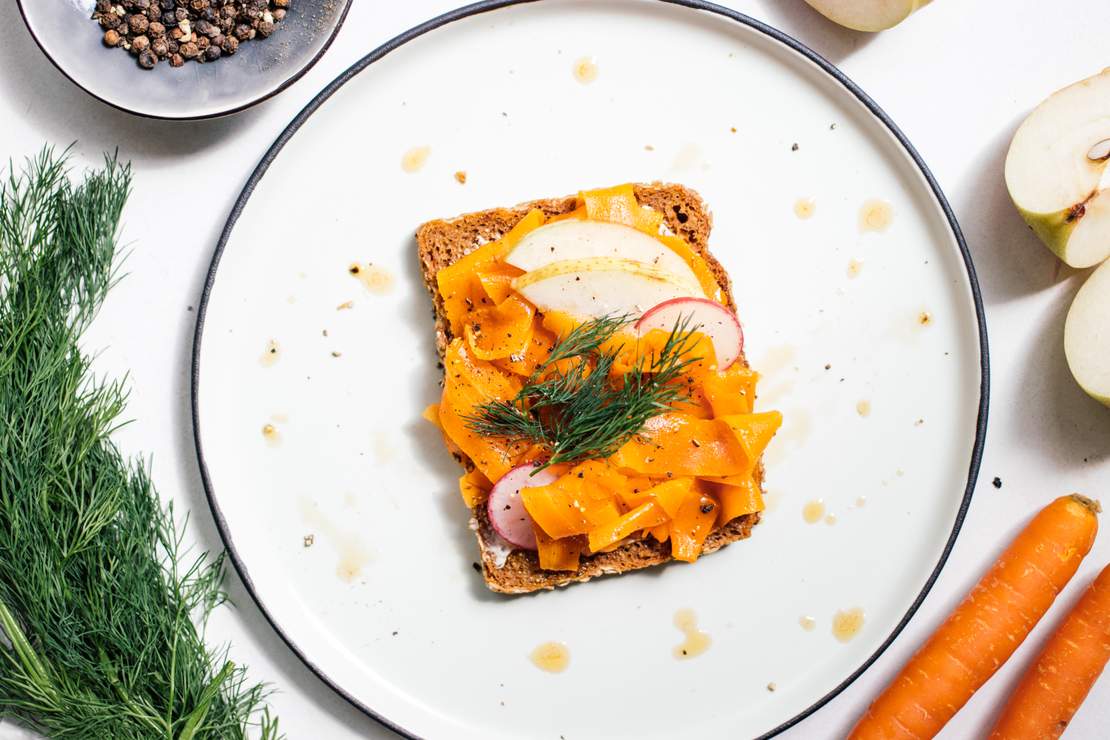 Vegan Carrot Lox
Ingredients
3 large carrots
1 tbsp oil
2 tsp liquid smoke
1/2 nori sheet
0.5 tsp salt
0.5 tsp rice vinegar
optional: 1/2 tsp Old Bay Seasoning
Instructions
Peel and finely slice carrots using a sharp knife or a vegetable peeler.
Steam slices by transferring to a pot of boiling salted water and cook for approx. five minutes. Afterward, drain and transfer to a low bowl.
Stir all ingredients for the marinade (oil, liquid smoke, salt and rice vinegar). Finely cut nori sheet with a sharp knife or scissors and stir into marinade.
Drizzle marinade on top of carrot slices and make sure that each of them is covered with it. Set aside for approx. 60 minutes.
Enjoy as topping on sandwiches, bagels or as a starter on our vegan blinis!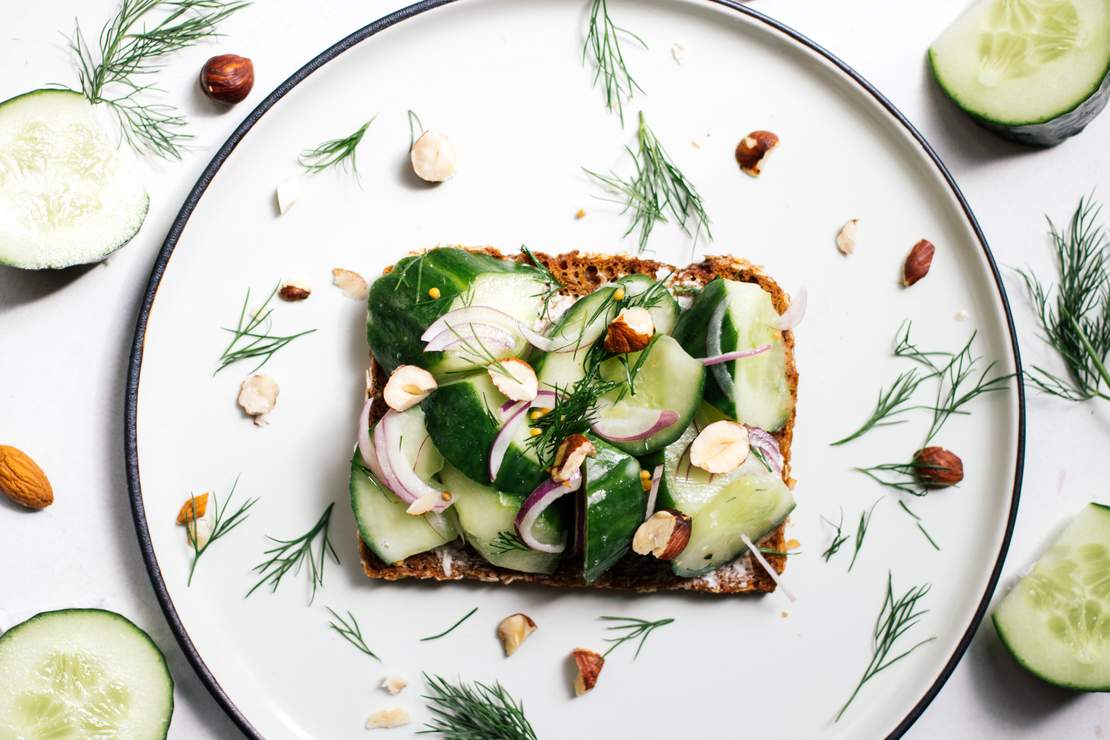 Vegan Cucumber Salad
3-4 small servings
15 minutes
Ingredients
1 cucumber
1 red onion
2 tbsp herb vinegar
1 tbsp olive oil
3 tbsp plant-based heavy cream
1 tbsp agave syrup
salt
pepper
sugar
Instructions
Wash and slice cucumber. Add it to a bowl and season with salt, pepper, and sugar. Let sit for approx. 5 minutes, then drain the excess water.

Peel, halve, and slice red onion. Wash, dry, and finely chop dill.

In a small bowl, mix herb vinegar, olive oil, plant-based heavy cream, and agave syrup. In case the ingredients shouldn't combine, use an immersion blender to mix them, or add some mustard. Add chopped chill and season with salt and pepper to taste.

Add cucumber and onion to the dressing, then toss to coat. Before serving, season with salt, pepper, and sugar to taste once more.
Vegan remoulade sauce
180 g (6.3 oz) remoulade
10 minutes
Ingredients
150 ml (0.6 cups) vegan mayonnaise
1 tsp mustard
1 pickle
3 twigs dill
2 twigs parsley
4 - 5 stalks chives
15 capers
salt & pepper
Instructions
Finely chop pickle and capers.
Wash and chop herbs.
Mix all ingredients in a bowl and season to taste.