What makes lasagna so delicious? What is the secret? It's like this: You're almost finished cooking a delicious, quick pasta dish. But then you decide (voluntarily!) to shove it in a casserole dish and wait another half to a whole hour. Despite (or because of) going through all that trouble, lasagna is so delicious.
We could eat it all the time and at any time of year, which is why, in addition to a vegan version for the "classic" lasagna, we have recipes for an asparagus lasagna, a pumpkin lasagna, a rainbow lasagna and a lentil lasagna on the blog. However, we were slightly shocked to discover that we didn't have one for spinach lasagna. So we had to remedy this faux pas quickly.
First, we prepare an already delicious, creamy spinach sauce, which you could also easily eat with cooked pasta. But no, we stay strong and keep it for our lasagna. In a baking dish, we layer it with pasta plates and lots of plant-based cheese. When test cooking, I kept simplifying the layering process by mixing all the components into a single "filling" at the end which consists of the following:
Spinach: You could throw it into this lasagna uncooked by itself, but along with sautéed onion and garlic, you're laying the flavorful foundation for your casserole. The frozen version will also work if you don't have fresh spinach. If doing so, you should defrost the spinach beforehand and drain it well.
Mushrooms: The combination of spinach and pasta is great, but for me, a spinach lasagna always lacked a little something. Mushrooms add some juiciness to the creamy sauce. Of course, if you don't like them, you can use other mushrooms or leave them out.
Vegan ham cubes: Vegan ham adds a nice texture and the saltiness goes perfectly with the rest of the ingredients. Using vegan ham is convenient, but you can also use smoked tofu. Just sauté and add a little soy sauce.
Walnuts: We have a creamy sauce, al dente pasta, juicy mushrooms and firm "ham cubes". The final add-on for our vegan spinach lasagna is now walnuts for crunch. No walnuts at home? Then use other nuts of your choice.
Plant-based cheese: And what's missing? That's right – vegan cheese. Instead of only putting it on top of the casserole, I added a bit between layers for extra juiciness. But that's optional – if a thick "cheese layer" on top is enough for you, you can reduce the amount listed in the recipe. Because we still had some vegan feta in the fridge, it ended up in the lasagna as well – but here I would advise you to use a nut-based feta alternative because it does not entirely melt during baking.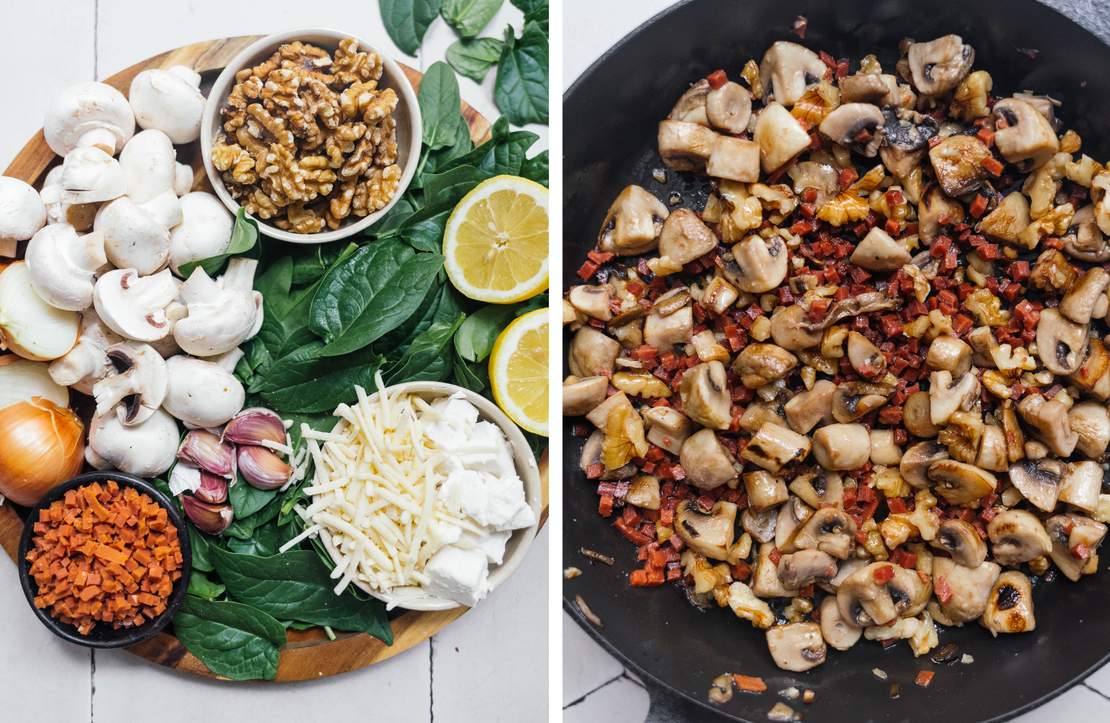 Vegan Spinach Lasagna
4 servings
60 minutes (+ 40 minutes baking time)
Ingredients
For the lasagna:
1 onion
1 garlic clove
400 g (1 lb) fresh spinach
250 g (0.5 lb) mushrooms
50 g (1.75 oz) walnuts
50 g (1.75 oz) vegan ham cubes (or smoked tofu)
vegetable oil for frying
lasagna plates
chili flakes
salt
pepper
For the "cheese layer":
300 g (0.66 lb) plant-based grated cheese
300 g (0.66 lb) plant-based nut-based feta
water
For the sauce:
60 g (0.5 stick) vegan butter
50 g (0.5 cup) wheat flour
300 ml (1.25 cups) vegetable broth
400 ml (1.66 cups) plant-based cream
1 tbsp nutritional yeast
salt
pepper
nutmeg
lemon juice
Instructions
Peel and finely dice the onion and garlic. Roughly chop the fresh spinach. Quarter or slice the mushrooms and roughly chop the walnuts.

Heat vegetable oil in a frying pan over medium heat. Sauté the onion and garlic cubes until the onion is translucent. Then add the fresh spinach and sauté briefly until it softens. Season with salt, pepper and chili flakes.

At the same time, heat vegetable oil in a second, large frying pan over medium heat. Then sauté the mushrooms until browned. Then add chopped walnuts and the vegan ham cubes and sauté everything for another 4–5 minutes.

For the sauce, melt vegan butter and stir in the flour. Then add the vegetable broth and plant-based cream and whisk thoroughly to prevent clumps. Season with nutritional yeast, salt, pepper, nutmeg and lemon juice. Then simmer until creamy but not too thick. Add water as needed.

Add the sauteed spinach and mushrooms to the sauce and combine. Season again.

Chop the shredded cheese and mix it with crumbled vegan feta cheese and a dash of water.

Preheat the oven to 180 °C / 350 °F (convection heat). In a baking dish, spread a thin layer of the sauce at the bottom and then alternate layers of the lasagna plates, the spinach and mushroom mixture and some of the vegan cheese. Finish with a layer of vegan cheese.

Bake the spinach lasagna at 180 °C / 350 °F (convection heat) for 30–40 minutes, until the lasagna plates are done and the top layer is golden brown. Let cool for a few minutes before cutting.