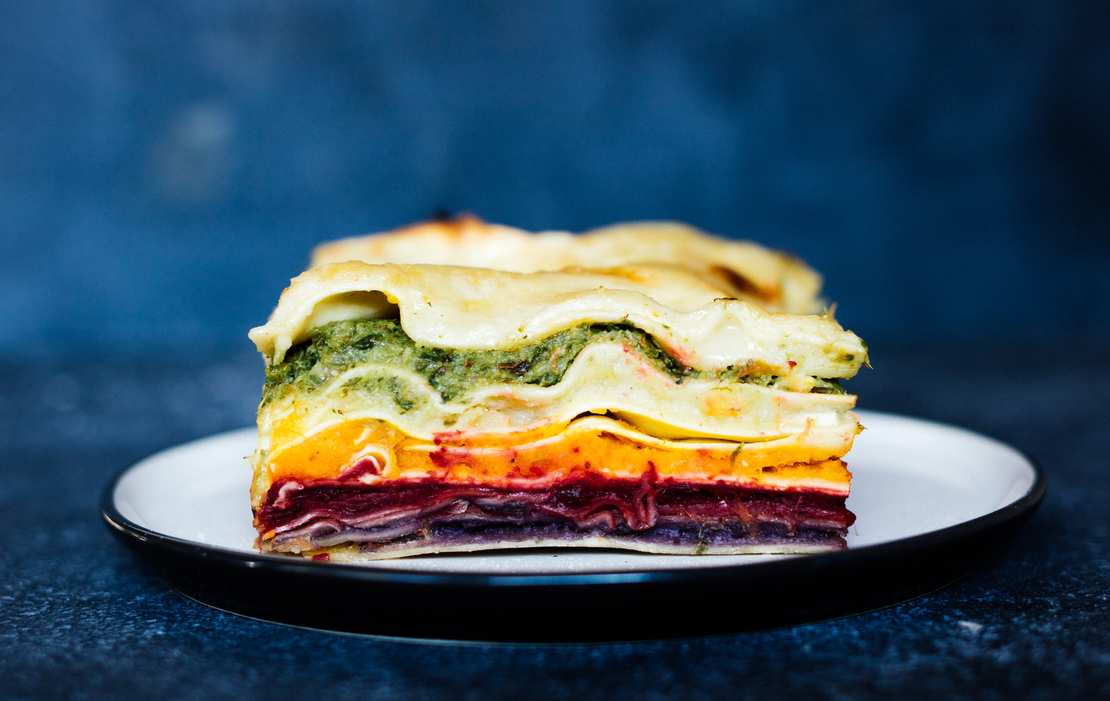 You know that lasagna is one of our favorite dishes. We already prepared a classic lasagna, a soy-free lasagna with lentils, the Greek version, and even a lasagna soup for you on the blog. Today we show you a very colorful version cause we turned a classic veggie lasagna into a rainbow lasagna.
To get a rainbow lasagna (or any other rainbow dish), you simply sort all the ingredients by color. Usually, we are not big fans of color experiments in combination with food. But when it comes to showing the beauty of fresh vegetables, we do not miss out!
We are super happy that [etepetete] (https://etepetete-bio.de/index.php) supported us with this recipe. etepetete saves deformed vegetables and fruits from waste. Normally the food gets sorted out due to deformation, cause they are not salable. So etepetete puts them into "savior boxes (Retterboxen)" and delivers the fruits and veggies directly to your home. This way they are actively fighting food waste, and you can also do this by having those boxes sent to your home regularly! You get a 5 € discount on the first box of a subscription with our code "zuckerjagdwurst". etepetete has already saved over 1.3 million kilograms of fruit and vegetables. All the vegetables and fruits come from organic farmers who pay attention to environmentally friendly methods. We made our vegan Rainbow Lasagna from the ingredients of a Mix-Box Classic.
You can prepare the lasagna with your favorite vegetables or, depending on what's inside your box. You should at least prepare 3 different colored layers to get the rainbow effect. You can replace the carrots with sweet potatoes, the yellow potatoes with yellow beets, or the spinach with arugula. However, you should keep the "basics" of the recipe: wash, peel and chop the vegetables, bake them in the oven until soft, puree each layer by color, add veggie broth to make it creamy, and then layer the veggies fillings with lasagna plates and béchamel sauce. Get creative with your saved vegetables!
Vegan Rainbow Lasagna
9 servings
60 minutes (+ min 60 min. baking time)
Ingredients
25-30 lasagna sheets
150 g (5.3 oz) vegan shredded cheese
3 tbsp water
3 tbsp sunflower or rapeseed oil
green
1 broccoli (approx. 400 g/14.1 oz)
100 g (3.5 oz) fresh spinach
0.5 onion
vegetable broth
salt&pepper
yellow
200 g (7 oz) yellow potatoes
200 g (7 oz) parsley root
0.5 onion
vegetable broth
salt&pepper
orange
400 g (14.1 oz)carrots
0.5 onion
vegetable broth
salt&pepper
red
400 g (14.1 oz) beetroot
0.5 onion
vegetable broth
salt&pepper
purple
400 g (14.1 oz) purple potatoes
0.5 onion
vegetable broth
salt&pepper
vegan bechamel sauce
3 tbsp wheat flour
3 tbsp vegan butter
300 ml (1.2 cups) plant-based milk (oat or soy milk)
1 tbsp yeast flakes
salt&pepper
a pinch of nutmeg
Instructions
veggie layers
Preheat the oven to 180°C/350°F (circulating air).
If necessary, peel or wash vegetables, and cut them into same-sized pieces.
Place vegetables by color on a baking tray with parchment paper. Season with oil, salt, and pepper. We used: purple potatoes, beetroots, carrots, yellow potatoes, parsley root, onions, and broccoli.
Bake veggies at 180°C/350°F for about 30 minutes or until soft.
Now puree all the veggies sorted by color. Season each layer with salt and pepper and add veggie broth, so you get creamy layers. In the end, you should get a green, yellow, orange, red, and purple layer.
vegan béchamel sauce
For the béchamel sauce, melt vegan butter in a small pot and stir in flour thoroughly, so it doesn't get clumpy.
Heat for approx. 1-2 minutes over low heat, then add plant-based milk little by little. Always keep stirring as the sauce will thicken really fast, and you want it to get silky.
Season with nutritional yeast, salt, and pepper to taste. If your béchamel gets too thick, just add more plant-based milk.
baking
Preheat the oven again to 180°C/350°F and grease a casserole dish with plant-based butter.
Pour half of the béchamel sauce onto the bottom of the casserole and spread evenly.
Cover with dry lasagne sheets and add the purple filling on top. Cover again with dry lasagne sheets and add the red filling. Keep repeating with lasagna sheets and the different fillings until everything is used.
In the end, you finish with the green layer and the last lasagna sheets. Now pour the second half of the béchamel sauce on top.
Mix the vegan shredded cheese with water and oil in a small bowl and spread it on top of the lasagna.
Bake at 180°C/350°F for approx. 30-40 minutes. Let the lasagna rest for approx. 5 minutes before cutting it. This way, your layers will firm up.