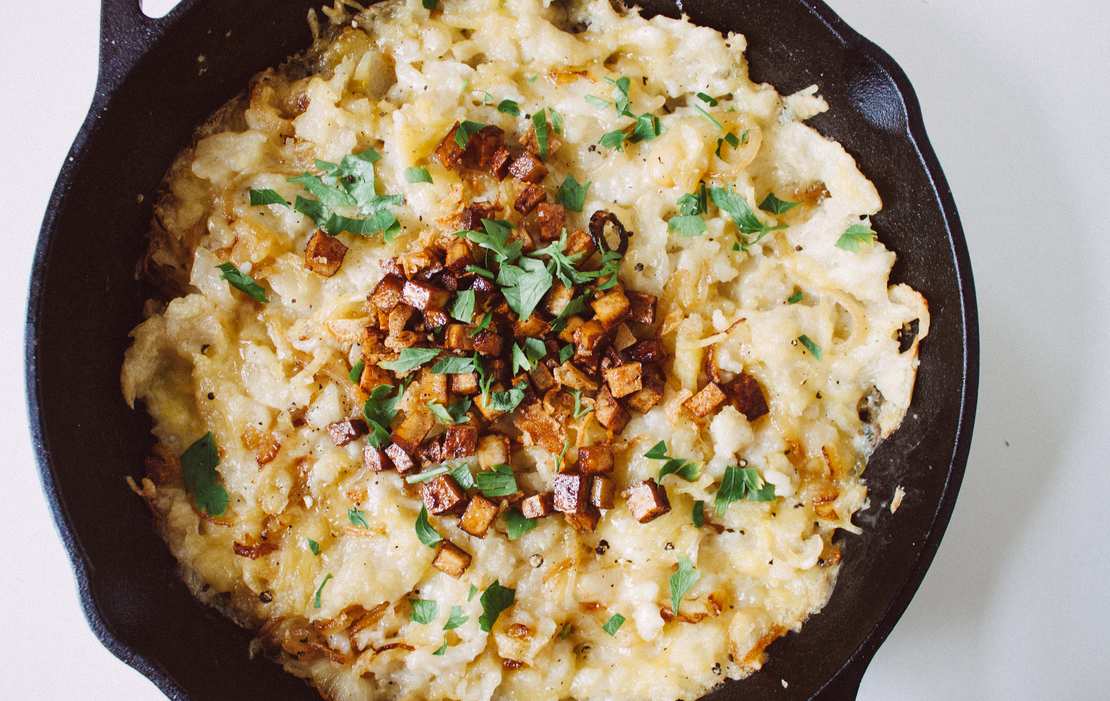 As you know, we rarely publish recipes with vegan substitutes. That's not because we never use them, but because they're not widely available and it's much more fun to experiment and cook with "ordinary ingredients".
BUT of course, we love to test new products that look promising. This is not a sponsored post and the content is in no form coordinated with the brand. No, we only discovered a vegan grated cheese by "Simply V" that is "melting guaranteed", according to the package.
Of course, we wanted to see if that's true and decided to cook vegan cheese spaetzle. Julia has never made them before and also has no special spaetzle equipment at home, but well. Let's say, if you also don't know how to make spaetzle, this is a small challenge that you will master together with us!
So does this vegan cheese melt? Well, it tastes good and it actually melts, but you should combine it with more fat and liquids in order to melt it nicely and creamy. Nevertheless, there's no vegan cheese pull (yet).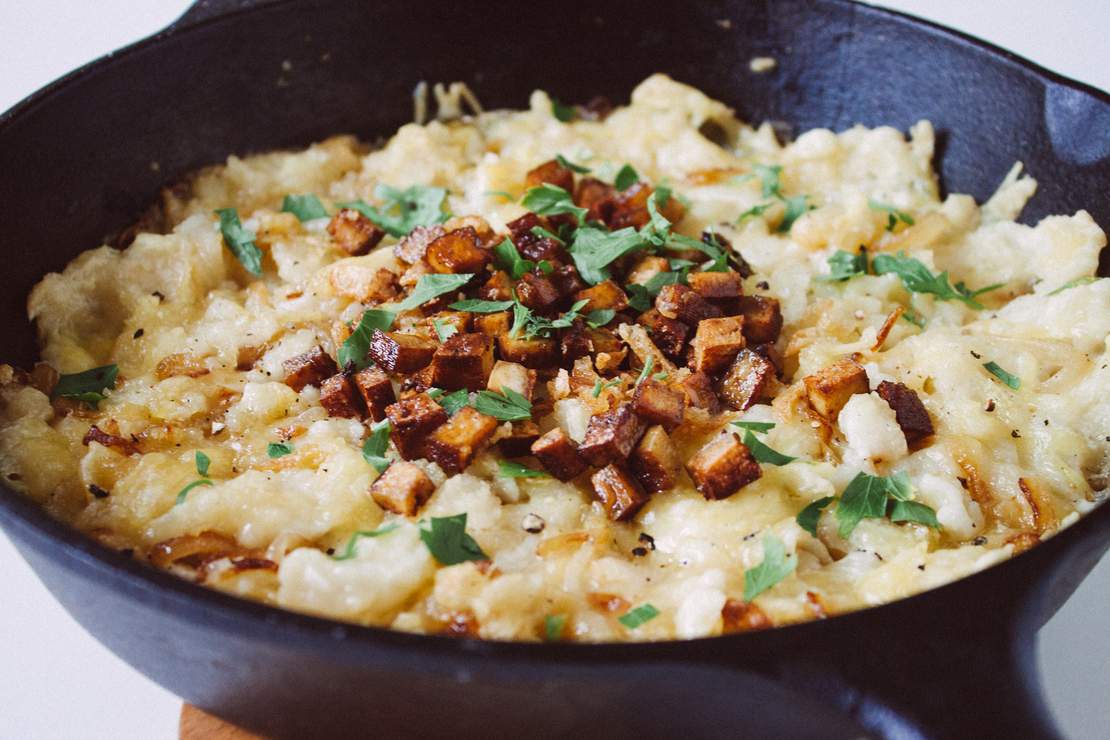 Vegan cheese spaetzle
Ingredients
For the spaetzle:
200 g (1.5 cup) flour
3 tbsp semolina
2 tsp plant-based oil
2 tsp salt
250 ml (1 cup) sparkling water
3 onions
50 ml (0.25 cup) plant-based cream
100 g (3.5 oz) vegan cheese (grated)
parsley for serving
For the smoked tofu:
Für den Räuchertofu:
200 g (7 oz) smoked tofu
0.5 tsp soy sauce
vegetable oil for frying
Instructions
Peel onions and cut into fine rings. Heat vegan butter or oil in a frying pan and add onion rings. Season with salt and pepper and fry for approx. 10 - 15 minutes until fragrant and golden brown. Set aside.

Add flour, semolina, plant-based oil, salt and sparkling water to a bowl and stir until combined.

In a large sauce pan, bring salted water to simmer. If you want to shape spaetzle you can either use a spatzle maker or just use your cutting board and knife to scrape the spatzle into the water (Youtube is helping a lot with a precice instruction). Once they appear on the water surface, take them out using a slotted spoon.

Add the cooked spaetzle to a casserole dish. Add fried onions, grated vegan cheese and plant-based cream and toss to coat. If you don't want to use vegan cheese or don't have it, you can also make a batch of vegan "cheese" sauce with nutritional yeast.

Bake in the oven at 180° C/355° F for approx. 10 - 15 min. or until the cheese spaetzle are golden brown.

In the meantime, finely dice smoked tofu. Heat vegetable oil in a frying pan and fry smoked tofu until crispy. Season with soy sauce. Top cheesy spaetzle with smoked tofu and sprinkle with chopped parsley.