Vegan Bircher Muesli with Vanilla & Berries
If you thought that Bircher muesli was just watery, bland rolled oats with a few sad raisins and some grated apple, you're about to be proven wrong. We're taking the Swiss classic off the shelf and clearing it of dust.
If you want to see it like that, Bircher muesli is the big sister of the trending overnight oats – for which we also have a recipe on the blog. Mr. Bircher-Benner, a Swiss doctor, invented this muesli as a wholesome breakfast dish, but today we focus even more on consistency and taste. The fact that this breakfast is also a great foundation for your day ahead is just a nice side effect.
Basically, Bircher muesli consists of the following components:
1. Rolled oats: They are soaked in liquid – in the original recipe this is condensed milk. Because you can't buy vegan condensed milk and it takes hours to do it yourself, we simply use a creamy plant-based milk (barista versions work very well for this recipe). Instead of rolled oats, you can also use other cereal flakes, such as spelt flakes, rye flakes, or a mix of flakes.
2. Nuts: We use hazelnuts in our recipe and roast them in the oven which makes them more aromatic. We love to add more nuts as needed on the baking sheet to snack the additional nuts that we don't need for the muesli.
3. Fruit: In the original recipe, a grated apple is used and we stick to it in our recipe as well. To prevent it from browning, we drizzle some lemon juice on top, which gives the muesli additional freshness. Since they are in season we added some fresh berries: the fresh raspberries are added as a whole, while we purée the strawberries into a little sauce – the pure decadence on the breakfast table! According to your taste and the season, you can easily adjust the fruits.
And because it tastes really delicious, we allowed ourselves the luxury of adding additional vanilla paste to the muesli. In combination with the creamy plant-based milk, berries, and roasted hazelnuts, it turns into a taste bomb. You can find vanilla paste in the baking department of your supermarket, but you can also use fresh vanilla pulp from a pod, ground vanilla, or vanilla sugar. One last tip from me: I never miss a pinch of salt in my breakfast!
Would Mr. Bircher be happy with my version of his signature dish? Well, I don't know. But if you try it, let us know about your opinion in the comments.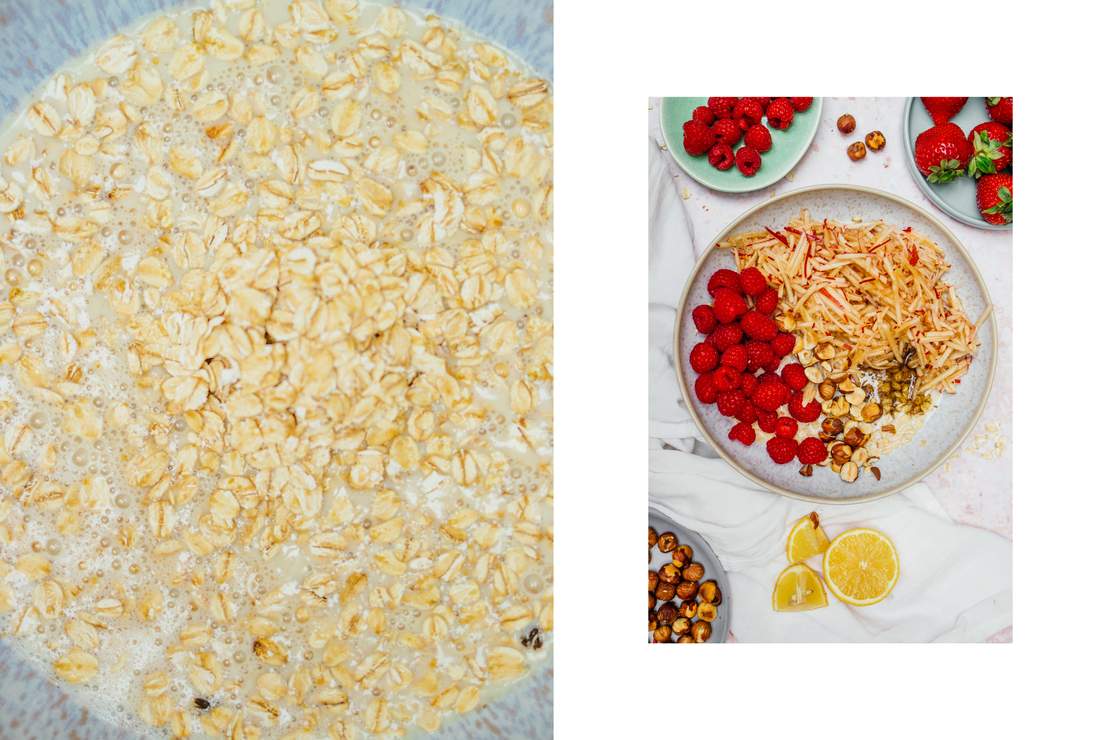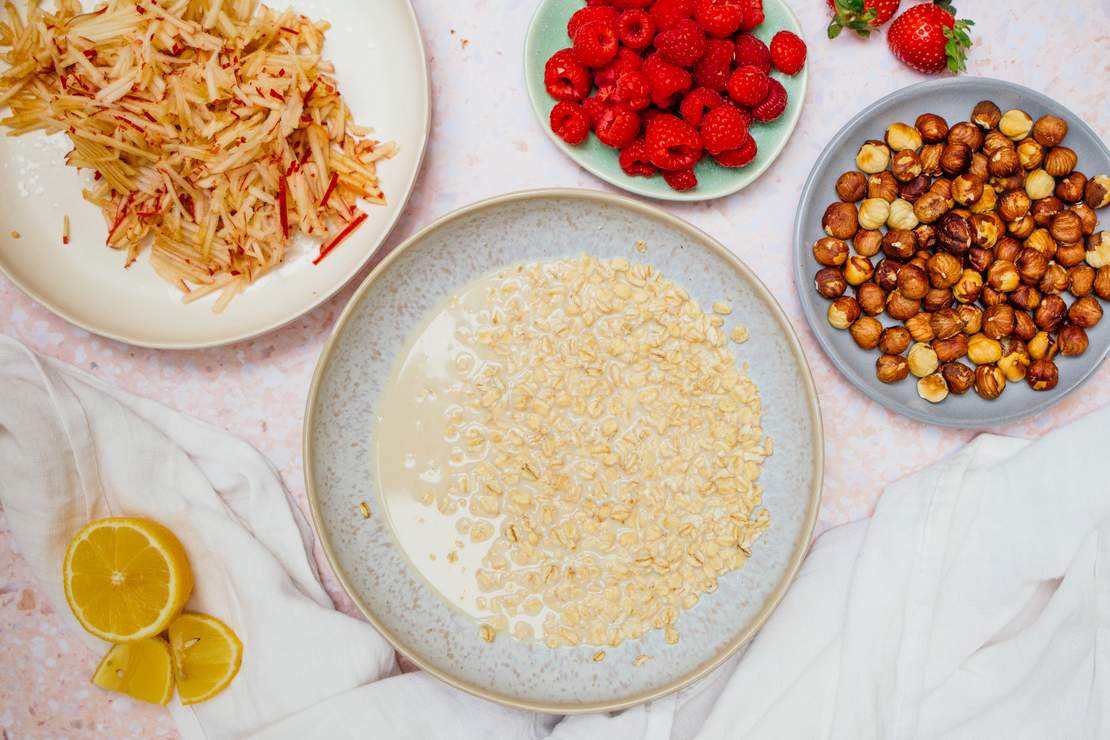 Vegan Bircher Muesli with Vanilla and Berries
2 servings
20 minutes (+ cooling time overnight)
Ingredients
For the muesli:
80 g (1 cup) rolled oats
240 ml (1 cup) creamy plant-based milk (e.g. a barista option)
1 apple
0.5 lemon (juice)
1 tsp vanilla paste
1 pinch salt
Also:
60 g (2 oz) hazelnuts
250 g (9 oz) fresh strawberries
125 g (4.5 oz) fresh raspberries
Instructions
Add rolled oats and plant-based milk to a bowl and refrigerate overnight.

The next morning, preheat oven to 250°C/480°F (top and bottom heat). Add hazelnuts to a baking sheet and roast them in the oven for approx. 4 minutes. Afterwards, roughly chop them.

Wash apple and lemon. Grate the apple and drizzle with the juice of half of a lemon. Add grated apple, vanilla paste, salt, three quarters of the chopped hazelnuts and the larger part of fresh raspberries to the rolled oat mixture, and stir to combine.

Wash, hull, and purée strawberries.

Divide Bircher muesli equally into two bowls and top with strawberry sauce and the remaining fresh raspberries and chopped hazelnuts.