Vegan Strawberry Swiss Roll
I don't know about you, but I've been craving this recipe for a long time. Very long. Today we're recreating a real childhood dream of mine.
I've loved whipped cream for as long as I can remember – longer, in fact. If we trust my mother's descriptions, she already had to secure bowls of whipped cream from me when I could barely climb or crawl onto tables. After all, the guests should also get some of it. By the time I was old enough to specifically ask for certain birthday cakes, I knew exactly what I wanted: a Swiss roll with cream! And I'm not exaggerating when I say that I've sorely missed for the past few years. Of course, we already have some great vegan alternatives on our blog such as our vegan chocolate banana cake, vegan Black Forest cake, vegan German "Donauwelle" cake, vegan raspberry cake, vegan bee sting cake or this vegan sponge cake with strawberry cream.
But for some reason, sponge cake tastes even more delicious when it's rolled! Unfortunately, the original consists of starch, sugar, and flour, and a lot of eggs. That's why we've failed so many times with a vegan version of this cake. But now we finally made it! So what are the secret ingredients? For one, it's vegan buttermilk that's made from plant-based milk and lemon juice. Together with baking soda and baking powder, it makes our batter wonderfully light. Secondly, it's aquafaba that's mixed with sugar, baking powder, and starch. These ingredients help to stabilize it.
Also, timing is what matters with this recipe. You should prepare the batter mixture in parallel with the aquafaba mix in order to gradually fold the still fluffy aquafaba into the batter and bake the cake right away. After that, it's all about delicacy: invert the cake onto a (clean) kitchen towel that's dusted with confectioner's sugar while the cake is still warm, then carefully roll it up. Once the cake has cooled, you can fill it generously. We used strawberries and vegan whipped cream this time, but I also love the combination with raspberries. Whatever makes your hearts beat faster – fill it up for all it's worth! You can find whippable vegan cream in larger supermarket, but if you want to know more about it, we've already gone into more detail here.
And now: let's start baking! If you've tried our vegan Swiss roll recipe, please let us know in the comments – we're so excited to hear about it!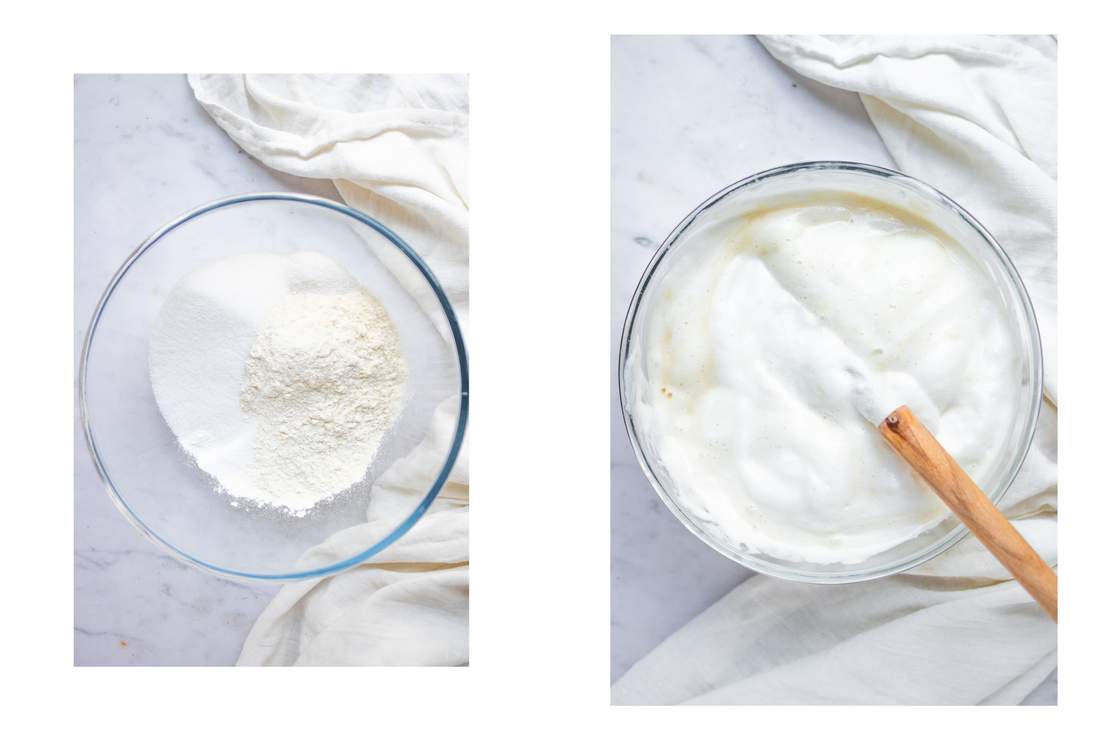 Vegan Strawberry Swiss Roll Cake
1 Swiss roll
45 minutes (+12 minutes baking time)
Ingredients
For the sponge cake:
150 ml (0.66 cup) plant-based milk
30 ml (2 tbsp) lemon juice
100 g (0.5 cup) sugar
180 g (1.5 cups) flour
8 g (1.5 tsp) vanilla sugar
2.5 g (0.5 tsp) baking powder
0.5 tsp baking soda
For the aquafaba mix:
120 ml (0.5 cup) aquafaba
5 g (1 tsp) baking powder
1 pinch of salt
50 g (0.25 cup) sugar
60 g (0.5 cup) starch
For the filling:
400 g (14 oz) vegan whipped cream
16 g (2 tbsp) cream stiffener
8 g (1.5 tsp) vanilla sugar
50 g (0.5 cup) confectioner's sugar
250 g (9 oz) fresh strawberries
Also:
confectioner's sugar for dusting
chopped pistachios for serving
fresh strawberries for serving
Instructions
Sponge cake
First, prepare the vegan buttermilk. To do this, mix plant-based milk with lemon juice and let the mixture rest for at least 10 minutes.

In the meantime, whip aquafaba with baking powder and salt for approx. 10 minutes until stiff – you can do this with a hand mixer or a stand mixer. Add sugar while whisking and keep mixing until you can turn flip the bowl without the aquafaba mix falling out. Now sift the starch over the aquafaba mixture and gently fold it in using a rubber spatula or a whisk.

Preheat oven to 220°C/430°F (top and bottom heat). Line a square baking frame or a baking dish (25x30 cm/10x12 inches) with parchment paper. For the batter, mix sugar, vanilla sugar, flour, baking powder, and baking soda in a large bowl. Add the vegan buttermilk and stir just briefly until all ingredients are loosely combined (you may still see lumps).

Now, very carefully, fold in the aquafaba little by little. Immediately pour the batter into the prepared baking dish and bake on the middle rack for approx. 12 minutes.

While the sponge cake bakes, dust a clean kitchen towel with confectioner's sugar. Invert the baked sponge cake directly onto the kitchen towel and remove the parchment paper. Carefully roll the sponge cake with the towel and let it cool down completely.
Filling
Whip the vegan heavy cream with cream stiffener and vanilla sugar until stiff and add confectioner's sugar. Hull and chop strawberries.

Carefully unwrap the cooled sponge cake from the kitchen towel. Fill with strawberries and most of the whipped cream, then roll up the cake again.

Spread remaining whiped cream on top and garnish with chopped pistachios and more strawberries.