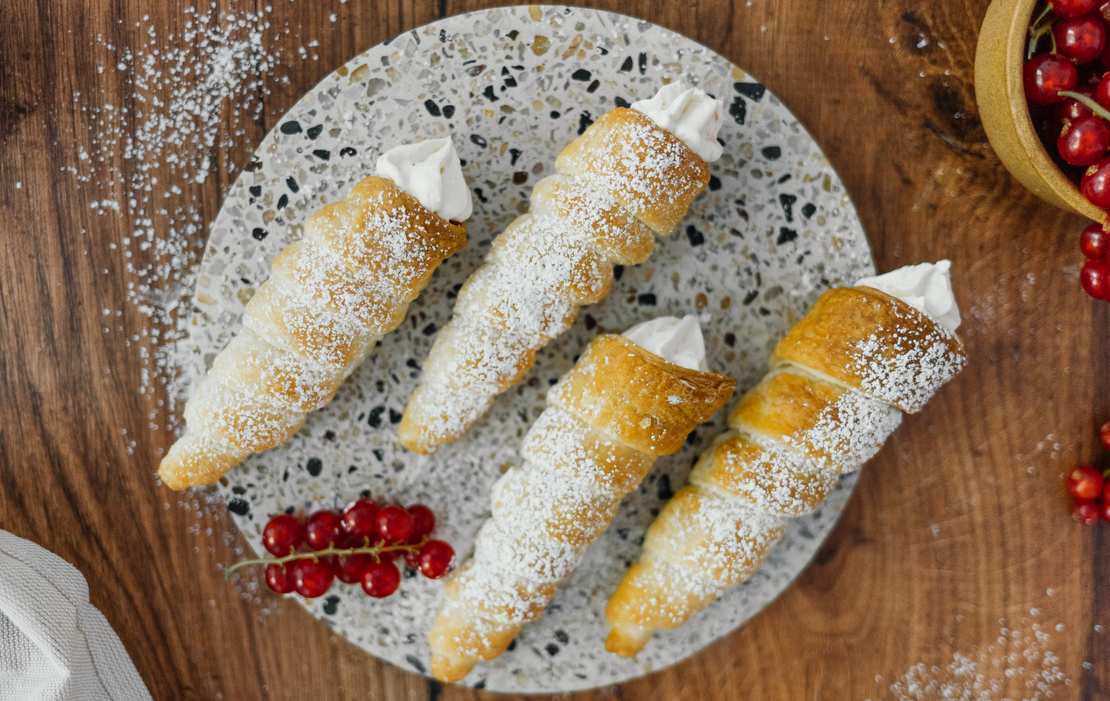 Vegan "Schillerlocken" (Cream Horns)
"Schillerlocken" is a sweet, cone-shaped German pastry. The name was inspired by the typical curly wigs that men, like the German poet Friedrich Schiller, used to wear in the 18th century ("Locke" means curl in English)(source). When I told people I was working on a vegan version for it, most of them were disgusted, which didn't make any sense to me. What could be gross about puff pastry filled with cream? But pretty quickly, I learned that there is also savory "Schillerlocken", which sounds anything but delicious.
The hearty version is made of the "skinned, smoked belly flaps of the spiny dogfish" (source). No wonder my friends reacted like that. But don't worry, we will be making the sweet version.
To achieve the typical cone shape, I used special "Schillerlocken" molds (which are a thing in Germany). I ordered mine online, but you can also find them at houseware stores. You just have to grease them, roll the puff pastry strips around, and put them in the oven. Once they are baked and cooled down, you can fill them with cream. If you don't have these molds at home, you can use aluminum foil to make them yourself or wrap the puff pastry strips around upside-down muffin tins to make small pastry baskets. Of course, you can use whatever fruit is in season – cherries, gooseberries, strawberries, etc., would also be suitable. But remember to fill the cream into the rolls right before serving, so the puff pastry stays crispy.
Well then, let's make some belly flaps ... er, "Schillerlocken"!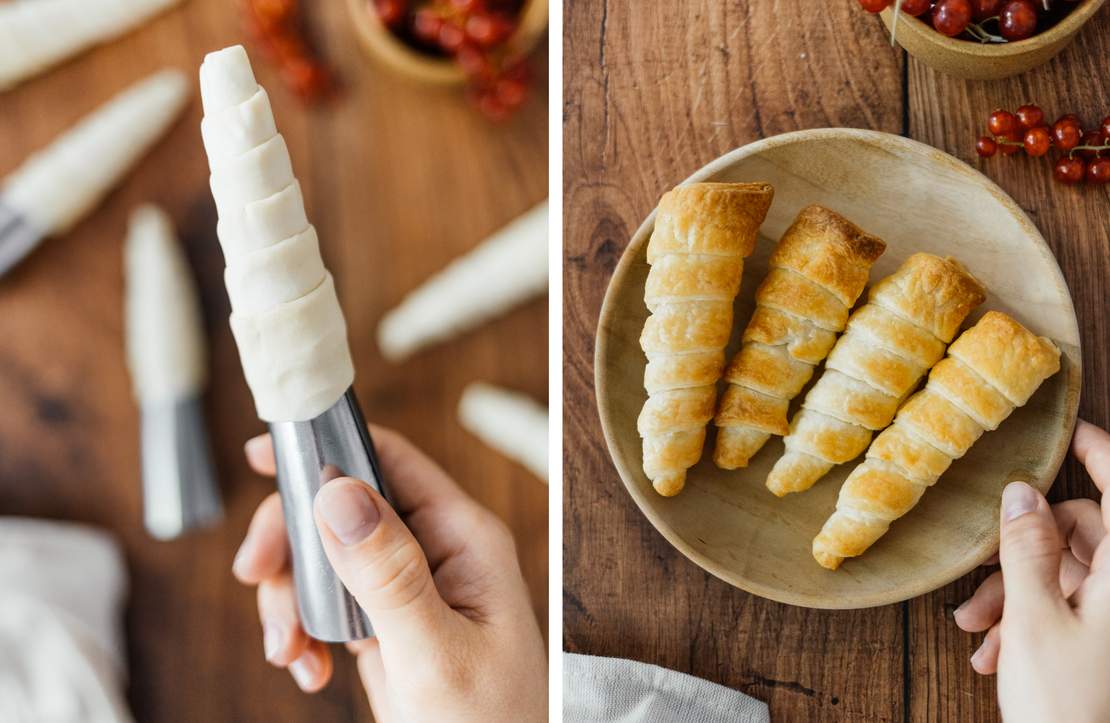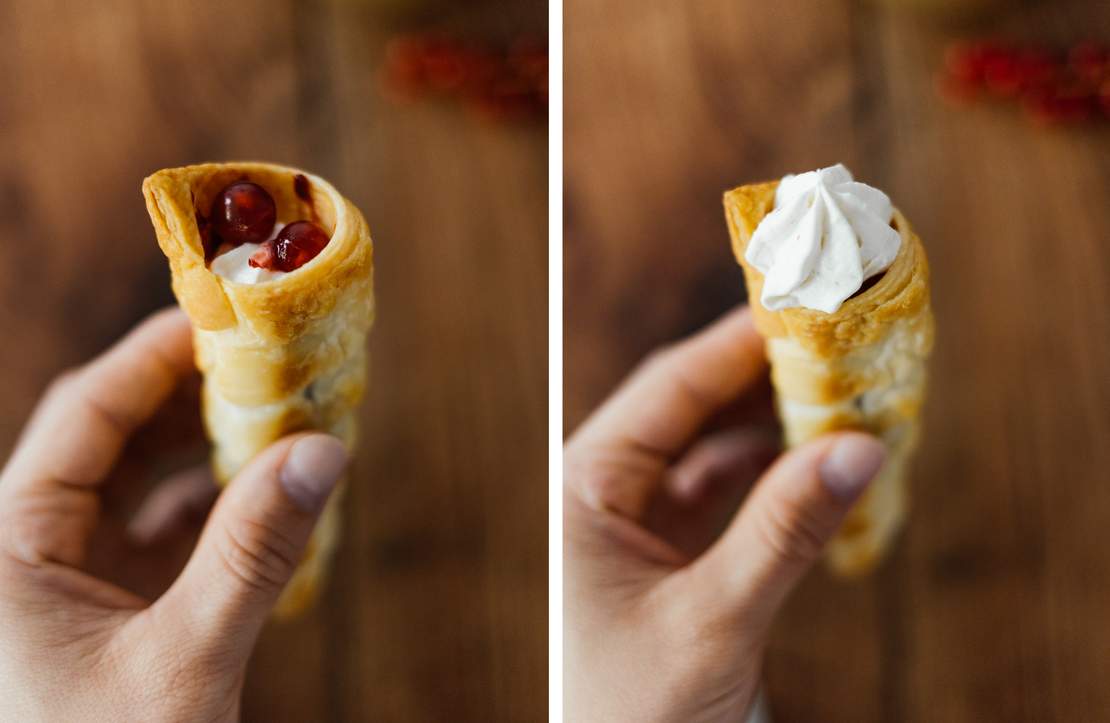 Vegan "Schillerlocken" (Cream Horns)
12 cream horns
30 minutes (+ 15 minutes baking time, 30 minutes cooling time)
Ingredients
270 g (9.5 oz) vegan puff pastry (40 x 24 cm/16 x 9,5 inch)
200 ml (1 cup) whippable plant-based heavy cream
12 g (3 tsp) cream stiffener
8 g (1.5 tsp) vanilla sugar
50 g (1.75 oz) red currants
50 g (1.75 oz) red currant jam
vegan butter for greasing
powdered sugar for garnish
Instructions
Preheat oven to 180°C/350°F (convection heat) and grease the "Schillerlocken"-molds.

Cut the puff pastry into 2-3 cm (0.8-1.2 inch) thick stripes, cutting parallel to the longer side of the dough so they are as long as possible. Wrap the pastry strips tightly around the molds, starting from the smaller end. The strips should overlap slightly. Bake the molds lying down at 180°C/350°F for about 10-15 minutes, until golden brown. Remove the pastry horns from the molds while warm, then let them cool out completely.

In the meantime, whip plant-based cream with cream stiffener and vanilla sugar. Transfer the stiff cream into a piping bag and refrigerate.

Remove the currants from the stems. Now brush the inside of the pastry horns with currant jam and alternately fill with fresh currants and the whipped cream. Finally, dust with powdered sugar and serve right away.
More Vegan Chocolate & Sweets Recipes and Plant-Based Copy Cats