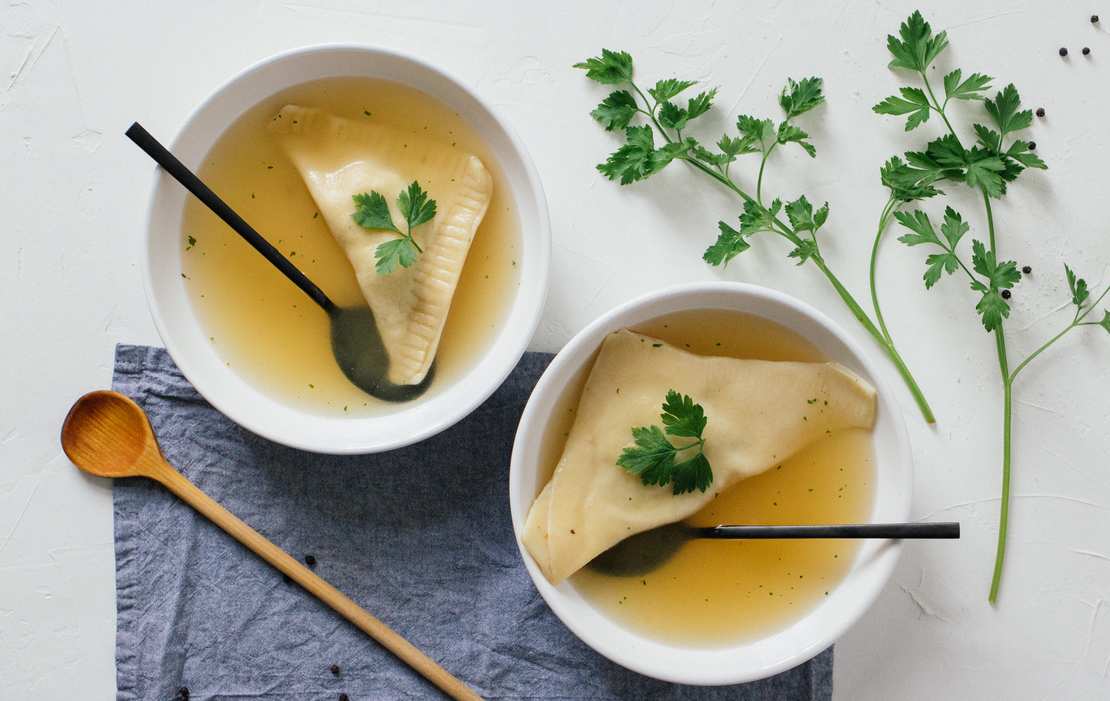 Vegan Swabian pockets with veggie filling
When I was a kid, I ate swabian pockets like crazy. In broth, fried or raw. You could wrap my whole family in swabian pockets, we would feel so comfortable! Unfortunately there are a lot of eggs in the dough and the filling is to 90% made of meat. Puuuh! So it's time to fill these pockets up with some veggies and make this recipe vegan.
Vegan Swabian Pockets
10 swabian pockets
2 hours (+ resting time)
Ingredients
Dough
200 g (7 oz) semolina
200 g (1.5 cup) flour
ca. 150 ml (0.6 cups) water
1 tbsp olive oil
1 tsp salt
Filling
300 g (10.5 oz) potatoes
1 onion
100 g (3.5 oz) leek
100 g (3.5 oz) canned shiitake mushrooms
150 g (5.3 oz) smoked tofu
1/2 bread bun
1/2 of bunch of parsley
salt&pepper
1 tsp nutmeg
1 tbsp "Delikatessbrühe" (special kind of veggie stock)
Instructions
Dough
Mix ingredients for the dough in a big bowl. Knead for 2-3 minutes.
Put dough into plastic wrapping and place in refrigerator for one hour.
Filling
In the meantime peel and chop potatoes and cook until soft. Mash the cooked potatoes and let chill.
Peel and chop onion, wash and cut leek into rings.
Finely chop tofu. Fry tofu in a big pan with some oil for 3-4 minutes.
Now add shiitakte mushrooms, leek and onions into the pan. Let fry until everything gets slightly brown.
Cut the bread rolls in small pieces.
In a big bowl mix all the ingrdients for the filling with your hands.
Wash and chop parsley and fold in.
Folding
Roll out the dough onto a floured surface.
Cut pockets out of the dough and fill with 1-2 tbsp of filling.
Lay a second layer of dough on top of the first. Press down firmly.
Heat veggie stock and let the swabian pockets simmer for about 10 to 15 minutes, depending upon the size. (Afterwards you can also fry them in a pan with vegn butter and serve with potato salad.)