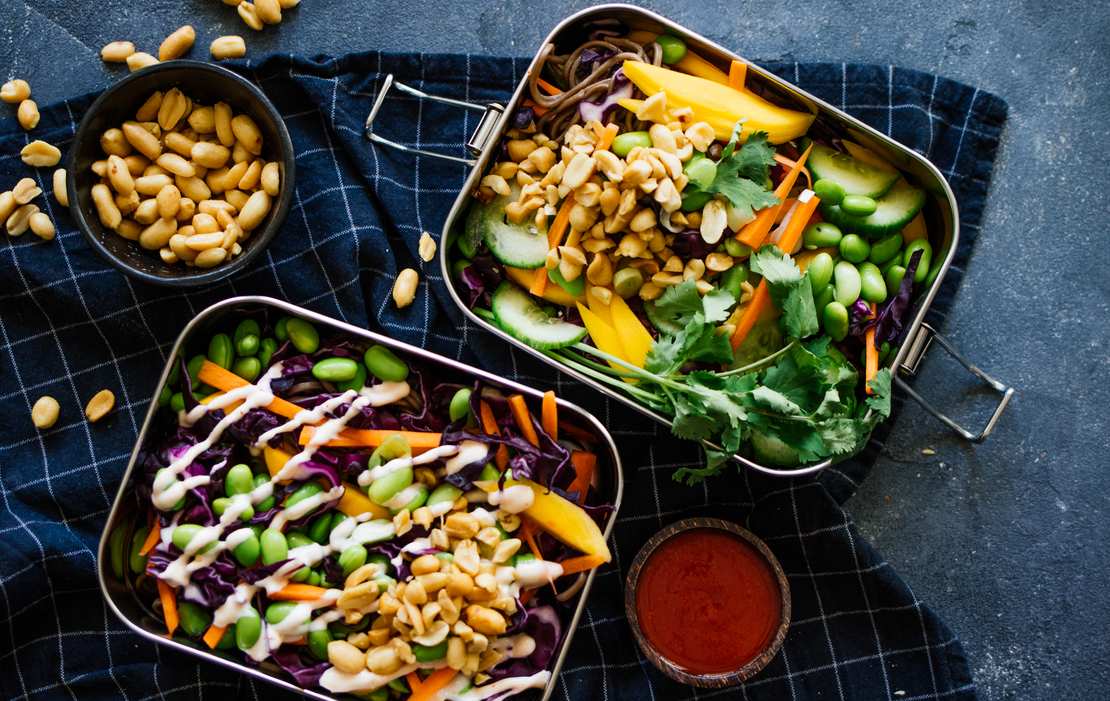 Vegan Thai Salad with Sriracha Mayo
In May, we transformed into professional picnickers. Due to the warm temperatures and lots of sunshine, we started to have lunch and dinner outside. But not every dish works well for taking away and eating outside. So we developed a recipe that is quick to prepare, easy to transport, filling, but still a refreshing summer dish.
One of our favorite to-go recipes is Thai salad! A dish that is filling like a main course, but still as light as a salad. But above all: it tastes warm and cold and is easy to transport. You can, of course, also enjoy the Thai salad at home, or take it to work, in the park or at the lake in a screw-top jar or a to-go container. And you can vary the ingredients according to your mood, but also the season. We love mango for the sweetness, cucumber for the freshness, crisp carrots, hearty red cabbage and edamame, and soba noodles to satisfy our stomachs. We topped the salad with peanuts and spicy Sriracha mayo.
Speaking of mayo: We are very happy that [Byodo] (https://tinyurl.com/y6wktklw) supported us with this recipe. Byodo is a natural food company from Upper Bavaria, which produces organic products and pays attention to sustainable action and an environmentally friendly production. We used the [vegan mayo from Byodo] (https://tinyurl.com/ybhjmscj) as the basis for our Sriracha Mayo. It consists of 100% organic ingredients, is very creamy, and has a subtle taste. You can also use the Mayo for salads, as a grill dip or for burgers and sandwiches. You can find Byodo products in organic markets and online.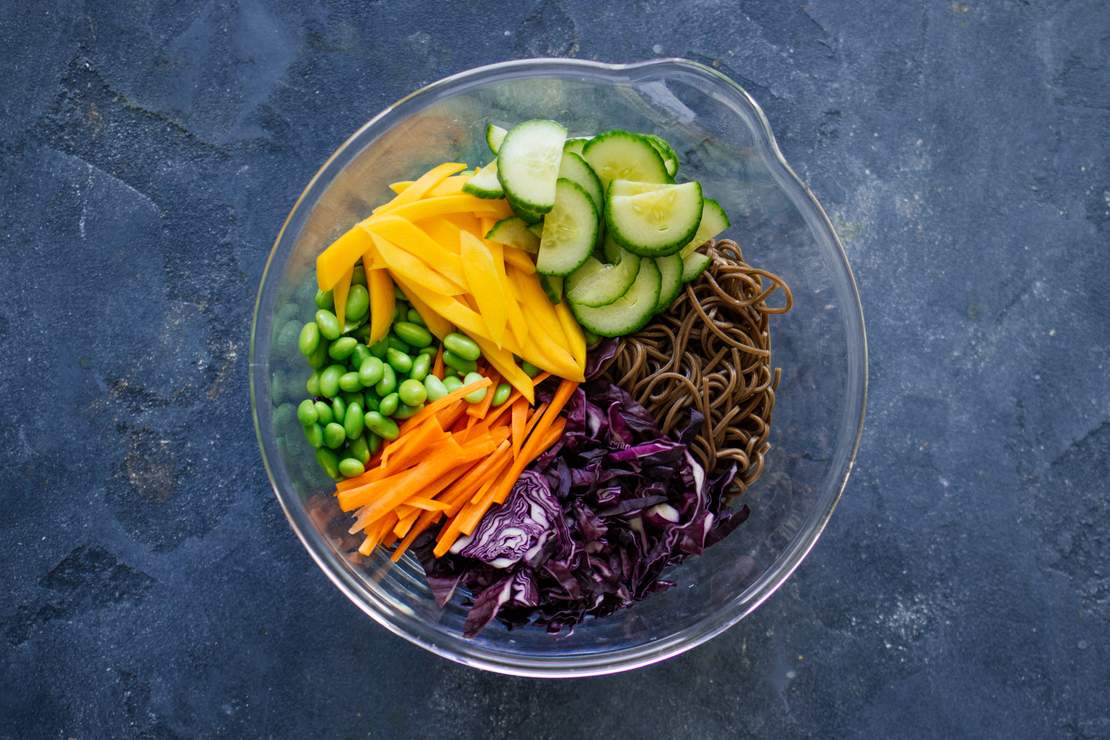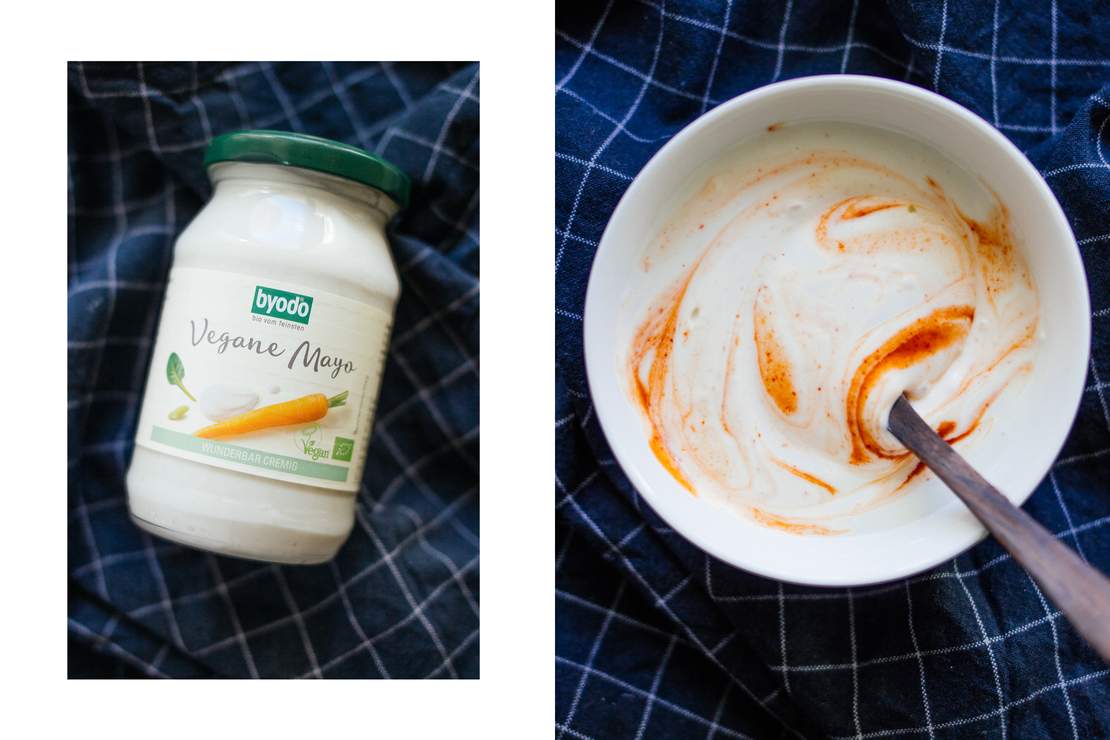 Vegan Thai Salad with Sriracha Mayo
Ingredients
Thai salad
400 g peeled and frozen edamame
150 g soba noodles
1 mango
1 (approx. 75 g) carrot
0.5 cucumber
350 g red cabbage
2 scallions
10 g fresh cilantro
100 g peanuts
Sriracha Mayo
250 ml vegan mayo (e.g., from Byodo)
3 - 5 tbsp sriracha (chili sauce)
Instructions
Prepare the frozen and peeled edamame according to the package instructions. They are usually boiled in a saucepan for 5 minutes and then quenched with cold water.
Also, prepare the soba noodles according to the package instructions. Usually, they are also boiled in a saucepan or pot for 4-5 minutes.
Meanwhile, prepare the rest of the vegetables: wash, halve and slice the cucumber, peel the carrot and cut into sticks, wash the red cabbage and cut into fine strips, peel the mango, also cut into strips.
Wash and cut the scallions into rings, wash the cilantro, and remove the leaves from the stems.
For the Sriracha Mayo, mix the vegan mayo with Sriracha in a small bowl. Use more or less Sriracha depending on your taste.
Mix all the ingredients together in a large bowl: soba noodles, edamame, carrot, cucumber, red cabbage, mango, scallions. Spread the salad in to-go containers or on plates and serve with cilantro, peanuts, and the sriracha mayo.