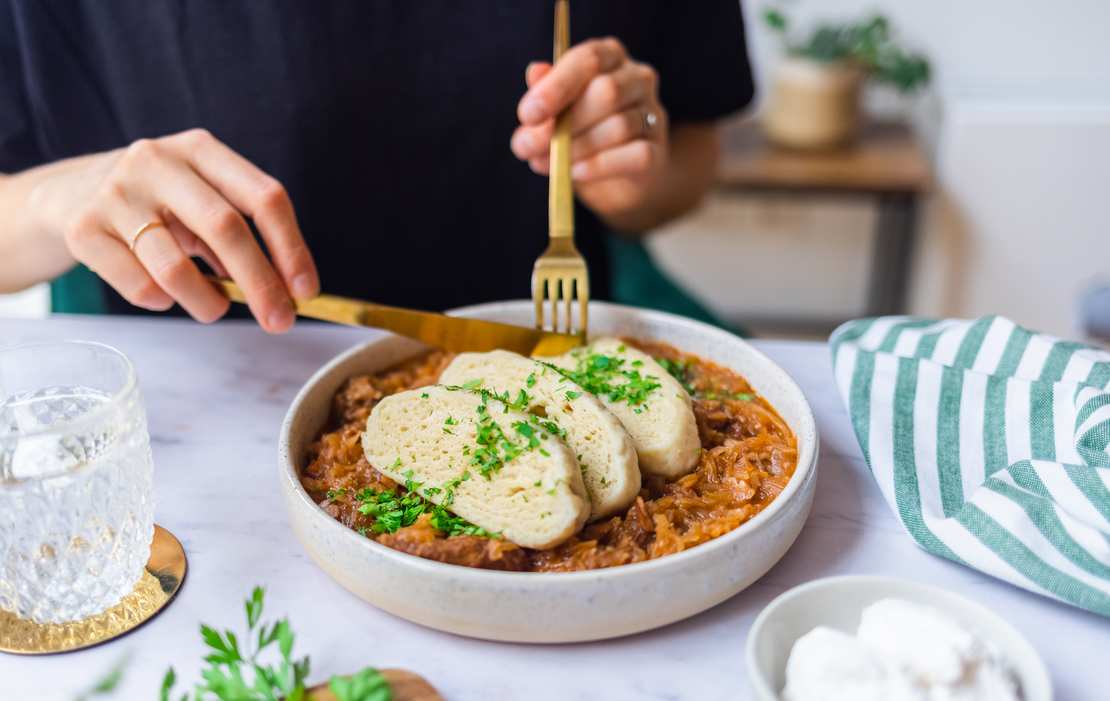 Vegan Yeast Dumplings with Szegedin Goulash (Hungarian Stew)
If you've been reading our blog for a while, you surely know that my family has Swabian roots. Therefore spaetzle and "Maultaschen" are part of my DNA, and I can prepare their vegan versions by heart. But today, I'm going into completely new territory because we will dive into Eastern European, to be exact, Hungarian cuisine. I have a big heart for many Eastern European dishes (such as pierogies, chimney cakes, and pancakes, to name just a few), but I prepare them far too seldom. So I was very happy to get to know another classic: Bohemian dumplings served with Szegedin goulash.
But what is Szegedin goulash actually? It originally came from Hungary, where it's called "Székely gulyás." The name doesn't lead back to a city or region, as one might assume, but to the author and poet József Székely. He probably was the inspiration for this dish, which is why it was eventually named after him. Since the goulash mainly consists of sauerkraut and meat, it's also called "cabbage meat." It's a lovely name, isn't it? (Source)
In my research, I found recipes with a wide variety of ingredients. Sometimes caraway seeds were added, sometimes paprika, sometimes bell peppers, sometimes no bell peppers, sometimes more sour cream, and sometimes none at all. So we went with the main ingredients of the dish. Instead of pork neck or pork shoulder, we use canned seitan, which you can buy at the Asian supermarkets. It's ready to eat and just needs to be sautéed. We also use sauerkraut from a jar and, of course, vegan sour cream or crème fraîche. Since Szegedin goulash is quite an intense goulash, we've used a lot of spices, but as always, it's best to season it to your own taste.
Bohemian dumplings have their roots in the Czech Republic but are also known in the Austrian, Bavarian, and Hungarian cuisine. It's a match! Since Bohemian dumplings are basically soft yeast pillows that like to swim in lots of sauce, they are perfect for our plant-based goulash. To prepare them, we used Demeter wheat flour type 550 from Bauckhof, which is particularly well-suited for our recipe because it's ideal for doughs that should be very fluffy and fine-textured. So, in order for your Bohemian dumplings to get that pillowy, you should use wheat flour type 550, but of course, the flour isn't only suitable for Bohemian dumplings but also for bread, pizza, cakes, cookies, pancakes, waffles, and sauces. If you're now wondering what the numbers behind the flour types mean, here comes the answer: numbers like 405, 550, or 1050 indicate the degree of milling and, therefore, the mineral content in the flour. So for a wheat flour type 550, the mineral content is 550 mg per 100 g of flour. You can check out Bauckhof's online shop right here to stock up your pantry at home!
For the organic wheat flour 550, Bauckhof uses Demeter wheat from biodynamic cultivation. Biodynamic stands for the oldest and strictest form of organic farming. Each bag of Bauckhof Organic Wheat Flour 550 ensures that at least 4.42 square meters of land are farmed biodynamically and saved from pesticides. This is especially good for the groundwater and the climate. So one more reason to prepare Bohemian dumplings much more often, right?
Vegan Yeast Dumplings with Szegedin Goulash (Hungarian Stew)
Ingredients
For the Bohemian dumplings:
250 ml (1 cup) plant-based milk
42 g (1.5 oz) fresh yeast
0.5 tsp sugar
500 g (4 cups) wheat flour type 550 (e.g. from Bauckhof)
1 pinch of salt
5 tbsp sunflower oil
For the vegan Szegedin goulash:
400 g (14 oz) sauerkraut
2 tbsp sweet paprika
1 tsp dried marjoram
1 tsp caraway seeds
2 bay leaves
500 g (17.66 oz) canned seitan
200 g (7 oz) smoked tofu
3 onions
1 garlic clove
2 tbsp vegan butter
2 tbsp tomato paste
2 tbsp mustard
2 tbsp wheat flour type 550 (e.g. from Bauckhof)
500 ml (2 cups) vegetable broth
250 ml (1 cup) vegan red wine
hot paprika
nutmeg
sugar
salt
pepper
Also:
fresh parsley
vegan crème fraîche
Instructions
We start with the yeast dumplings. Heat the plant-based milk until it's lukewarm. Crumble in fresh yeast, stir in sugar, and let the yeast mixture stand for approx. 10 minutes until it's bubbly on the surface. Add flour, salt, and oil, then knead well until a smooth dough forms. Cover the dough and let it rise in a warm place for at least 30 minutes.

In the meantime, prepare the vegan goulash. Add sauerkraut to a bowl and mix it with paprika, marjoram, caraway seeds, and bay leaves. Knead the mixture with your hands, then refrigerate it until needed.

Prepare the remaining ingredients for the goulash as well: drain seitan and dice smoked tofu. Peel, halve, and slice the onions. Peel and finely dice the garlic.

Heat vegan butter in a large saucepan and sauté onion and garlic for approx. 2-3 minutes until the onions are translucent. Add seitan, smoked tofu, tomato paste, and mustard, and sauté for another 5-10 minutes until the seitan and smoked tofu are browned. Dust the mixture with flour and fry for another 2-3 minutes. Then slowly add vegetable broth and vegan red wine and mix everything well with no flour lumps. Finally, add the seasoned sauerkraut, cover the saucepan with a lid, and let the vegan goulash simmer over low heat for approx one hour.

Remove the yeast dough from the bowl, divide it into three parts, and knead by hand to form elongated rolls. The three dough rolls should have a smooth surface and be nicely rounded. This can take a good 10 minutes per dough. In the end, the oval dough parts should have a very (!) soft and preferably no seam. Cover the dough rolls with a clean kitchen towel and let them rise for another 30 minutes.
Tip: The technique for forming the dough is called "rundwirken" in German and ensures that your yeast dough doesn't rise in width but in height. In addition, you get a wonderfully smooth surface and avoid a seam that may burst open during cooking, which would make your dumplings rather heart-shaped rather than round. It's best to watch some online videos beforehand as it's very easy once you've seen it done.
Bring a large pot of salted water to a simmer (not to a boil, which means it should always be just right before bubbling). One by one, add the dumplings to the water and let them steep with the lid closed for approx. 20-30 minutes, turning them once after 10-15 minutes. Remove the yeast dumplings from the water, prick each side with a fork 4-5 times, and then slice the dumplings with kitchen twine.

Season the vegan goulash with hot paprika, nutmeg, sugar, salt, and pepper to taste and serve with the yeast dumplings. Wash and finely chop the parsley and sprinkle it over the dumplings. Top the goulash with vegan crème fraîche.