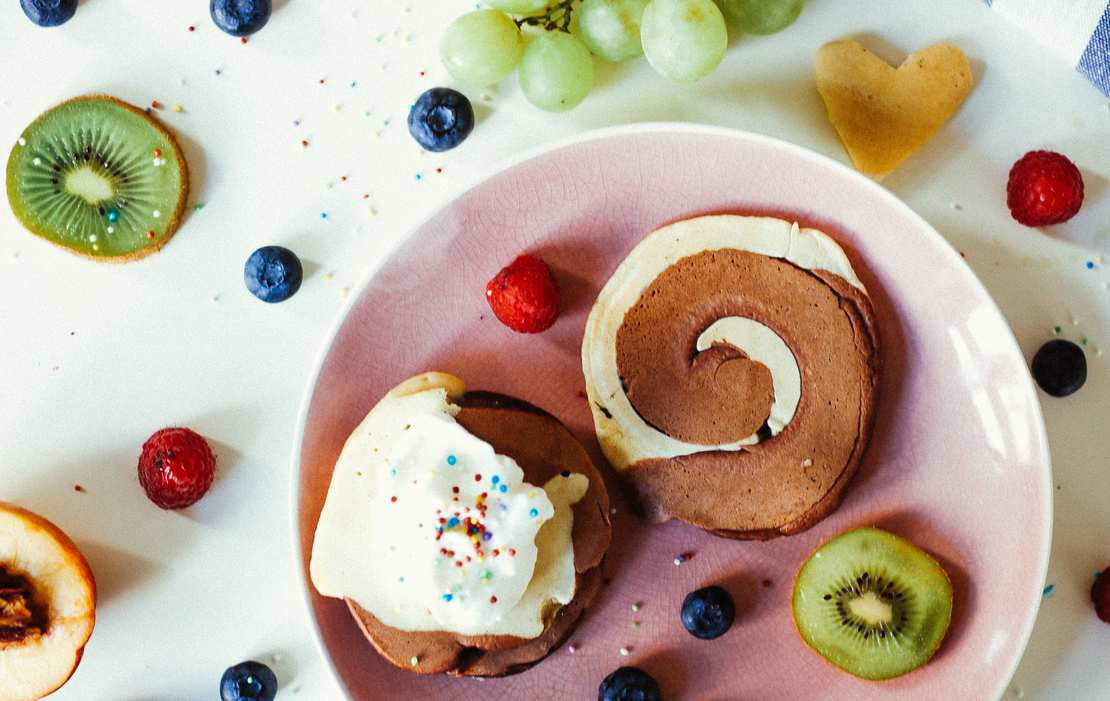 Baking with Kids: Vegan Magic Pancakes
Ahoy to all the small kids-podgy-fingers. Cause today we will have some pancakes for the small, hungry monsters out there. Julia and I have both older sisters. What a luck! We know all the discussions and struggle with our beloved older siblings (and we especially know the younger-sister-bonus, haha). So if you have younger siblings, kids or you expect kids the next time, we can help! If you don't know how to entertain hungry little lions, there is a recipe waiting for you, you can easily do with kids, or with two kids at the same time. Cause you always get them with pancakes…
Vegan Magic Pancakes
Ingredients
250 g (2 cups) flour
1 tbsp of vanilla sugar
3 tbsp sugar
2 tbsp of baking powder
500 ml (2 cups) plant-based milk
3 tbsp cacao powder
oil for the pan
1 small plastic bag
1 clip to close the plastic bag
Instructions
Grab a big bowl and whisk flour, vanilla sugar, sugar and baking powder.
Gradually add the plantbased milk to the dry ingredients. This step works perfectly with two persons. One person whisks the dough and the other person adds the milk.
Whisk the dough until it turns smooth and creamy.
Pour half of the dough in a plastic bag. Close your plastic bag with a bracket.
Now add the cacao powder to the remaining dough and whisk until your dough is creamy and completely brown.
Heat 1 tbsp oil in a flat pan. Cut off one edge of the plastic bag, so you can make a swirl of dough in your pan.
Fill your magic swirl with the other dough, so you get a round pancake.
After 1 or 2 minutes, you can flip your pancake. Wait until they get lightly brown.
If your pancake is lightly brown on both sides, they are ready to eat.
You can top your pancakes with fresh fruits, cream, chocolate sauce or sprinkles. And that's it! Your magic swirl-pancakes are ready to eat!