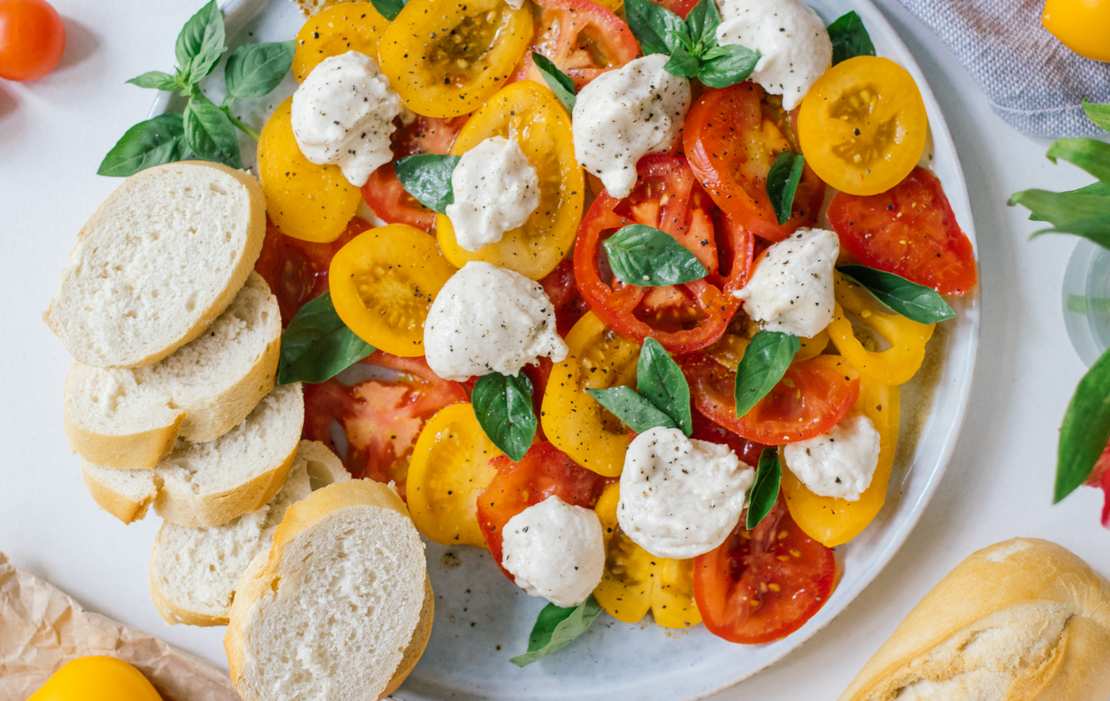 Caprese Salad with vegan Cashew Mozzarella
We're pretty sure you know the neatly arranged Italian salad called Caprese from any kind of buffet, barbecue, or family celebration. Being vegan, we often creep around these plates full of tomatoes, mozzarella, and basil, and just wish to eat a small portion of it. But there's always some mozzarella sticking to a tomato slice, and eating some tomato with basil isn't quite what we wanted in the first place, right?
That's why we needed a vegan mozzarella. You can actually buy it already in most Natural food stores, but they are quite expensive. So in order for all of us to enjoy a Caprese salad, here's a recipe based on (surprise!) cashews. The only more complicated ingredient that you have to buy now is tapioca starch.
This starch is made from the dried cassava root, tastes of nothing really, and works as a binding agent that is better described as .. kind of glue. Jep, it doesn't sound too appealing first, but it's what we want for the consistency of vegan mozzarella. Tapioca starch is also available at the Natural food store, so when you buy it, wave goodbye to the vegan mozzarella in the fridge.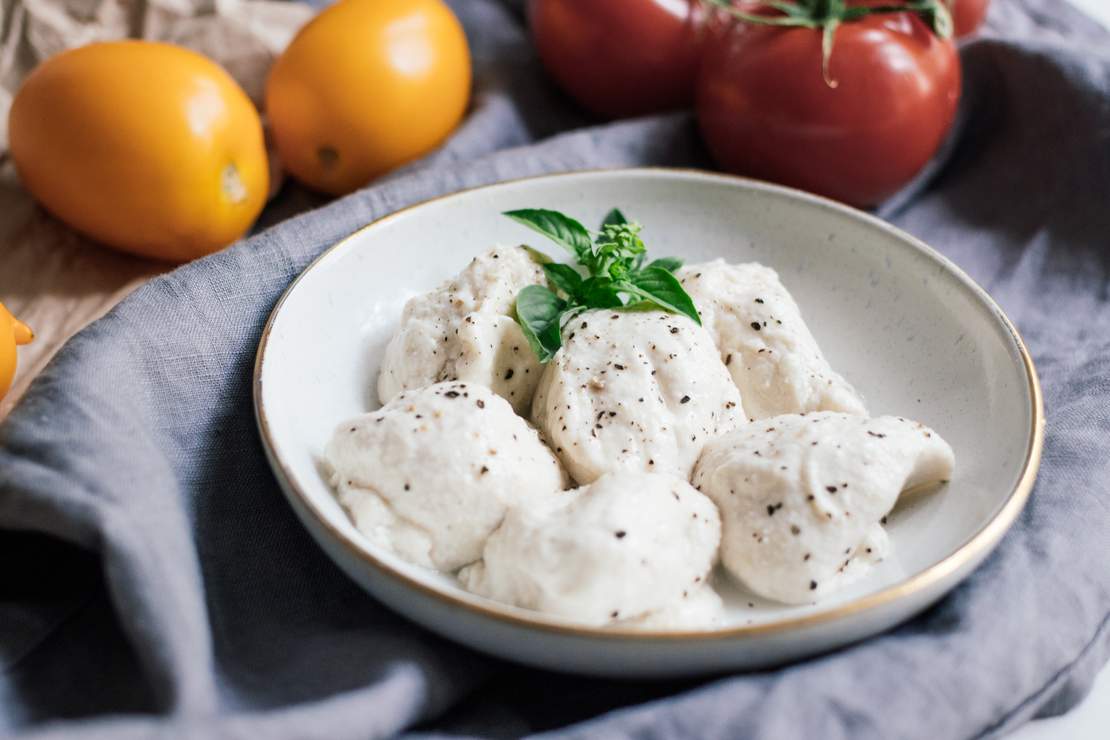 Caprese Salad with vegan Cashew Mozzarella
4 servings as starter
20 minutes
Ingredients
For cashew mozzarella:
100 g (3.5 oz) cashews (soaked over night)
150 ml (0.66 cup) water
1 tbsp nutritional yeast
1 tsp garlic powder
35 g (1.25 oz) tapioca starch
0.5 tsp salt
For serving:
fresh, mixed tomatoes
fresh basil
baguette
For the vinaigrette:
1.5 tbsp olive oil
1 tbsp dark balsamic vinegar
1 tsp agave syrup
1 tsp mustard
salt
pepper
Instructions
Drain soaked cashews and add them to a blender along with water, nutritional yeast, tapioca starch, and salt. If you don't have a blender, you can also use an immersion blender to mix everything until smooth. Season to taste.

Prepare a bowl with ice-cold water. Transfer the cashew mixture to a small pot over medium heat and start to heat up while stirring constantly. Please, never stop stirring, as the mixture will thicken after a few minutes. Once it's pulling away from the sides of the pot, remove from heat.

Use spoons or an ice cream scoop to form smaller balls of the cashew mixture and transfer them directly to the bowl with ice-cold water.

Slice tomatoes and arrange them on a plate or platter. Stir to combine all ingredients for the vinaigrette and season with salt and pepper to taste. Top the tomatoes with vegan cashew mozzarella balls and fresh basil, then drizzle with balsamic vinaigrette. You can enjoy this Caprese salad directly or serve it with some toasted white bread, ciabatta, or baguette!