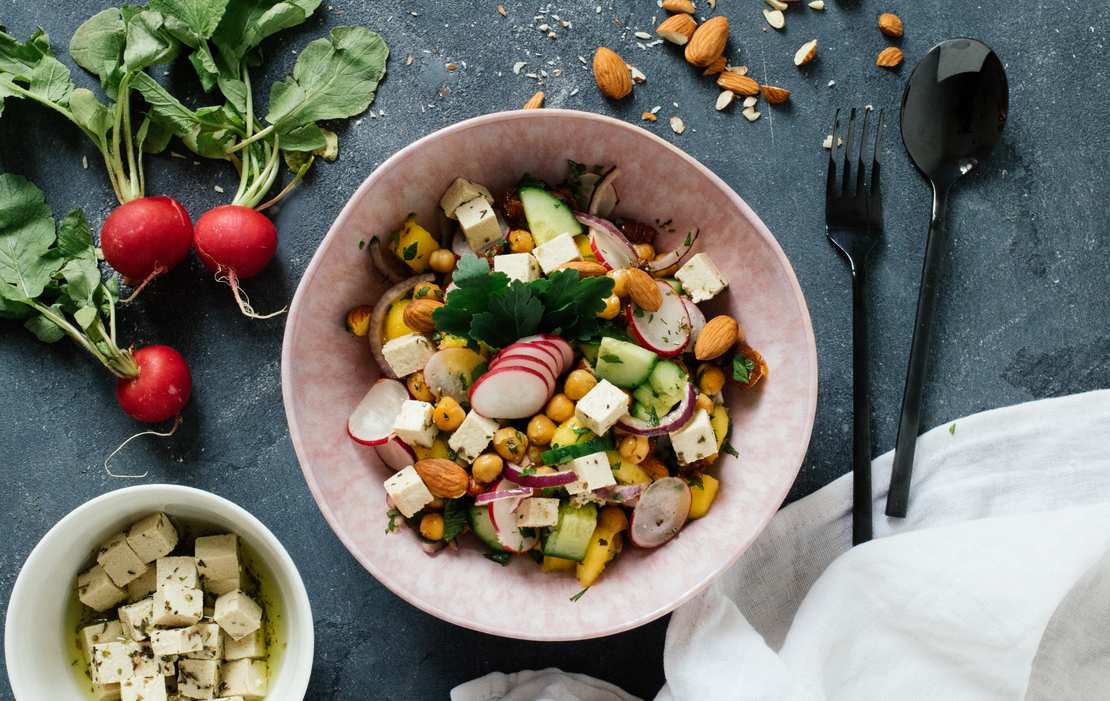 Summer Chickpea Salad with vegan "Feta Cheese"
Chickpea salad is kind of a classic dish in summer. It tastes fresh, is endlessly variable and stays good throughout your whole warm picnic day. Statistically it's proven that the chickpea salad is often empty first. So it's kind of obligated to show you our favorite recipe. Roasted chickpeas, mango and vegan feta are playing the leading rolls in our chickpea drama. You can find our recipe for vegan feta here.
Vegan "Feta" Cheese made out Tofu
Ingredients
200 g (7 oz) tofu
100-150 ml (0.5 - 0.66 cup) olive oil
2 tbsp dried basil
2 tbsp dried oregano
1 tbsp dried thyme
1 tsp salt
1 tsp miso paste (optional)
2 cloves garlic
Instructions
Dice tofu in same-sized pieces.
In a preserving jar, pour in about 5 tbsp of your olive oil and stir in salt, herbs, and miso paste if used.
Peel 2 cloves of garlic and slightly crush them with the back of a knife or slice them. Then add them in your jar.
Fill the jar with tofu dices but leave some space at the top.
Now pour over olive oil until your jar is filled, lock it carefully and shake it so all the tofu gets covered in herbs.
Put it in your fridge. The longer you keep it there, the better it will taste! You can taste it after 24 hours and season it with some more salt, if you like. Whenever you open the fridge, shake the jar from time to time so all the herbs keep flowing around.
Summer Chickpea Salad
Ingredients
400 g (14.1 oz) chickpeas
7-8 sun-dried tomatoes in oil
10 g (0.35 oz) fresh mint
10 g (0.35 oz) fresh parsley
1 red onion
100 g (3.5 oz) radish
150 g (5.3 oz) cucumber
150 g (5.3 oz) mango
200 g (7 oz) vegan "feta cheese" (recipe on the blog)
150 g (5.3 oz)almonds
paprika, pepper, salt & cayenne
FOR YOUR DRESSING
3 tbsp olive oil
2 tbsp lemon juice
salt&pepper
Instructions
In a pan, heat up 2 tbsp oil and roast your chickpeas slightly. Season with pepper, paprika and cayenne.
Go, veggie, go! Wash or peel and cut cucumber, radish, onion, mango and sun-dried tomatoes. Chop herbs and almonds.
In a large bowl, mix everything together.
Got some vegan feta in the fridge? Perfect! Throw in as much as you like in your salad.
There's no real dressing for the salad, since those sun-dried tomatoes and the vegan feta already come with oil and seasoning. So you only need to drizzle olive oil and lemon juice on everything and season with salt and pepper.
More Plant-Based Cheese Alternatives