Veggie Bowl with Quinoa, Lentils, Sesame Dressing, and Crispy Chickpeas
Despite my love for carbs and comfort food, I (unfortunately) can't live on spaghetti bolognese all day because my body needs some more nutrients. While this topic is usually not a focus on our blog (which is why we don't add any calories or nutrient information to recipes), all people (not just vegans) should be aware to eat a balanced diet to provide your body all essential nutrients it needs. If you're interested in this topic, check out this comprehensive article in which we go into detail about some of the nutrients that you should pay special attention to when you're vegan.
So far, in theory, this all sounds plausible to most people, and yet most find it challenging to apply this knowledge in everyday life. Quickly we tend to think about healthy food as boring salads that are nobody's favorite. A few leaves of lettuce, some cucumber, tomatoes, nuts, there we go. But in fact, salads can be everything! Plus, they benefit from the fact that most ingredients provide the most nutrients if you don't heat them. This is why I can only recommend to prepare yourself an opulent salad for lunch or dinner a few times during the week.
Just use our article as support, pick a few ingredients from the list, and look out for beneficial combinations. This salad contains some great sources of iron like chickpeas, quinoa, lentils, spinach, and pumpkin seeds. It's always best to combine these with foods that are rich in vitamin C as this helps to absorb the iron. So let's add some red bell peppers and parsley to the salad or if you want to make it really easy, just drink a glass of orange juice afterward. Tahini, spinach, and broccoli provide calcium, while lentils add a good amount of protein, fiber, B2, and zinc to the salad bowl.
We hope you just see this salad bowl as an inspiring starting point for your new salad adventures. Just try out all kinds of combinations depending on the season and your taste. And let's all promise each other to stop eating boring salads, deal?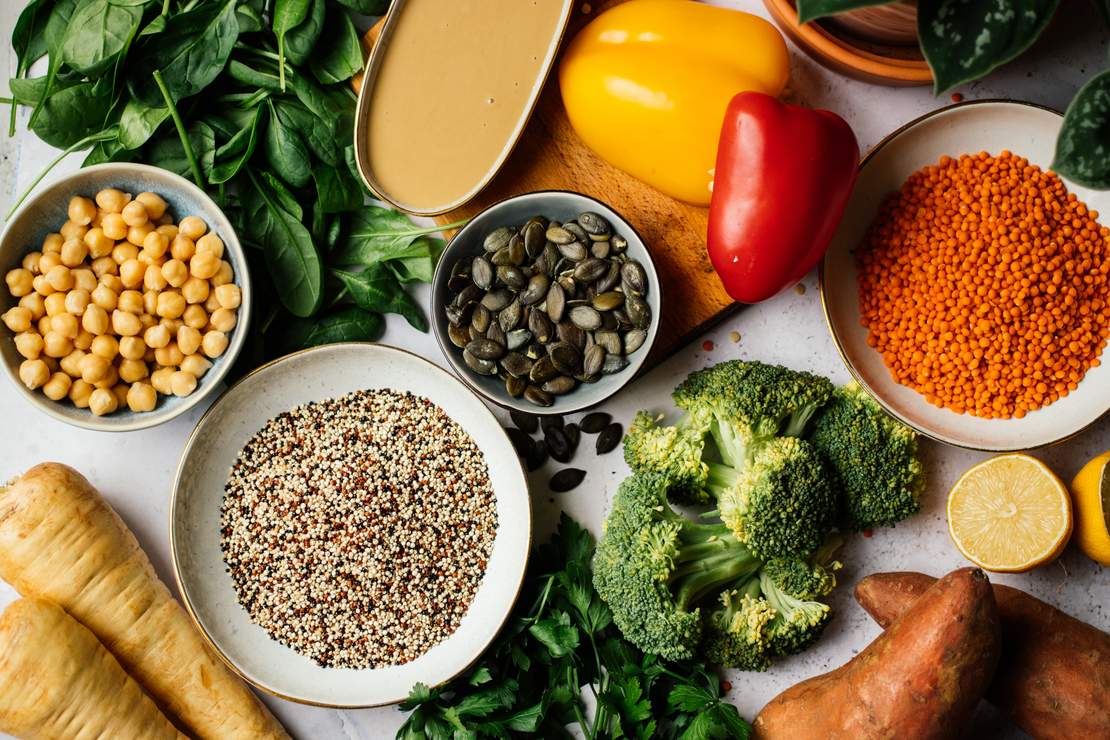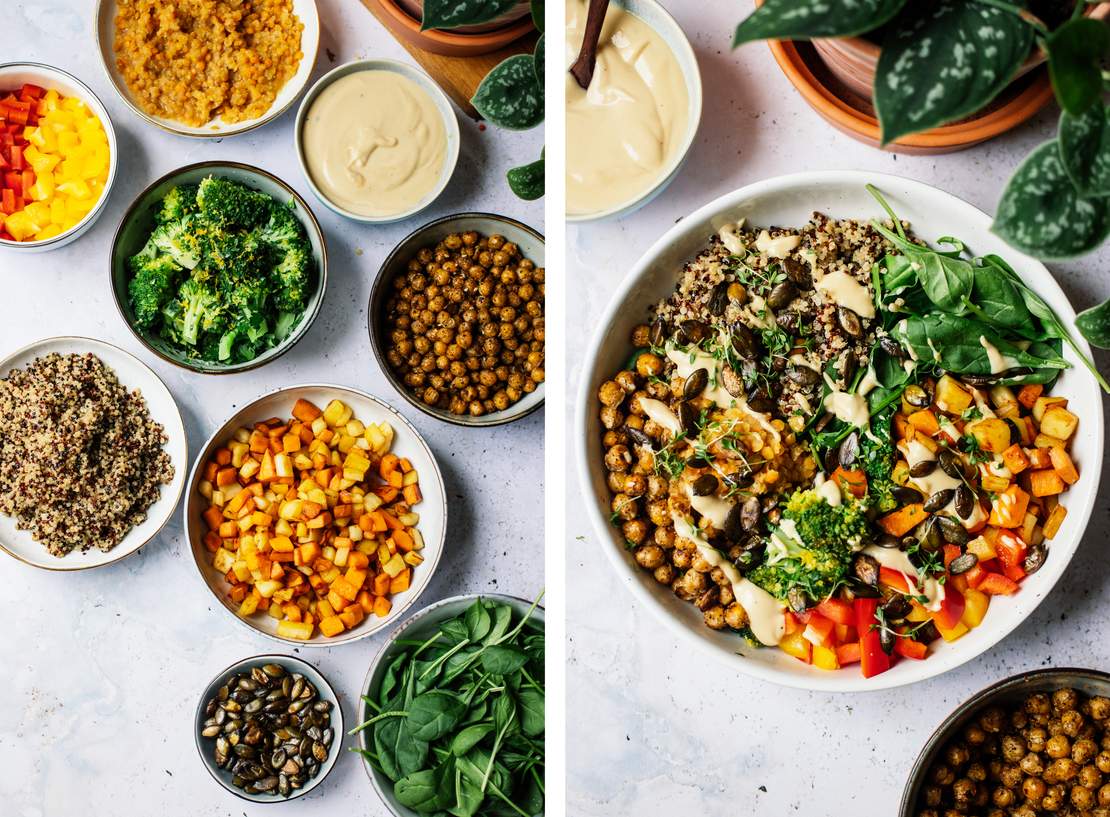 Veggie Bowl with Quinoa, Lentils, Sesame Dressing, and Crispy Chickpeas
Ingredients
For the crispy chickpeas:
250 g (9 oz) canned chickpeas (drained)
1 tbsp za'atar
olive oil for frying
For the quinoa:
100 g (0.66 cup) quinoa
water
salt
For the lentils:
75 g (0.33 cup) red lentils
150 ml (0.66 cup) water
salt
For the pan-fried vegetables:
200 g (7 oz) sweet potato
200 g (7 oz) parsnip
salt
pepper
sesame seeds
vegetable oil for frying
For the lemony broccoli:
150 g (5.5 oz) broccoli
15 g (0.5 oz) parsley
lemon zest
salt
Also:
100 g (3.5 oz) fresh spinach
1 red or yellow bell pepper
pumpkin seeds for serving
garden cress for serving
For the dressing:
5 tbsp tahini
2 tbsp lemon juice
2 tsp agave syrup
1 tsp mustard
1 tsp sesame oil
salt
pepper
water
Instructions
Heat a large frying pan over medium heat and toast pumpkin seeds (without any extra oil). Remove from the pan and set aside. Drain canned chickpeas and use a clean kitchen towel to pat them dry carefully. Heat some olive oil in the frying pan that you just used, add the chickpeas, and season with za'atar. Keep frying until the chickpeas are crispy.

Add quinoa to a fine sieve and rinse under running water. Add rinsed quinoa with double the amount of water and a pinch of salt to a pot. Bring to a boil, then reduce heat to medium, cover your pot with a lid, and let the quinoa simmer for approx. 15 minutes.

Parallelly, rinse red lentils just as you did with the quinoa. Add it to another pot with double the amount of water, and bring to a boil. Reduce the heat to medium-low, cover the pot with a lid, and let the lentils simmer for approx. 10 minutes. Season with salt only after cooking.

While the quinoa and lentils cook, peel sweet potato and parsnip if desired (but that's optional) and finely dice both. Add the large frying pan back to the stovetop, heat vegetable oil over medium heat, then fry sweet potato and parsnip until they're soft on the inside but crispy on the outside. Season with salt and pepper, and sprinkle with some sesame seeds.

Cut broccoli florets off the stem. Generously peel and the stem and finely dice it. Bring a pot of salted water to a boil. Start by adding the diced broccoli stem to the simmering water. After 1 minute, add the broccoli florets and keep böanching both for approx. 2-3 minutes. Drain and rinse under ice-cold water. Finely chop the parsley and add it to a bowl along with the blanched broccoli. Add some lemon zest and mix.

For the dressing, add tahini, lemon juice, agave syrup, mustard, and sesame oil to a bowl. Season with salt and pepper, then whisk to combine. The texture will be quite thick now, so add as much water as needed until you reach the desired consistency of your dressing.

Wash fresh spinach and finely dice red bell pepper. For serving, arrange all components of your salad in a bowl (so this means spinach, bell pepper, quinoa, red lentils, blanched broccoli, pan-fried sweet potato, and parsnip). Drizzle with sesame dressing and top your salad bowl with crispy chickpeas, pumpkin seeds, and garden cress.