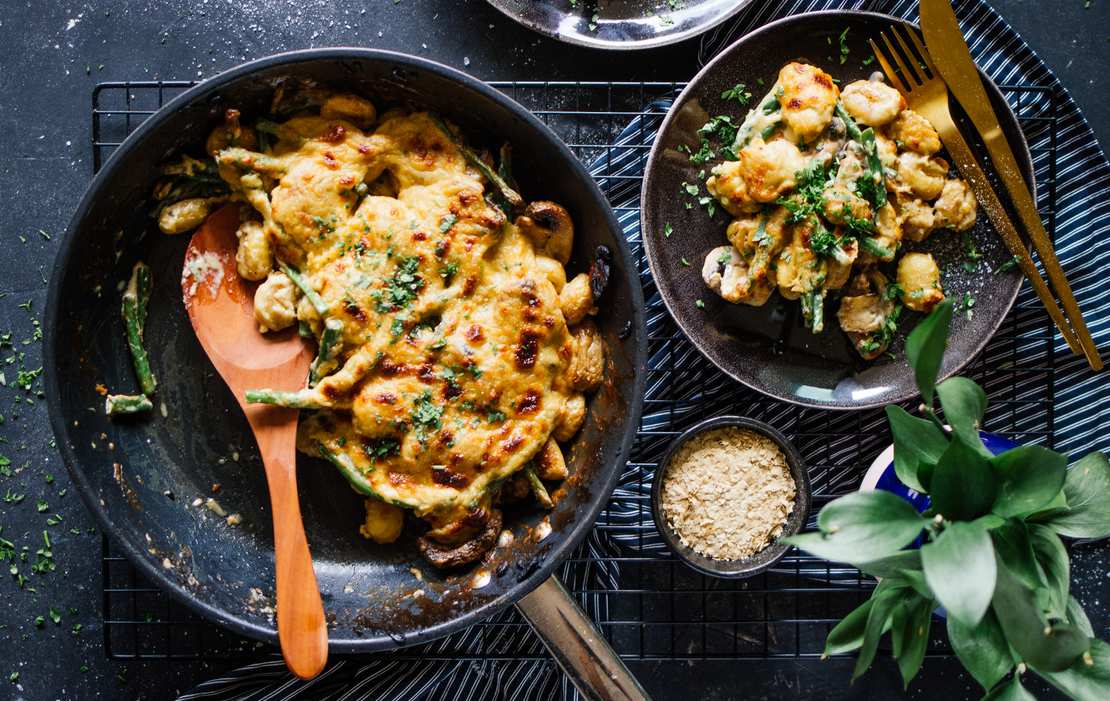 Creamy Gnocchi with Nooch Cheese Sauce, Beans & Mushrooms
The whole season of autumn is packed full of fresh vegetables: from green beans, turnips, mushrooms, and pumpkin to parsnips, Brussels sprouts, spinach, and countless other options that are now available from domestic cultivation. After a warm summer full of freshness, all of them can bring back some coziness to our kitchen and on pour plates. What we want to eat now are soups, casseroles, and hearty stews. And that's no problem at all! Although cooking these dishes often sounds like a rather time-consuming undertaking, we'll now show you a dish that you can prepare in less than 30 minutes.
All you need for this creamy gnocchi pan is a frying pan, a small pot, seasonal fresh vegetables, and pre-made vegan gnocchi. If you have some more time, feel free to prepare them yourself. We'll start by frying most of the ingredients in the frying pan before we add some plant-based cream. But the highlight of this dish is a creamy layer of a cheesy nooch sauce prepared with nutritional yeast.
We're very happy that VITAM supports us with this recipe. You've probably seen their yeast flakes already in organic stores or supermarkets. We've used their nutritional yeast to season the vegan cream sauce and to prepare our cheesy nooch sauce. Nutritional yeast always adds a great and deep umami flavor to every dish, plus a nice side note of "cheesy" flavoring. We love to use them for seasoning and to thicken dishes. You can simply sprinkle nutritional yeast over any dish or stir it into sauces and stews. Since these ones are based on molasses, they are not only vegan but also low in sodium and gluten-free.
Creamy Gnocchi with Nooch Cheese Sauce, Beans & Mushrooms
Ingredients
400 g (14 oz) vegan gnocchi
1 onion
1 garlic clove
400 g (14 oz) mushrooms (e.g. button mushrooms)
200 g (7 oz) green beans
200 ml (1 cup) plant-based heavy cream
3 tbsp vegan butter or vegetable oil
1 tbsp nutritional yeast (e.g. by VITAM)
salt
pepper
parsley for serving
For the cheesy nooch sauce:
4 tbsp vegan butter
2 tbsp flour
150 ml (0.66 cup) plant-based milk
3 tbsp nutritional yeast (e.g. by VITAM)
1 tsp mustard
nutmeg
salt
pepper
Instructions
Start by preparing the vegetable: Peel onion and garlic. Halve and finely slice the onion. Finely chop garlic. Clean mushrooms, cut the stems a bit and quarter or half. Wash green beans and cut off the ends.
Heat vegan butter or vegetable oil in a large frying pan. Fry mushrooms for approx. 5 minutes, or until they start to brown. Season generously with salt and pepper. Add onion and garlic and keep frying for 2-3 minutes. Then add green beans and gnocchi and fry for another 3-4 minutes.
Add plant-based heavy cream and nutritional yeast and stir to combine. Season with salt and pepper to taste, then remove the pan from heat.
Cheesy nooch sauce
For the cheesy nooch sauce melt vegan butter in a small pot. Whisk in flour until you get a smooth mix.
Add plant-based milk little by little and whisk to combine. There should be no lumps forming. Add mustard and nutritional yeast and stir to combine. Season with salt, pepper, and nutmeg to taste.
Pour the cheesy nooch sauce over the gnocchi veggie mix, then place a lid on top of the frying pan and heat everything for 5-10 minutes in order for the nooch sauce to melt a bit. Optionally, bake without the lid at 220°C/430°F with top heat only for approx. 5-10 minutes. This way, you'll get a nice crust. For serving, sprinkle with fresh parsley.