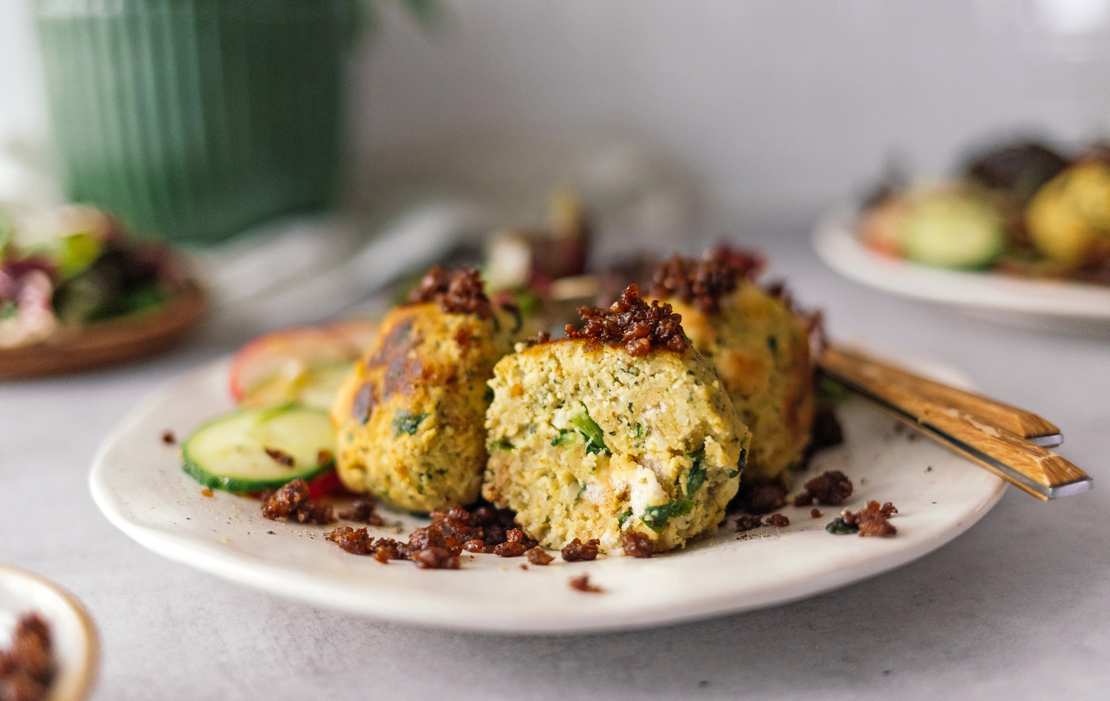 Tofu Spinach Dumplings with Salad and Crispy Pumpernickel Breadcrumbs
I don't know about you, but I love eating dumplings so much that I don't want to prepare them only in the colder months with goulash, ragout and the like. That's why today we have a slightly "lighter" version of them – the dumplings contain a generous amount of tofu and they are served with a fresh salad, shallot vinaigrette and crispy pumpernickel breadcrumbs on top. However, to ensure your dumpling fun is not spoiled, there are a few things you should consider while cooking.
1.Thoroughly crumble the tofu: When making dumplings using bread rolls, you don't have to be as thorough in crumbling them – after all, the bread cubes soak up the liquid and can be shaped easily. However, tofu behaves differently, so it's essential to crumble it finely. Larger pieces can become potential weak points later because the dumplings won't hold together as well in those spots.
2. Let it rest: You'll notice in the recipe that there are several short resting periods for the dumpling dough, and these are crucial for the bread to absorb the liquid and for all the ingredients to hold together. The dumplings will be much easier to shape and hold together more effectively. From time to time, try to form a test dumpling – if the dough is still too dry or moist, it's best to add some plant-based milk or breadcrumbs.
3. Sear, then cook: Since tofu is more delicate, we first sear the dumplings in some vegan butter. This provides more stability. Only then do we add some water, allowing the dumplings to cook with the lid on, resulting in a wonderfully soft texture.
You can already tell that tofu plays an essential role in this recipe – that's why we recommend using high-quality tofu. And since we're adding fresh baby spinach anyway, it made sense to use Tofu Spinacia from Taifun. We've enjoyed it as a sautéed salad topping, but in this recipe, the tofu really shines.
You've probably seen Taifun tofu at the organic supermarkets – they offer various kinds of tofu, from plain and smoked tofu to exciting options like olive, almond sesame, black forest or our spinach tofu. All the soybeans used are sourced 100 % from Germany, Austria and France and are processed in Freiburg. Only organic raw materials are used. Taifun not only grows soybeans on their fields but has also started a project to combat insect decline. They utilize the spaces between the soybean rows to plant early-blooming plants for wild bees and other pollinators while contributing to soil protection. You can read more about it here.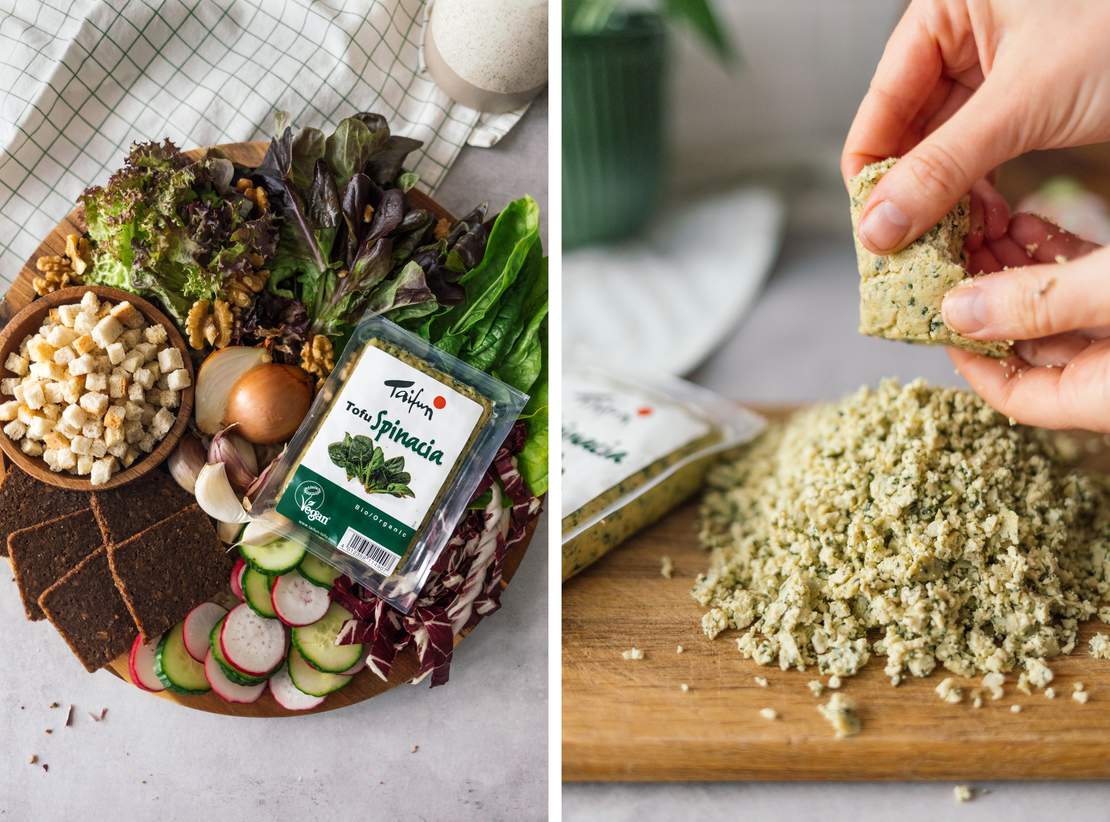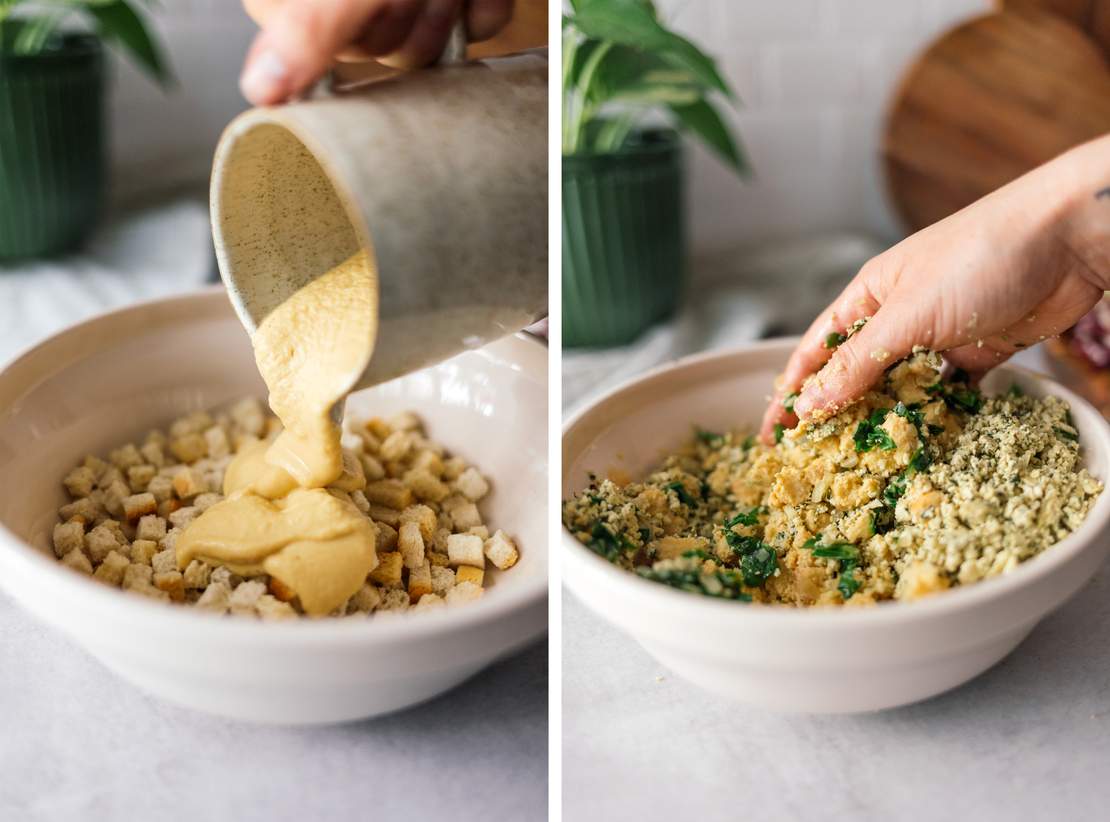 Tofu Spinach Dumplings with Salad and Crispy Pumpernickel Breadcrumbs
6 dumplings
50 minutes (+ 15 minutes resting time)
Ingredients
For the dumplings:
200 g (0.5 lb) tofu (e.g. Tofu Spinacia from Taifun)
50 g (1.75 oz) dumpling bread (or 1 stale roll)
1 large onion
1–2 cloves of garlic
25 g (1 oz) fresh baby spinach
60 g (1.75 oz) soy flour
125 ml (0.5 cup) plant-based milk
25 g (1 oz) breadcrumbs
50 ml (0.25 cup) water
vegan butter for frying
salt
pepper
For the salad:
0.5 cucumber
6 radishes
about 100 g (3.5 oz) mixed salad (e.g. radicchio, lettuce, lollo rosso)
For the shallot vinaigrette:
2 shallots
6 tbsp olive oil
2 tbsp dark balsamic vinegar
1 tbsp grainy mustard
1 tsp maple syrup (or agave syrup or sugar)
water
salt
pepper
For the pumpernickel breadcrumbs:
1 tbsp vegan butter
2 slices of pumpernickel
salt
Instructions
Finely crumble the tofu – either by hand or by using a food processor. No larger pieces should be left, as they could cause the dumplings to fall apart. If you're not using dumpling bread, cut the stale roll into small cubes. Peel the onion and garlic cloves and finely dice them. Also, chop the fresh baby spinach.
Place the dumpling bread in a large bowl. Thoroughly mix soy flour with plant-based milk, ensuring there are no lumps. Pour the mixture over the bread, season lightly with salt and let it sit for about 10 minutes to allow the bread cubes to soak.
In the meantime, sauté the onion and garlic in a pan with some vegetable oil until the onion becomes translucent. Then add the spinach and heat for a few minutes until it wilts. Season the mixture with salt and pepper.
Add the crumbled tofu and sautéed spinach onion mixture to the soaked dumpling bread and mix everything well – it's best done by hand. Incorporate breadcrumbs into the mixture. Let it rest for 15 minutes, then form approximately 6 equally sized dumplings from the mixture.
Tip: Add more plant-based milk if your dumpling mixture is too dry. If it's too moist, add more breadcrumbs.
Heat vegan butter in a large non-stick pan and fry the dumplings for about 5 minutes over medium heat, browning them slightly on all sides. Then add water and immediately cover the pan with a lid. Reduce the heat to low and let the dumplings cook for 10–15 minutes. Remove them from the pan and let them rest for about 5 minutes before serving.
While the dumplings are cooking, cut all the salad ingredients into small pieces: Thinly slice the cucumber and radishes and tear the salad leaves into smaller pieces with your hands. For the dressing, peel and finely dice the shallots. Add them to a screw-top jar with olive oil, dark balsamic vinegar, grainy mustard, maple syrup, salt and pepper. Shake vigorously until everything is well combined. Taste the vinaigrette and add a little water if you prefer a thinner consistency.
To make the breadcrumbs, melt vegan butter in a pan. Finely crumble the pumpernickel and fry it in the melted vegan butter. Then let drain on kitchen paper so they become even crispier. Sprinkle with a bit of salt.
Once the dumplings are done, mix the salad with the vinaigrette and distribute it on plates. Place the dumplings on top and sprinkle with the pumpernickel breadcrumbs.