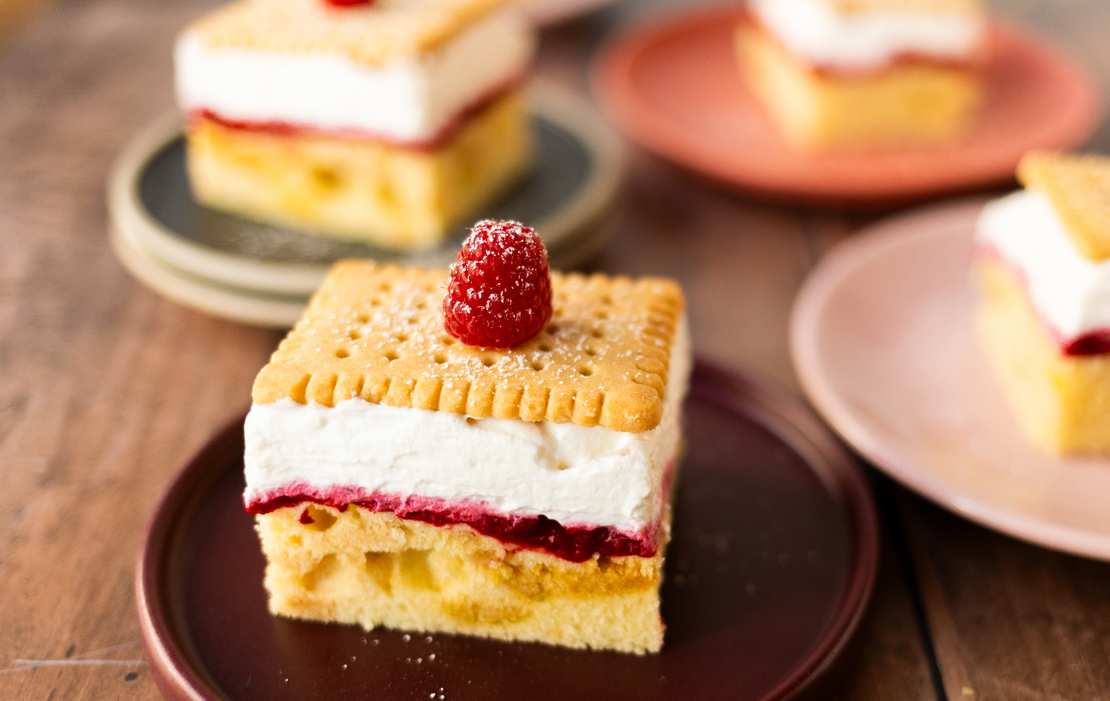 Creamy Vegan Raspberry Shortbread Cake
Many of you have been waiting for this: Finally, we came up with a vegan recipe for raspberry shortbread cake. While most of us in the office knew it already from family gatherings or children's birthday parties, I had no clue what it looked like. Previously I already had to confess that I have never had a slice of the famous German Benjamin Blümchen Cake(a premade strawberry sponge cake for children) in my life. I'm starting to question my birthday party experiences from my childhood.
So out of curiosity and to enable you to bring some delicious vegan raspberry shortbread cake to your next family gathering, I worked really hard on this recipe.
The bottom layer of the cake is a classic sponge cake. Unlike the original recipe, I added some chopped shortbread to the cake batter. They add a nice texture and ensure that the bottom of the cake already suggests the top layer.
Tip: To make the sponge cake base nice and fluffy, we use sparkling water in this recipe. If you don't have that at home, you can use regular water and add a tablespoon of apple cider vinegar to the batter. This helps to activate the baking soda in the batter.
For the raspberry layer, you can use frozen or fresh berries. However, other fruits such as currants or peaches are perfect substitutes if you can't get your hands on raspberries or don't like them. The fruit layer adds a nice acidity to the cake. To keep it that way, we only add a little sugar. Optionally, you can use lemon juice instead of water.
Since it is a summer cake, the cream layer should be as fresh and light as possible. Therefore, we use a mix of plant-based whipped cream, plant-based skyr and vegan cream cheese. It is important to whip the cream until really stiff. There are different kinds of plant-based whipped cream with different ingredients, that's why they all behave a little differently. It is essential to store the cream in the refrigerator beforehand and to whip it in a cool place. If the cream is not firm enough, add an extra packet of cream stiffener. You won't taste it in the end anyway. But it would be a pity if all the layers flowed apart.
The cake is topped with the star of the show: the vegan shortbread cookies. We bought them at a vegan supermarket, but now you can find them in almost every major supermarket. With the size of our cake pan, we could add exactly nine cookies to the top, determining the number of pieces of cake. Of course, you can use other cookies, such as chocolate chip cookies or Oreos. If you want to try a Christmas version of the cake, you can already find vegan speculoos tangerine cake on the blog!
Vegan Creamy Raspberry Shortbread Cake
1 cake (25 cm x 21 cm / 10 inches x 8 inches)
30 minutes (+ 180 minutes resting time + 20 minutes baking time)
Ingredients
For the cake base (25 cm x 21 cm / 10 inches x 8 inches):
220 g (1.75 cups) flour
100 g (1 cup) sugar
8 g (1 tsp) vanilla sugar
8 g (1 tsp) baking powder
50 ml (0.25 cup) neutral vegetable oil
200 ml (1 cup) sparkling water
8–10 shortbread cookies (coarsely chopped)
For the cream layer:
200 ml (1 cup) vegan whipped cream
16 g (0.5 oz) cream stiffener
200 g (0.5 lb) vegan skyr
150 g (0.33 lb) vegan cream cheese
16 g (0.5 oz) vanilla sugar
For the raspberry layer:
250 g (0.5 lb) raspberries
8 g (0.25 oz) vanilla custard powder
20 g (0.25 cup) sugar
75 ml (0.33 cup) water
about 9 vegan shortbread cookies (depending on the cake shape)
Instructions
Preheat oven to 180 °C / 350 °F (convection heat). Whip the vegan cream with cream stiffener for the cream layer until it is firm to the touch. In a separate bowl, combine skyr, cream cheese and vanilla sugar using a hand mixer until a homogeneous mass forms. Then gently fold in the whipped cream and refrigerate for at least 3 hours or overnight.
Place raspberries, sugar and about 25 ml / 0.125 cup water in a saucepan and simmer over low heat. Dissolve the custard powder in the remaining water and stir into the raspberry mix. Bring everything to a boil and let it thicken. Set aside and let cool.
For the cake base, mix flour, sugar, vanilla sugar, baking powder, vegetable oil and sparkling water with a whisk. Roughly chop 8–10 cookies and stir them into the batter. Line a rectangular cake pan (25 cm x 21 cm) with parchment paper, pour in the batter and bake at 180 °C / 350 °F for 20–25 minutes. Before removing it from the oven, test with a wooden stick.
Once cooled, place the two fillings in separate piping bags. Then distribute the raspberry filling about 5 mm / 0.2 inch thick on the sponge cake. Then add cream layer on top. We cut a larger opening in the piping bag so the cream layer is extra thick. Finally, align cookies on top.