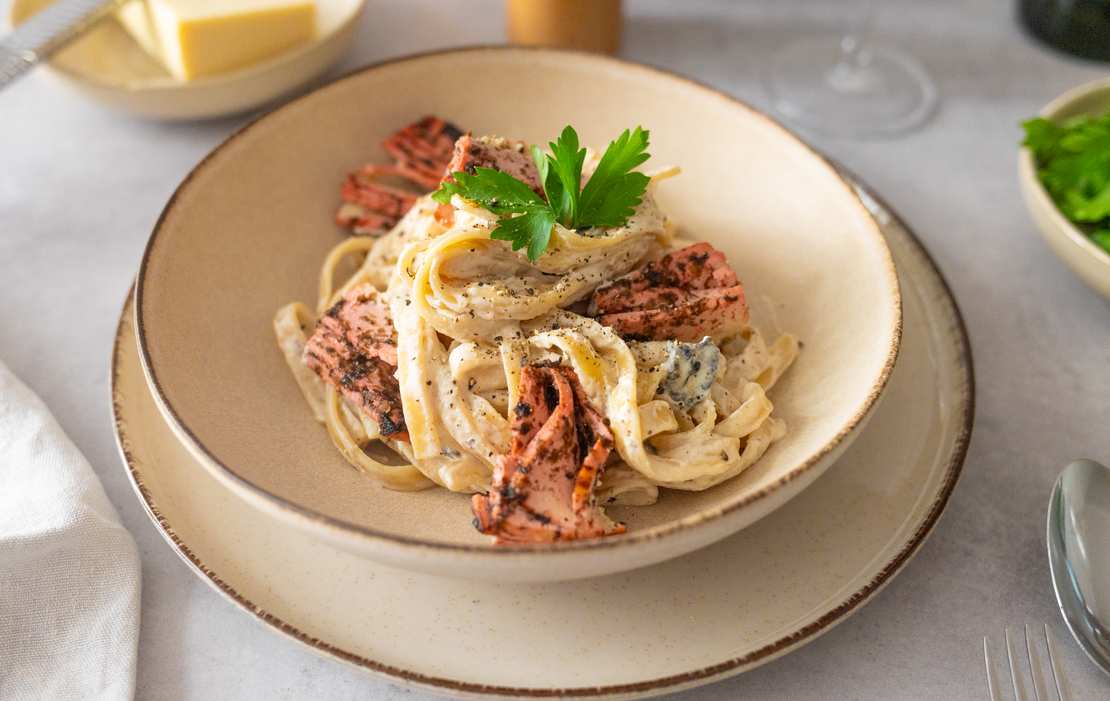 Creamy Vegan "Salmon" Pasta
Before I turned vegan, pasta with a creamy salmon sauce was one of my very favorite meals. The rest of my family also appreciates this dish very much, which is why we affectionately refer to the dish as "Donsö-Pasta", as we first prepared the meal on a sailing vacation in the harbor of Donsö, Sweden. So it's no wonder that a vegan version has been on my wishlist for a long time. But how the hell do you make vegan salmon? A case for the Zucker&Jagdwurst test kitchen. Countless attempts later, the time has finally come: Our recipe for vegan creamy "salmon" pasta is waiting to be tested.
We've suspected it for a long time, and now we have confirmation: You really can make anything out of tofu ... even vegan salmon. For this, we cut it into fillets and sliced finely into it to imitate the structure of salmon fillets. The whole thing is then cooked in a marinade of rather unusual ingredients: cucumber broth (the liquid pickled cucumbers float in), nori, soy sauce and miso. Trust the process! We then coat the fillets in cornstarch and fry them in a good amount of butter.
In the meantime, you can already start with the sauce. First, we make a roux from flour and butter. Then we add nori, miso, soy sauce and cucumber broth to the pot. The whole thing is perfected with a wonderful drop (what would be a cream sauce without white wine), the vegan Saxum Sauvignon Blanc from Delinat. Yes, you read correctly: vegan wine. Because although wine is made from grapes, so it's basically a plant product, not all wines are vegan. This is because some winemakers use animal products such as gelatin or egg white to clarify and beautify (remove turbidity, make smooth, stabilize). So if you want to be on the safe side, Delinat is the place to go. Since 2017, all Delinat wines are purely plant-based and labeled accordingly. In addition, they are the wine merchant with the strictest organic guidelines in all of Europe and, among other things, place great value on biodiversity in the vineyards and climate-neutral viticulture with renewable energies.
Although we like to enjoy a glass of wine from time to time, we are absolutely no experts. And if we're honest, we choose most wines based on the label. If you feel the same way, the Delinat white wine subscription might be just the thing for you.
Before you all head to the Delinat website, here's some info: With the code "zuckerjagdwurst" you get a 20 € discount on the trial subscription of Delinat. For only 65 € instead of 85 € you get 3 packages with 3 bottles of white wine each. Click here for the offer (Valid once per person. Redeemable until the end of 2024.) You prefer red wine? No problem, you can also use the voucher for a red wine trial subscription or a regular order in their online store (from a shopping cart value of 20 €).
After this little wine excursion, let's get back to preparing the sauce. After deglazing the sauce with wine, we add some spices and vegetable stock to the pot. We also add vegan cream and plant-based crème fraîche. Let it simmer for a few minutes. We serve the finished sauce with "salmon" and a little fresh parsley (and a small, fine glass of white wine, of course). And with that, cheers and bon appétit!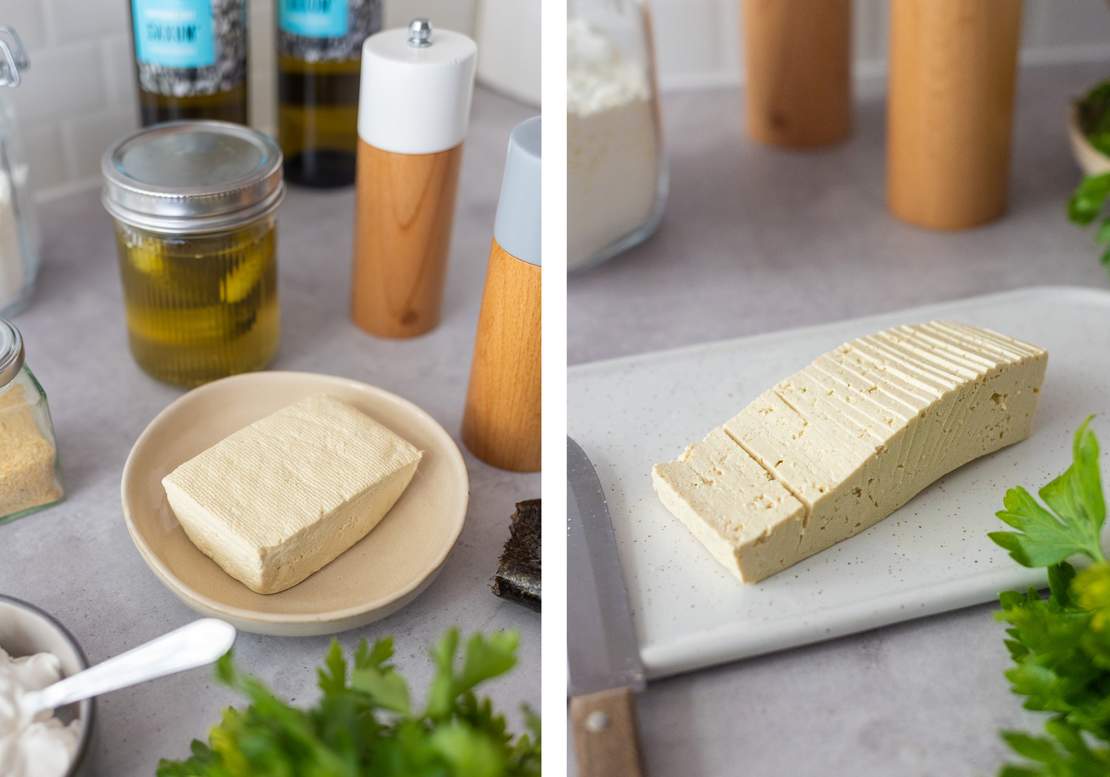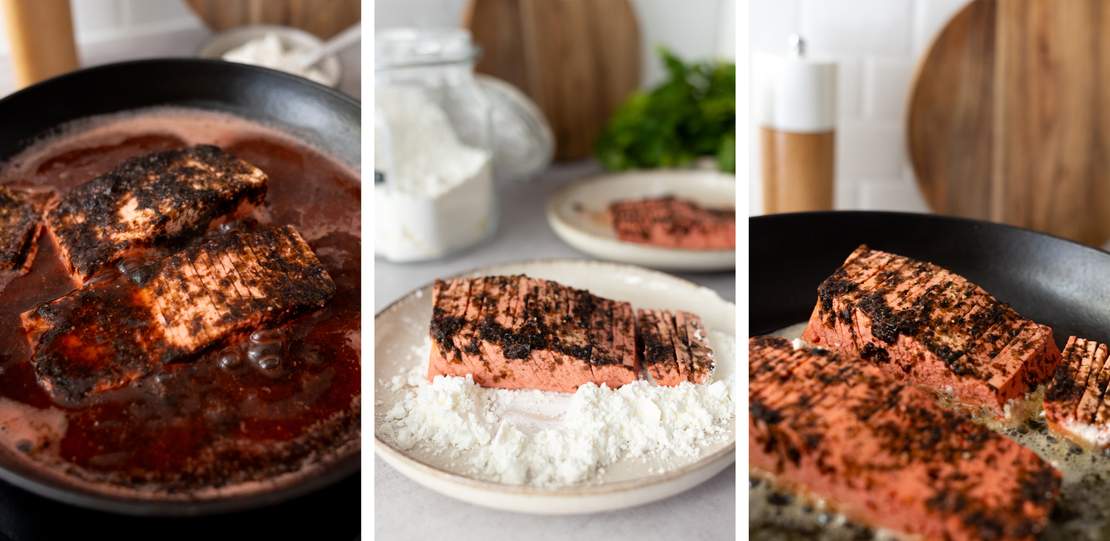 Creamy Vegan "Salmon" Pasta
Ingredients
For the "salmon":
200 g (7 oz) tofu (a large block)
300 ml (1.33 cup) cucumber broth
1 nori leaf
1 tbsp miso
2 tbsp soy sauce
1 tsp onion powder
1 tsp garlic powder
2 tbsp beet juice or red food coloring
cornstarch
butter
For the sauce:
30 g (0.33 stick) butter
1 tbsp flour
0.5 nori leaf
0.5 tbsp miso
1 tbsp soy sauce
100 ml (0.5 cup) cucumber broth
100 ml (0.5 cup) white wine
1.5 tsp vegetable broth
0.5 tsp onion powder
0.5 tsp garlic powder
125 ml (0.75 cup) vegan cream
180 g (6.33 oz) vegan crème fraîche
salt
pepper
Also:
300 g (10.77 oz) pasta
parsley to serve
Instructions
Cut the tofu block in half and form fillets shapes with a knife. Make deep diagonal cuts 1–2 mm apart on the top of the fillets to mimic the texture of salmon.
Add cucumber water, nori leaf, miso, soy sauce, onion powder, garlic powder to a blender and mix well for a few minutes until nori leaf is finely chopped. Add beet juice until the marinade is bright red.
Pour the marinade into a small saucepan and heat. Place the salmon fillets in and simmer on medium for about 10 minutes. Make sure that the marinade also gets between the incisions of the fillets.
Remove the fillets from the pot and let them drain a little. Sprinkle the underside with a little cornstarch.
Heat some butter in a pan and fry the fillets from all sides.
Cook the pasta according to the package instructions. In the meantime, prepare the sauce. Melt butter in a saucepan and add flour. Quarter the nori leaf and add to the butter. Quickly add miso and soy sauce and deglaze with cucumber broth and white wine. Add vegetable broth, onion powder, garlic powder, vegan cream and vegan crème fraîche and simmer on low heat for 10–15 minutes. Season with salt and pepper.
Mix the sauce with the pasta and serve with "salmon" and parsley.